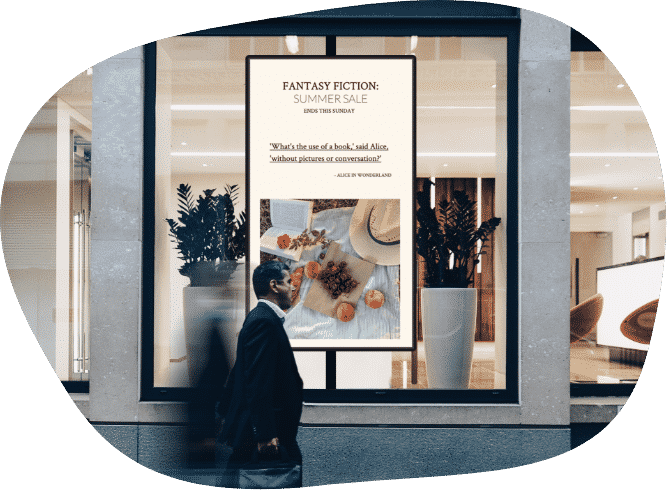 Create Crowd-Pulling, Page Turning Digital Signage for Your Bookstore
Book stores, especially indie book stores, are experiencing a revival post pandemic, despite years of challenges including more people switching to digital and audio books. The
resurgence is certainly newsworthy
since both the New York Times and the Fortune Magazine decided to write about the new trend. Check out
Some Surprising Good News: Bookstores Are Booming and Becoming More Diverse
. As a bookshop owner you know there is nothing more appealing to book lovers than flipping pages and enjoying the feel of a new or used book. And you want to create a lively, vibrant ambience to attract walkers by both young and old into your store. You also want your regular visitors to invite their friends and family to visit your books store to enjoy that unique experience. Many bookstores are switching to Mandoe digital signage software to design, schedule, and deploy appealing displays about newest books, book signings, book clubs, promotions, advertisements and other signs for their in store and window digital screens. Find out more about how you can
attract more visitors, and more revenues
to your book shop.
Bookstore Marketing Success - How it Works
Get the basics right
If you haven't opened your bookstore yet, check out our
Opening a Retail Store : The Ultimate Checklist for Success
to get up to speed on basics of book retailing. Even if you have already opened your book shop, this guide offers useful tips on retail store branding and how to create a winning marketing plan.
Increase new visitors; encourage purchases; create a venue for book related events
Bookstore marketing should target gaining new buyers, encourage current customers to spend more and create a venue for events that would further increase new visitors to your book store. Using digital screens within and in store windows can help achieve all three goals. The first thing that comes to mind are ads featuring new book releases. But there is so much more you can use in your digital displays. If you employ traditional means, you can only highlight so many books, even if you refresh your shop windows and displays continuously. How much more convenient and labour saving would it be to create new release highlights, book review snippets and social commentary on each newly released book? And design wise, too there will be tremendous labour savings because you can use design templates to quickly and easily create your displays. Today's book shops need to work on their crowd pulling events. Book signings and readings, book clubs can be promoted and excitement aroused using digital media displays on each event. A
study by the International Sign Association
showed that more than half of the customers discover businesses through on-premise signage. The study also found that digital displays can improve business revenues by 7% and result in a 124% increase in profits for the businesses that use them. Wouldn't the same apply to new books and even old classics? Special discounts can be announced in the shop windows and screens throughout the store. You can come up with a calendar full of themed sales—author related, classics, children's books, text books, topic related (art books etc.)—can be promoted quickly and easily among new and old customers and passers by alike with attractive digital ads. Leverage both yours, authors' and publishers' social channels. Choose the social channels depending on the profiles of your regular customers and their choices of social. Start a book blog on your website, or independently. You can highlight books featured on that as well in your digital screens.
Benefits digital displays in your marketing mix
Book store owners can use digital shop windows and in store digital displays to effectively market their store, book related events and books themselves. Book lovers would appreciate seeing the latest books by their favourite authors or in their preferred genre on your digital display. Join other successful book stores by adding digital signs into your marketing mix. Depending on the size and location of your store, and the number of different sections, you can use one or more digital screens to expand your marketing reach. Use your digital displays with attractive messaging to entice new visitors into your store.
Get a bigger bang for your marketing bucks
Digital info boards and displays can significantly boost up the effectiveness of your other marketing efforts by highlighting your ads, events, new releases, promos and discounts. And they can achieve all this in an appealing, visual format that is more eye catching and attention grabbing than a notice or poster in your shop window. Social posts and announcements drop out of sight as new items are added to the feed. Keep your key announcements fresh and top of mind by repeating them on your digital info boards continually till the timing runs out. A
study by the International Sign Association
showed that more than half of the customers discover businesses through on-premise signage. Digital displays can also improve business revenues by 7% and result in a 124% increase in profits for the businesses that use them. Use these figures as you do your cost benefit analysis on whether it is worthwhile investing in digital display screens and software.
Increase foot traffic and profit margins
Studies show that venues experience a significant boost in foot traffic (17%) when they employ digital displays to replace posters and printed signs. In another interesting study, the finding was that seven in ten customers buy products and services because they came to their attention via a digital display. Get more drop ins, and repeat visits by advertising books in eye-catching beautifully designed displays. Encourage more people to spend more time and buy more books with every visit. Doing so will increase your profits per visitor.
Minimal operating costs after initial investments are paid for
Once the initial investments for screens and digital signage software is paid for, your running costs become minimal. Designing, deploying, scheduling and updating digital ads are easy and seamless. New media and announcements can be made on the fly and deployed in minutes. And you don't have to spend hours and hours creating new posters and signs or paying to get them printed.
Creating Inviting, Compelling Digital Displays for your Bookshop
Designing compelling digital visuals has never been easier. With our easy-to-use drag and drop signage maker, crafting digital displays that fill your book store with great vibes becomes easy as ABC. Make tastefully designed, theme appropriate beautiful visuals for every new book, event and announcement. Boost your brand image with thousands of industry specific templates and millions of free images and videos in our extensive digital library. The ease of creating and updating your visual displays cannot compare with the hassle of getting static signs and posters made. It is also more environmentally friendly since nothing gets thrown away. With digital screens, you can stop throwing away money.
Using design templates for speed, creativity and convenience
Begin by writing down or storyboarding your ideas for each book, campaign, event, message or screen. Finalise the text in your message. Then you can begin with a suitable template from among thousands and tailor it to your taste and message.
Personalise with unique visuals
For all new books and events you want to use cover and author photos and visuals, videos including your logo and branding elements. Mandoe Media allows you to edit your digital designs with icons, text styles, graphics, and more. Remember to add your social profiles into the visuals.
Leverage the power of crowd pullers and community spirit
Highlighting past events and upcoming event announcements can prompt new visitor drop ins. Every new person in the door means a new book sale prospect. Announcements about events and special discounts or themed sales would make regulars drop in more frequently and drive event or promotion day purchases.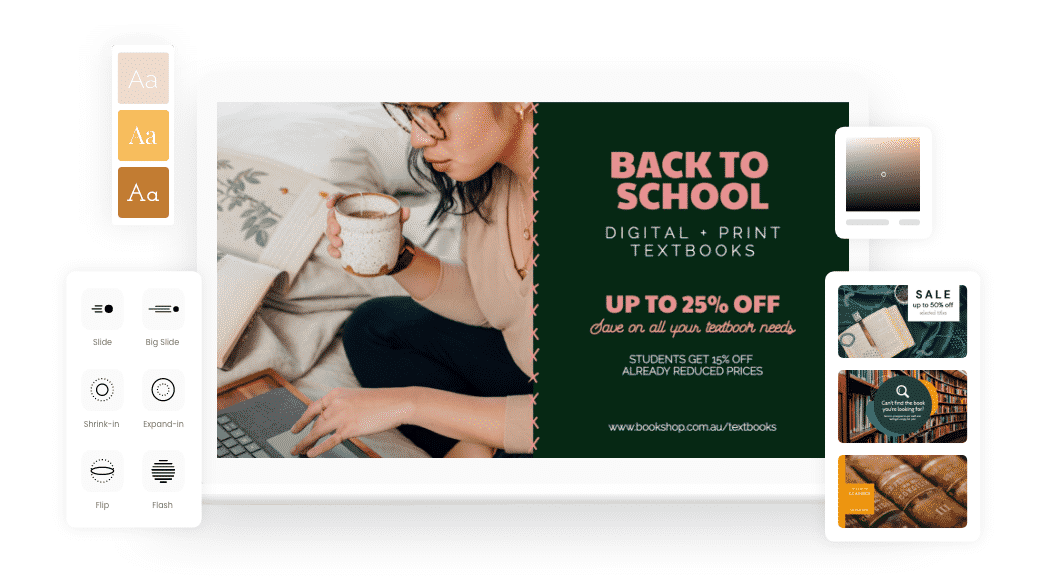 Start with a beautiful template
After a couple of questions about your book store's signage requirements, Mandoe generates thousands of templates to get you started.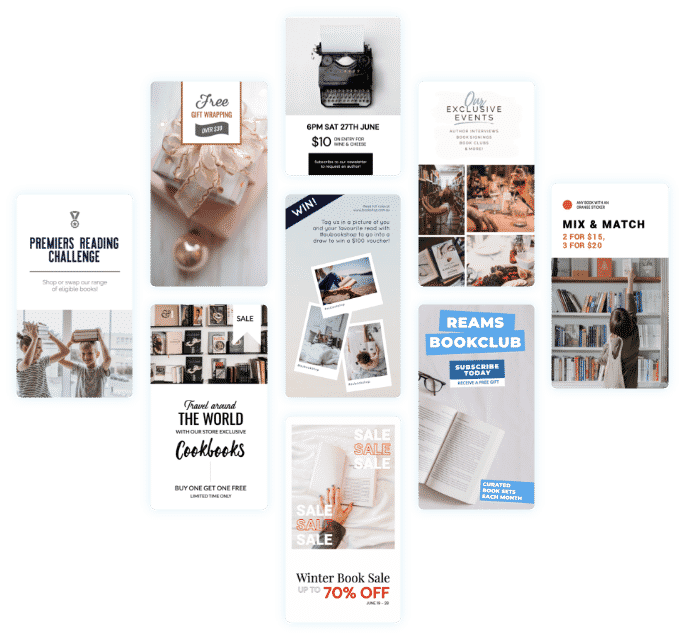 Mix it up - A picture is worth a 1000 words!
Unleash your and your team's creativity. Use the principles of marketing in creating your visuals. With each visual your goal should be to grab attention, arouse interest, create desire and prompt action. Keep these thoughts in mind whether you are creating a book feature, event announcement or book sale. We recommend other businesses to use external content, like videos, weather apps, news tickers, live TV or pre recorded content to add excitement to the display feeds. However, you own a bookstore. You have enough and more ammunition to keep your digital feeds running nonstop with original in house content, if only you and your team can find the time. Don't be limited with slide-type messaging only. Use the true capabilities of the software by showing a mix of images, videos and related content such as author interviews previously published in external media.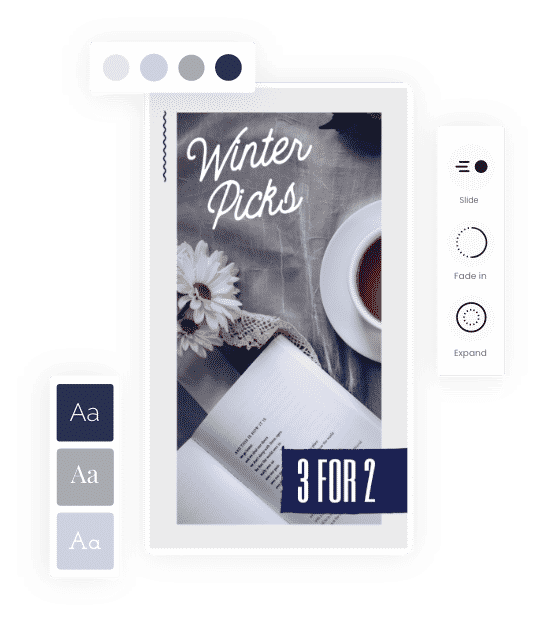 Easily deploy to one or multiple screens
Deploy your newly crafted digital messages to your store displays with just a few clicks. You can use our software to deploy the same message or different content to multiple screens at the same time. Depending on your store layout, you can create groups of screens or send signage to a single display
Schedule dates for your displays
Mandoe's versatile software lets you select the dates you want to display your visuals. You don't have to adjust time sensitive announcements on the same day. Just schedule it for a given period and be done with that.
Set times for your daily displays
Remember that timing matters to the success of your communications strategy. Choose the start and end times carefully. Make sure to keep things exciting. You want to ensure you capture the target audience and choose high foot traffic periods for window displays for best effect.
Deploy to one screen or many
Group screens (by placement, type, screen size, department) or send your signage to a single display. Mandoe provides you with the flexibility to configure your book stores screens however you wish.
Set dates for your signage to display
Set the start and end dates for each sign. Perfect for new book releases, author signings, limited offers and more.
Set times for your signage to display
Set the start and end times. Perhaps you want different signage to display in the morning and afternoon.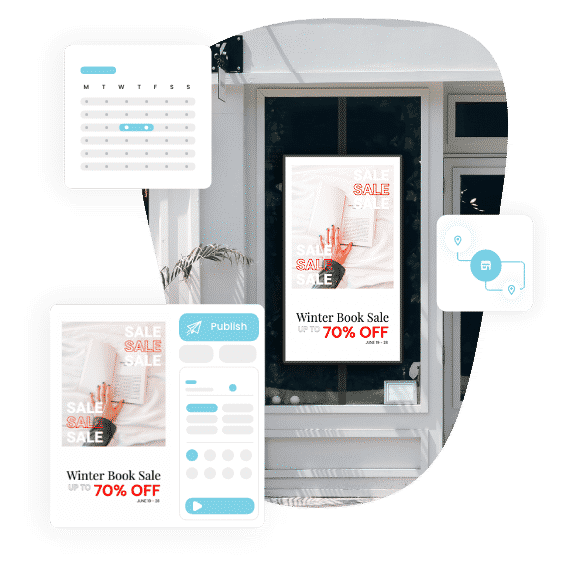 Get insights into what's working and what doesn't
Use detailed analytics of your multiple daily displays and find what promotions, designs, layouts and ads delivered the best results. Get rid of the ineffective ones and improve on the winning digital ads and the more popular promos and events to drive up your revenues and daily profits. You and your team will get better at crafting winning messages over time.
Templates for Book Stores
Your Mandoe account comes with thousands of signage templates, including many specifically designed for book stores—book signings, limited promotions, clearance sales, book bundle deals, and much more.
Landscape Digital Signage Templates
Portrait Digital Signage Templates
Use Cases for Digital Signage