We get it… cafe digital signage sounds expensive (and a bit scary) when you're a café owner running a small business. You're sure you can't afford it, and you're not a tech whizz, so it just wouldn't work. You'll just stick with the chalkboards, posters, and printed menus, thanks anyway.
But guess what? Cafés and
digital signage
are a better match than bacon and eggs. Big call, right? But we're serious. Digital signs can increase foot traffic, boost sales, improve customer experience, and actually save you money. Read on to find out how easy it is to get started creating beautiful digital signs and get ideas on how you can make the most of digital signage in your café.
---
What is digital signage?
Digital signs are basically LCD screens that are installed in locations where people want to communicate something. They are becoming increasingly popular in retail settings like cafés because they are an easy, affordable, and effective way to attract customers, share menu items, and boost sales.
Ready to see how digital signage might work for your cafe 
---
Why are cafés using digital signage?
Digital signs perform exceptionally well in a café setting. Hundreds of cafés are installing digital signs every week because they: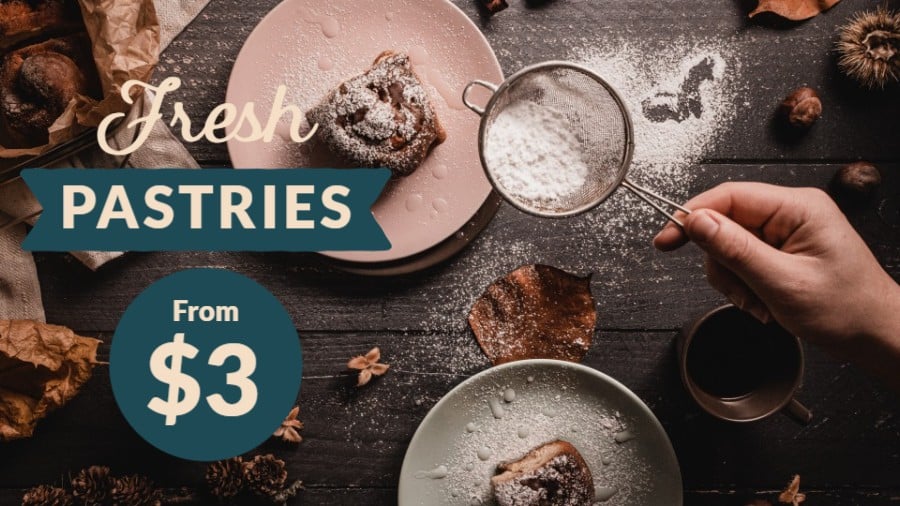 Drive foot traffic
Cafe digital signage give a great first impression and capture people's attention. Imagine how hard it is for hungry passers-by to walk past your mouth-watering menu items when they are temptingly displayed with rich video content on crystal clear screens. Digital signs lead to an average 17% increase in foot traffic by driving people in-store with eye-catching graphics, animation, and video clips. If you're in a popular location like a shopping centre or a busy shopping strip, a digital sign behind the window or on the wall is the perfect invitation to come inside.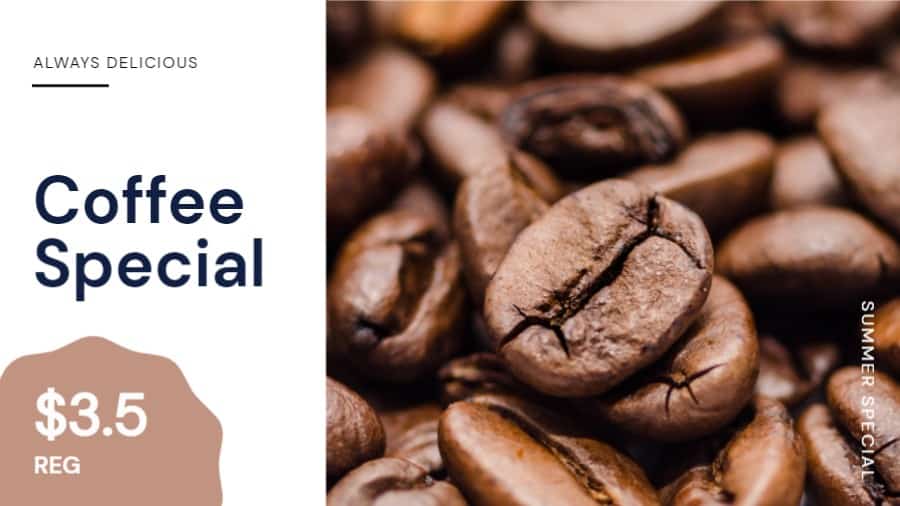 Grow daily sales
Studies show digital signage leads to a 47% increase in average sales. No wonder so many cafés are getting on
board the digital
signage train. They are so much better at displaying what you have to offer, and there are loads of different techniques that cafés use to get the most out of their digital signs. Cafés offer specials (Kombucha Tuesdays, half price deal), promotions (5th coffee is free), combos (coffee and BLT for just $8), or promote new menu items (come and try our new nitro brew) to increase sales.
Digital menu boards
help maximise sales and promote a professional cafe image.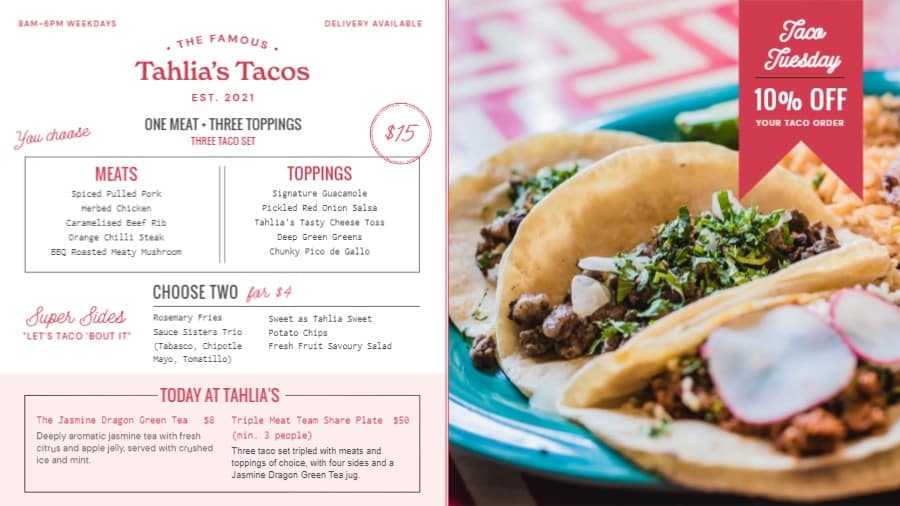 Increase profit margins You can also increase your average transaction value by promoting upsells and cross-sells. Rotating displays can showcase higher-profit items at peak times. 70% of customers purchase products because a sign caught their eye, so digital signage near the till is perfect for influencing customer behaviour and driving those upsells.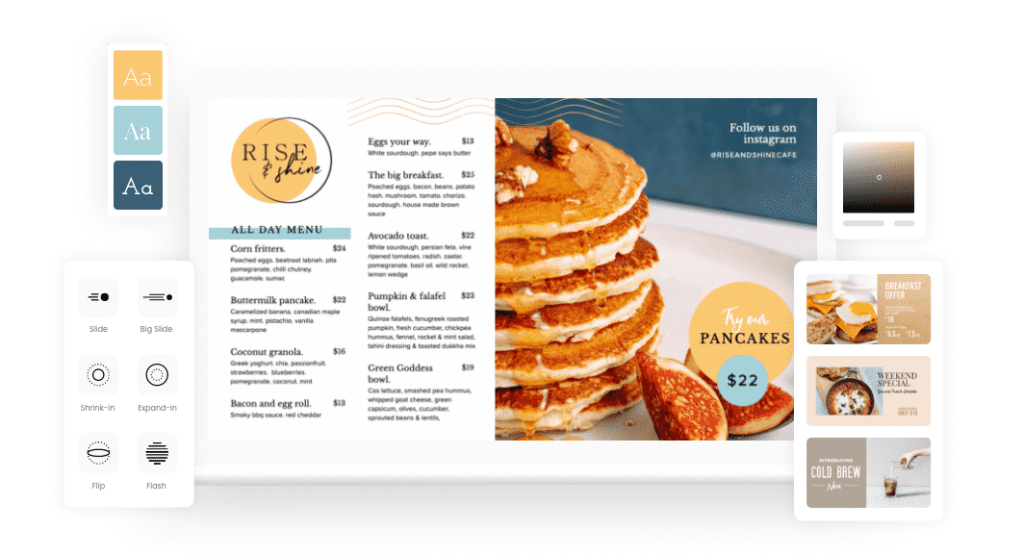 Save time and money
You'll never have to spend time manually erasing sold out items and updating prices again. There's no need to design, print, ship, and install new menus. You can create beautiful cafe digital signage in minutes and display it on your screens in just a few clicks.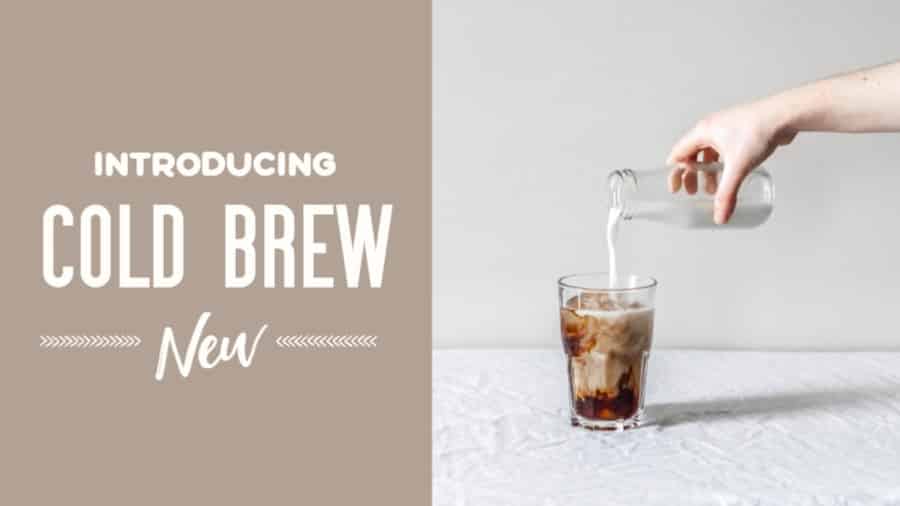 Give customers a better experience
Cafe digital signage lead to a 33% increase in repeat buyers and a 21% increase in customer satisfaction. In part, it's because digital signs are easier to read. They also keep lines moving because customers have already made their choice by the time they get served. They're up to date which avoids customer disappointment when their choice isn't available. Interestingly, digital signs also
reduce perceived wait times
by up to 35%, because it gives people something to do while they're waiting.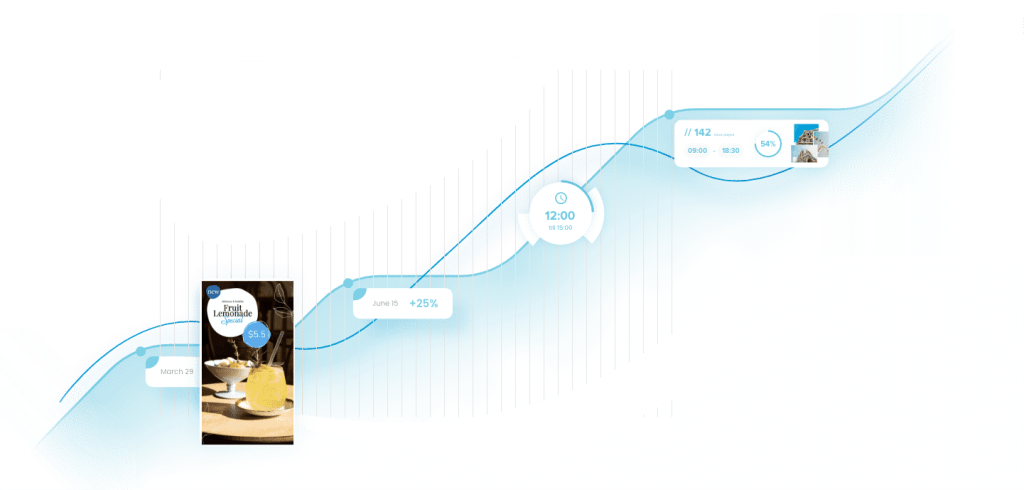 Offer insights
By seeing what content played at what times and matching it up with sales data, cafés can see what's working and what isn't.
---
Is cafe digital signage easy for owners to use?
It's way easier to use than your coffee machine. Mandoe's simple drag and drop digital signage builder allows literally anyone to create and launch beautiful, impactful digital signage.
You don't need any experience in graphic design to be capable of producing amazing results. We'll teach you how to create, manage and display your own animated content for your café in four easy steps:
Start with a beautiful template
Make it your own by adding your own text and images or choosing from our library of thousands of stock images, icons, graphics, and more
Deploy to your screens in seconds with just a few clicks
Set dates and times for your cafe digital signage to display
---
4 awesome ideas for cafe digital signage content in your business
Tell stories: People love knowing more about their favourite café, so let them peek behind the scenes. Show videos of where you source their coffee beans, interview the chef, share a recipe or two. Engaging with your customers will build deep relationships and they'll be back time and time again.
Improve the waiting experience: Have news, weather, trivia, jokes, or local facts on your screens between showing menu items to help the time pass. Here's some inspo to get you started (ok maybe you've heard it before, but we think it's a goodie!):  How do you feel when you can't get to your favourite café? Depresso
Automatically switch your menu across the day: You can have a menu board that details your breakfast menu, automatically changing over to the lunch menu at the time you choose. You can have specials that come and go, upsell the bakery items around mid-afternoon and offer lunchtime drink and food combos. The best part is – it's all pre-set so you and your staff can focus on serving your customers.
Get social: Show off your restaurant's reviews or latest social media mentions with a feed for everyone to see. Customers love seeing their foodie snaps appear on screen and you can encourage them to spread the word via their social networks with rewards and prizes.
---
Mandoe in action 
We love helping businesses grow with our digital signage solutions. With 5,000 happy customers, 20,000 screens under management, and 1 million digital signs made through our system, we know our stuff. We were rapt when BP asked us to install signage in their Wild Bean Cafés:
Wild Bean Café – a digital signage success story
There are over 150 Wild Bean Cafés in Australian BP service stations. They focus on serving high-quality barista coffee and a great selection of hot food, pastries, and sandwiches. They pride themselves on delivering the best café experience on the road, guaranteeing the quality of their barista-made coffee. Using Mandoe's digital signage solution, they're creating bright and vibrant menu boards to inform customers of the latest deals and offers available.
JP Mc Caffreys - Traditional Fish & Chips
Our digital signs helped JP Mc Caffreys - Traditional Fish & Chips increase foot traffic by over 20% and increase sales by over 10%
"I'd highly recommend Mandoe to any business owner wanting a digital signage solution. Foot traffic has increased by over 20% and sales have increased by over 10%. Updating my menus is now easy - there's no more crossing out handwritten words." Richard, Owner -JP Mc Caffreys - Traditional Fish & Chips
---
How much does cafe digital signage cost?
Cafe digital signage is much more affordable than you think. The return on investment is strong, and café owners find it pays for itself with just a few extra orders a week.
Talk to our team
to see what your customised plan would cost. As a guide, most cafes pay around $35 per month. If you'd like a quote for digital signage at your café,
get in touch
with our team today.
---
FAQs
Can I use my own screens?
We have a range of options available, book a free consult to work out what's best for you.
Is it web-based?
A: You can create content online and use wherever you are. You can send the content to one screen or many in just a few clicks
Can I use my own photos and other content?
Yes. There are millions of images, videos, icons and more in our library, or you can upload and use your own
---
Try Mandoe's instant digital signage builder for free 
Want a free trial of Mandoe's content creation tool? You'll see just how easy it is for salons to create beautiful digital signage with a free trial of our intuitive drag and drop system.
Create beautiful digital signage for your hair and beauty business in minutes using our dedicated templates and enormous library of images, videos, icons and graphics
Download your videos and share them with the world for free
No design experience needed with our intuitive drag and drop system and pre-designed hair and beauty based templates
No need to enter any payment details, no obligation to buy
Written by Lachlan Ross
Marketing Manager at Mandoe
I'm a SAAS-focused marketer with 10+ years of experience who likes to think I've got a way with words - thanks for stopping by and checking out this blog.