Pharmacies around the world are adopting digital signage as their one-stop shop for modern marketing. Think about it…most pharmacies would love to attract more customers, boost sales, streamline operations and build long-term customer relationships. Digital signage ticks all those boxes in a simple, affordable package.
The bright screens are full of colour and movement which grabs your customers' attention. Now they're interested, you can entice them into your store, share health information and encourage them to buy a range of products. You can quickly rotate advertisements for a vast range of products on your digital signs, reminding customers of the items they need. It's a great way to encourage
impulse purchases
. Given the average US consumer spends around $5,400 every year on impulse buys, it's an opportunity not to be missed. It's easy to introduce digital signage into your pharmacy. Here's how.
---
What is digital pharmacy signage?
In chemists and pharmacies, digital signs put messages and advertisements onto digital screens, usually TVs. Without screens, pharmacies must rely on window advertising, posters or take up valuable staff time communicating with customers.
With digital signs, pharmacies can invitingly display their products, advertise specials and give wellness tips. It's an easy, affordable and effective way to attract customers, showcase products and boost sales. Many pharmacies are still using old-school posters and physical displays for their communication needs. This takes more time and more money to manage, and it doesn't work as well.
Digital signage is a must for pharmacies
who want to replace time-consuming marketing, streamline their communications and increase profits.
Ready to see how digital signage might work in your pharmacy? 
---
What are the benefits of digital signage in pharmacies and chemists? 
Digital signage is ideal for most retail settings, particularly for pharmacies given the huge product range and the education role that staff need to play. Thousands of chemists are installing digital signs every week because they: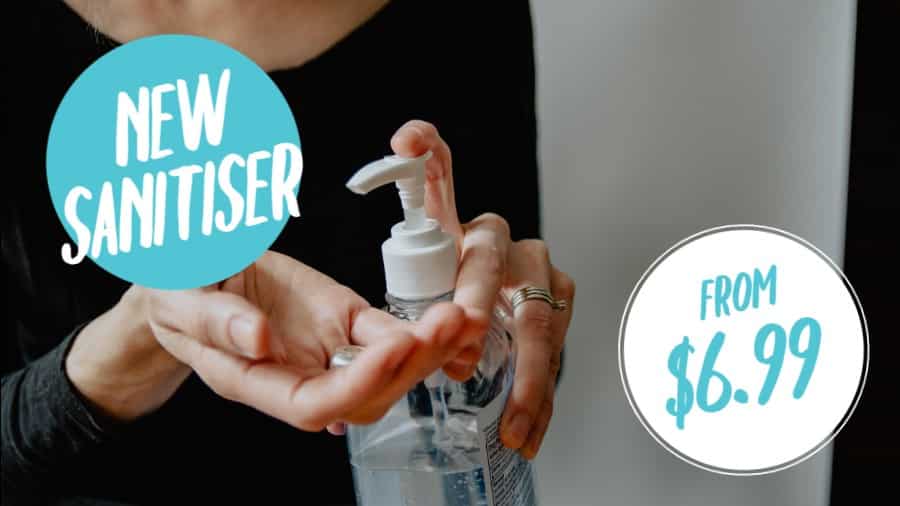 Increase foot traffic by 17%
Eye-catching shop front digital signage is highly effective at bringing passing traffic inside. The colour and movement of digital signs grabs attention. You can advertise a range of products and services quickly and effectively. People will be naturally drawn to your screens, which will entice them to come in and make some purchases.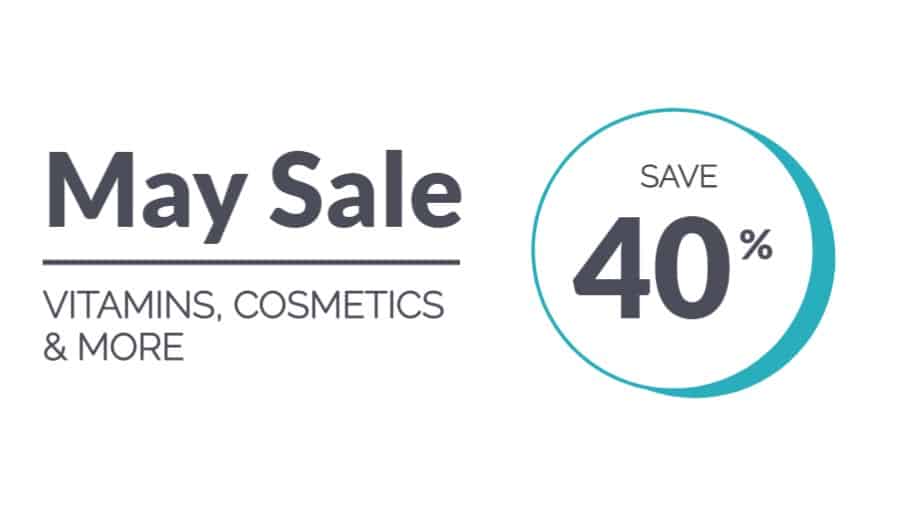 Boost daily sales by 30% Using digital signs for your marketing campaigns can help your sales skyrocket. You can promote clearance sales to move excess stock and educate customers on new product releases. Limited-time seasonal offers and discount bundles get a great response by increasing the urgency to buy. Using digital signs for entertainment can encourage people to stay while they wait for their prescription to be filled, which can also boost daily sales.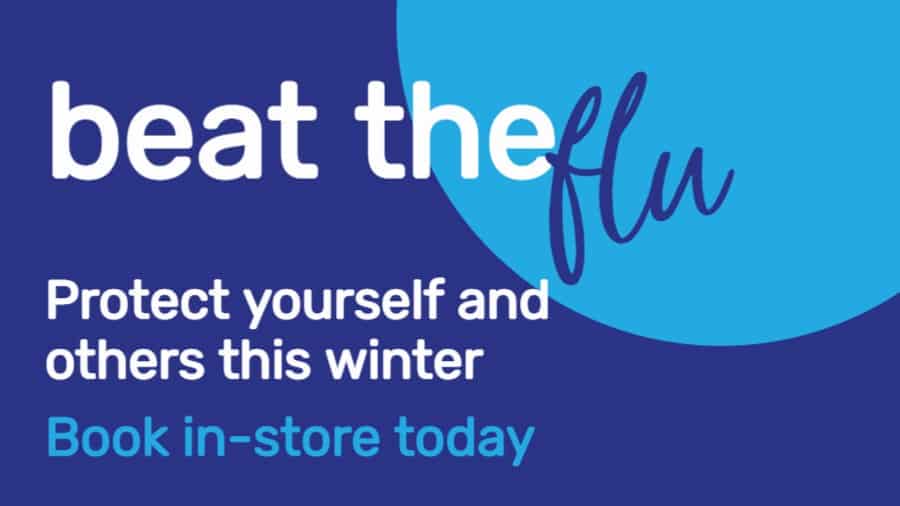 Increase profit margins Interestingly, 70% of customers purchase products because a sign caught their eye and digital signs are the most effective way to capture attention in your pharmacy. You can run promotions on your digital signs to encourage impulse buys of high-margin lines. Pharmacy digital signs can also act like extra salespeople on the floor – pushing the health benefits of your more expensive products to drive higher profit margins.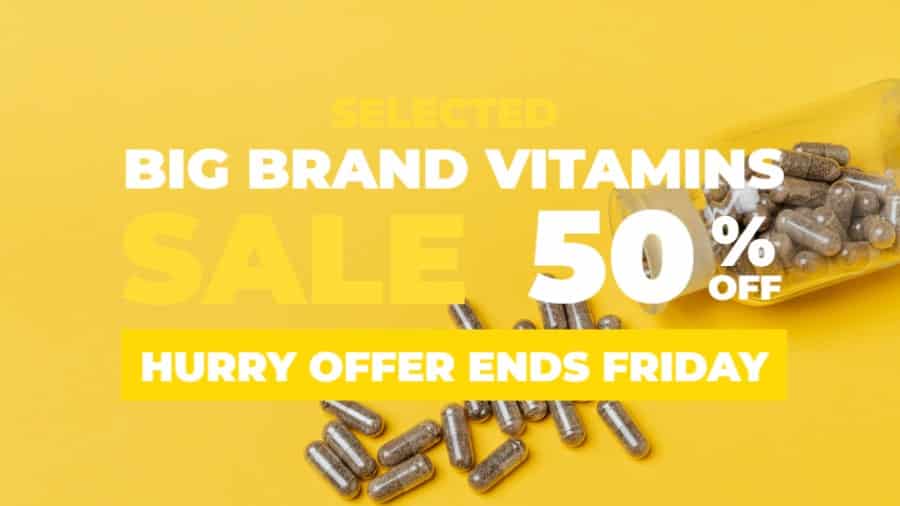 Instore data analytics Data reporting and analytics is an essential feature of your pharmacy's digital signage solution. You can test various promotions and content at different times of the day and then match it up with sales data. This will help you learn what campaigns work with your customers. Then you can refine your campaigns and update your screens remotely at any time to maximise success.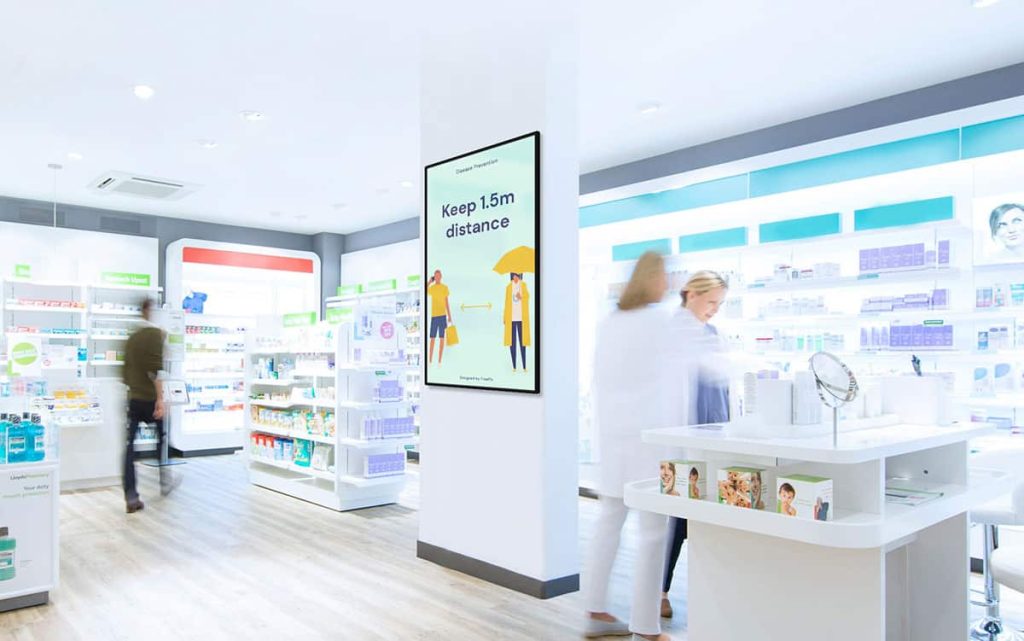 Save time, money and the environment Pharmacies have a constant influx of new products. Common health issues can change with the season and government COVID-19 advice frequently changes, requiring messaging updates for pharmacies. Digital signs cope much better with this level of change than traditional signs, posters and displays. There's no need for your staff to spend time changing posters which lets them get on with helping customers. There's no printing and shipping, which saves money and is better for the environment. You'll be showing your updated content on one or more screens in just a few clicks.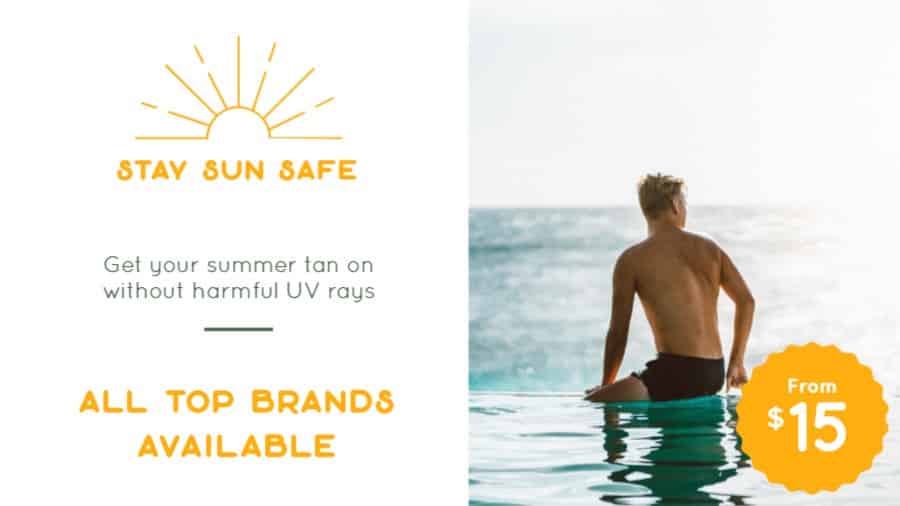 Grow customer engagement Building trust is critical in the health industry. The more engaged your customers are with your business, the more likely they will trust you and become loyal customers. Studies show digital signs lead to a 33% increase in repeat buyers and a 21% increase in customer satisfaction. Offering detailed product information to help customers make purchase choices and find the products they need (without having to ask embarrassing questions) can greatly improve the in-store customer experience.
---
Is digital signage easy for pharmacy owners and staff to use?
With the support of a great digital signage partner like Mandoe Media, it's both easy and cost-effective.
With our simple drag and drop
digital signage builder
, literally anyone can create and launch beautiful, impactful pharmacy digital signage. You won't need to hire a graphic designer. Even people who aren't that confident with computers can get phenomenal results with our intuitive, self-service system. We'll take the time to show you
how to create the best pharmacy signage design
s in four easy steps:
Choose from hundreds of beautiful templates built just for pharmacies
Make it your own by adding your own text and pictures or choosing from our extensive library. We've got millions of stock videos, images, graphics, icons you can use for no extra cost
Choose the dates and times for your content to display
Deploy to one screen or multiple screens in seconds
---
6 ways to use digital signage in your pharmacy
Promote your extensive product range: You can use digital pharmacy signage to announce sales, launch new products or run promotions. Point of sale advertising at the checkout is effective for promoting impulse buys, time-sensitive deals and clearance sales. If you happen to be out of stock in-store, use your screens to direct customers to your online store with a QR code. That way, you still get the sale and the customer leaves happy.
Customer service: Digital signage can supplement staff as an efficient and cost-effective way to help customers. Instantly sharing information through screens and can reduce the wait time for customers and increase the productivity of team members at the same time. Screens can be used for product explanations, showing people where to find products, and connecting with customers who are embarrassed about talking about their health concerns.
Build your brand: Being well-known and trusted in your local area will lead to repeat visits. If you use your screens to tell your brand story, you can create an emotional connection with your customers. You can introduce your team and run engaging videos to help people remember who you are, what you offer and what you stand for. Showing glowing reviews from other customers or brand ambassadors will also build trust. It's easy to connect your Google reviews to your screens with our simple widgets.
Customise your messages based on the time of day: You can vary your advertising depending on the needs of the people walking past. Maybe there are mostly older people or young parents during the day compared with busy young professionals after work. You can advertise products most suited to who is most likely to see it. The more you customise your content, the more likely your campaigns will succeed.
Share important safety information: Digital signs are great for reminding shoppers to follow important safety advice. Through the pandemic, pharmacies have used digital signs to remind customers to wear masks, sanitise their hands and keep socially distanced. If there's an emergency, you can quickly share evacuation instructions.
Waiting area digital signage: There can be long waits for customers while their scripts are being filled in busy pharmacies. By updating customers with their anticipated wait times and entertaining them, you can reduce perceived wait times by up to 35%. You can broadcast news and show educational health messages to make their wait time pass faster, improving their overall experience at your pharmacy.
---
Mandoe in action 
Pharmacies have been using our digital signage solutions to attract customers and grow revenue for over a decade. Thousands of large and small businesses across the world love and trust Mandoe's digital signage solution.
---
How much does an in-store digital signage system cost?
Digital transformation of your pharmacy signage is easier and more affordable than you might think.
Pharmacy managers and owners report that it easily pays for itself. Prices can vary, so you should talk to our team to see what it would cost for you, but as a guide, you're only looking at around $35 per month. Digital signs have such a strong return on investment because they increase profit and cut costs simultaneously. Studies have shown that average sales lift by 30% when pharmacy
stores introduce digital signage
. There's also less staff time wasted in updating displays. About 70% of store owners say they've made their money back within 18 months. Talk to our experienced digital signage team to get a quote for a tailored package for your business.
---
Pharmacy shop digital signage FAQs
Can I use my own screens?
We have a range of options available, book a free consult to work out what's best for you.
Is it web-based?
You can create content online and use it wherever you are. You can send the content to one screen or many in just a few clicks
Can I use my own photos and other content?
Yes. There are millions of images, videos, icons and more in our library, or you can upload and use your own
---
Try Mandoe's instant digital signage builder for free 
Want a free trial of Mandoe's content creation tool? You'll see just how easy it is for pharmacies to create beautiful digital signage with a free trial of our intuitive drag and drop system.
Create beautiful digital signage for your pharmacy in minutes using our specially designed templates and huge library of images, videos, icons and graphics
Download your videos and share them with the world for free
No design experience needed with our intuitive drag and drop system and pre-designed pharmacy templates
No need to enter any payment details, no obligation to buy
Written by Lachlan Ross
Marketing Manager at Mandoe
I'm a SAAS-focused marketer with 10+ years of experience who likes to think I've got a way with words - thanks for stopping by and checking out this blog.