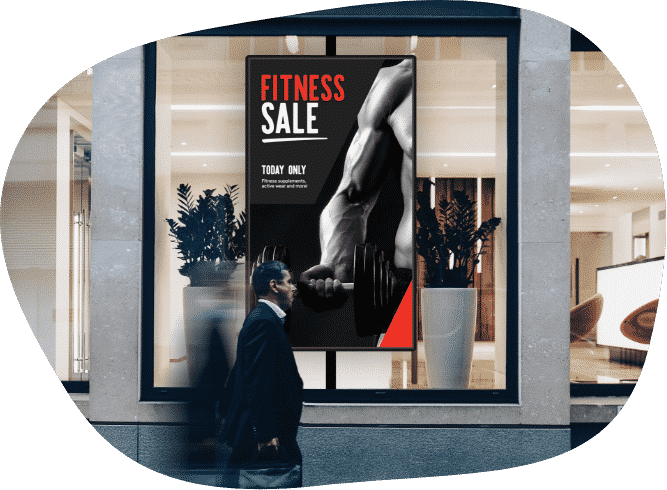 Inspiring digital signage for effectively marketing your gym
A study by the
International Sign Association
showed that more than half of the customers discover businesses through on-premise signage. The study also found that digital displays can improve sales by approximately 7% and result in a 124% increase in profits for the businesses that use them. Why not inspire your current gym members and frequent clients to improve renewals? You can also draw in new members with attractive displays, testimonials and member success stories. Advertise promotions and special deals. Up your marketing game by crafting your own stunning digital displays. Deploy multiple campaigns and visuals and monitor which visuals perform best and help boost your membership numbers. Find out how your gym can increase recurrent membership, sales and profits.
Gym Marketing Success - How it Works
Get the basics right
Understand the basics of operating a profitable gym. Check out our
Ultimate Success Checklist for Gym Owners
, which covers the basics of a gym marketing plan.  
If you have already opened your gym, take a fresh look at your marketing strategy and the marketing plan. Figure out the best ways to help you boost membership and profits. 
Check out our article on
Attracting New Gym Clients
. 
Compare marketing tools and do a cost benefit analysis on how digital signs and display solutions figure into your success formula. Digital signage is a global growth industry. Why miss out and be second to your competitors? 
Once you are ready to invest in digital display solutions, check out our article on
how to use digital info screens in your gym
.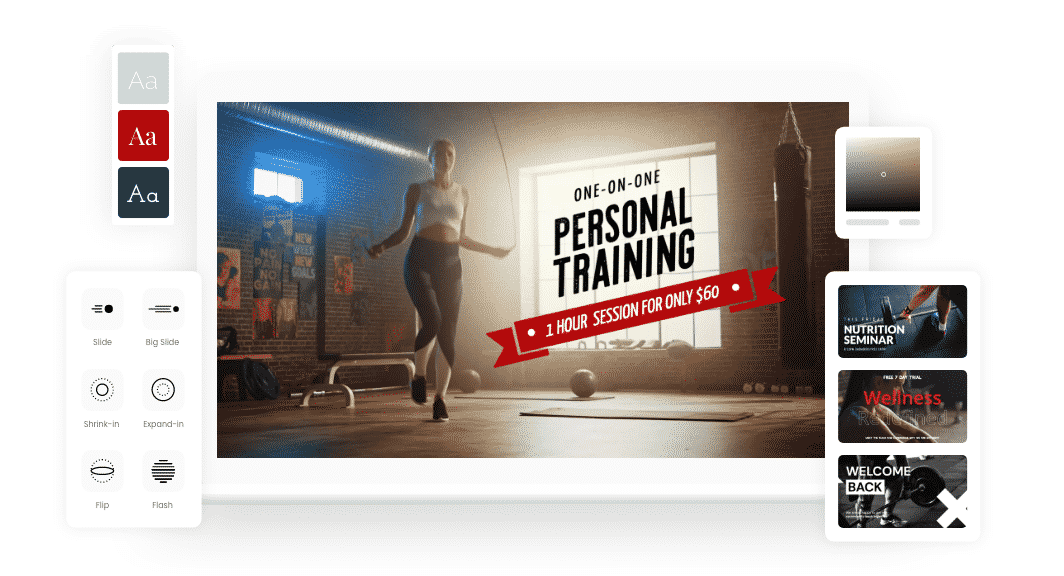 Creating Attractive and Compelling Digital Displays
Designing compelling, effective digital visuals has never been easier. With our easy-to-use drag and drop signage maker, crafting content for your gym's digital screens becomes a piece of cake. Make spiffy visuals by using thousands of industry specific templates and millions of free images and videos in our extensive digital library. 
The ease of creating and updating your digital visual displays cannot compare with the hassle of getting static signs and posters made. It is also more environmentally friendly since nothing gets thrown away. With digital screens, you can stop throwing away money.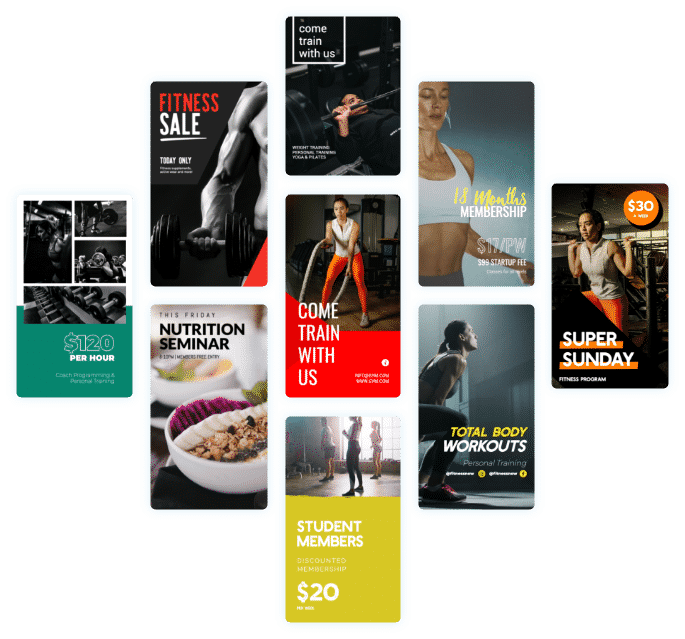 Using digital design templates for speed, creativity and convenience
First write down or story board your idea. Finalise the text in your message. 
Then you can begin with a suitable template from among thousands and tailor it to your taste and message.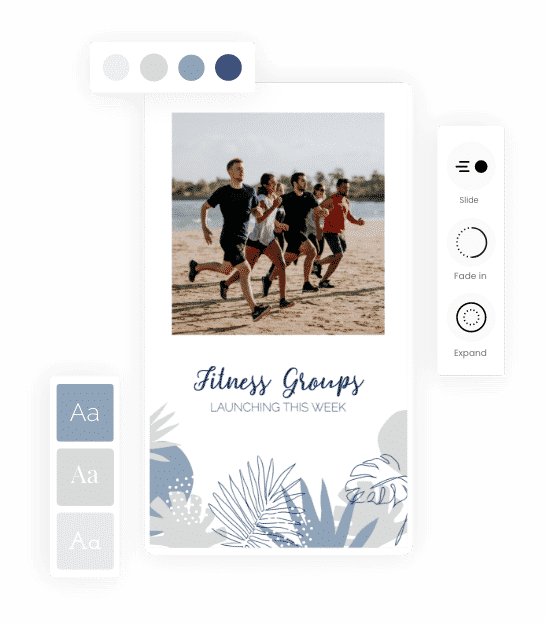 Personalise with your gym's unique visuals
Sometimes you want to use your own photos and visuals, including your logo and branding elements. In fact, we recommend that you do so because its far more effective to keep it real. Mandoe allows you to edit your gym's digital designs with icons, text styles, graphics, and more.
Remember to add your
social profiles into the visuals.
Mix it up - Make use of all the versatile software features
Boring is the last thing you want to be. You can make your digital messaging exciting, engaging, informative and entertaining by adding external content. Don't be limited with slide-type messages alone. Use the full capabilities of the software by showing a mix of images, videos, and animations. Liven things up by linking to your social media feeds. Consider live streaming events, like guest trainers, competitions and celebrity visits. You can also mix your inhouse messaging with weather apps, news tickers, live TV or pre recorded content.
Deploy your newly crafted digital messages to your gym's screens with just a few clicks.
You can use our software  to deploy the same message or different messaging to multiple screens at the same time. 
Depending on your gym's screen layout, you can create groups of screens or send signage to a single display.
Schedule dates for your signage to display
Our versatile software lets you select the dates you want to display your digital signage. You don't have to adjust time sensitive announcements on the same day. Just schedule it and be done with that. 
Set times for your daily signage displays
Timing matters to the success of your communications strategy.
Choose the start and end times carefully.
You want to ensure that the clients you want to target are around. And you want to choose high foot  traffic times for window displays for best effect. 
 You may also want to design and display different messages in your displays at different times for your gym members, such as in the morning, afternoon, and evening.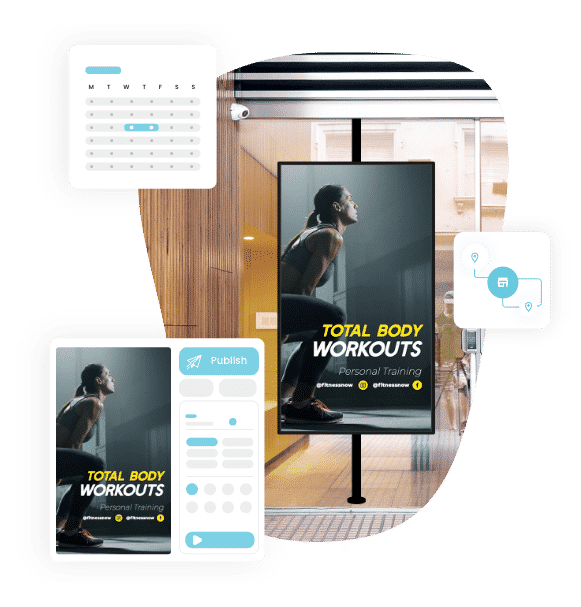 Get insights into what's working and what isn't
You can get a good idea of what messages are working and delivering the best results. All you have to do is compare Mandoe's signage display history with your gym's sales records and enquiries.  Repeat and improve successful signage. Do away with the ineffective ones. You will get better at crafting winning messages over time.
Templates for gyms
Choose from among thousands of professionally designed templates for health and fitness businesses. There are many templates for gyms among them. Find digital signage templates you can use for product promos, advertising classes and sessions, profiling personal trainers, highlighting customer testimonials and successes and much more.
Landscape Digital Signage Templates
Portrait Digital Signage Templates
Use Cases for Digital Signage