Digital signs work to get people into your pub or bar and encourage them to spend more money while they're there. With an ever-changing calendar of events and menu specials, digital signage in pubs demands attention and is easier and more cost-effective than old-school marketing tools.
Using
digital signage hardware
in pubs and bars can increase foot traffic, improve customer engagement, lengthen linger time, boost sales and reduce marketing costs. Winning! Read on to learn about the what, why, when, and how of digital signage in our easy to follow, no BS guide for pubs, bars, taverns, nightspots, clubs, and
hospitality venues
.
---
What is digital signage?
Screens have been a fixture in pubs for eons, showing sporting matches and bringing fans together to share the excitement. It's time to put those screens to use all week long and to take advantage of many other ways digital signs can benefit pubs and bars.
Many pubs and bars are still using chalkboards for their menus, with posters on the windows to advertise upcoming gigs, Tuesday night trivia and kids eat free promotions. Not to mention the little perspex stands on the bar to advertise tonight's special cocktail or COVID-safe regulations. Digital signage puts an end to all that time-consuming marketing. Pubs and bars can easily communicate anything they like through digital displays, usually TV screens. It's a simple, cost-effective and powerful way to attract customers, display menu options, and increase sales.
Ready to see how digital signage might work in your pub or bar? 
---
What are the benefits of digital signs in pubs and bars? 
Digital signs are hugely compatible with the needs of pubs and bars. Thousands of venues are installing digital signs every week because they: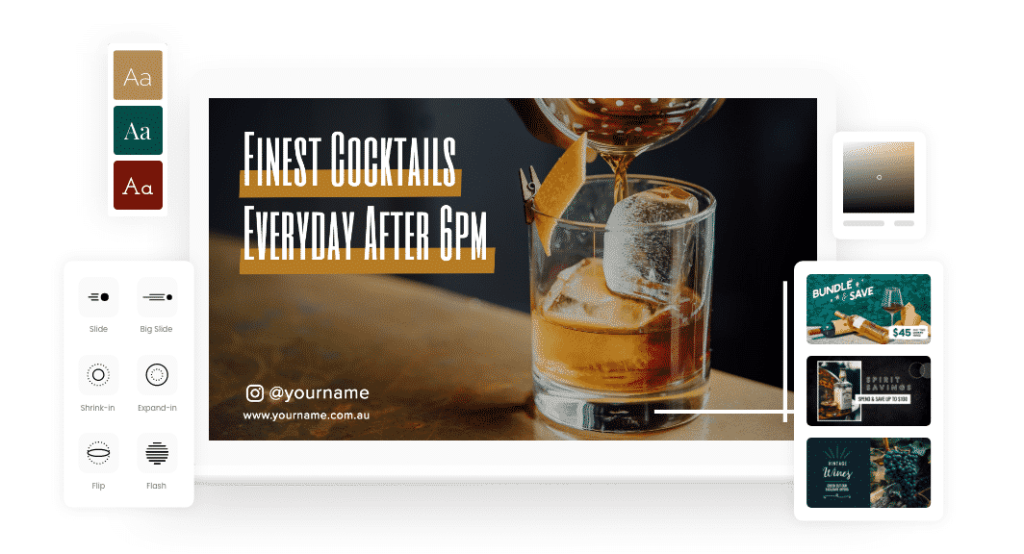 Lift foot traffic by 17%
Digital signs on pub windows grab the attention of punters and draw them inside. No more half-torn, faded posters taped to the front window. Instead, get eye-catching videos on HD screens that advertise meal deals, drink specials and events. They'll help pull a big crowd for the all-important bustling pub atmosphere.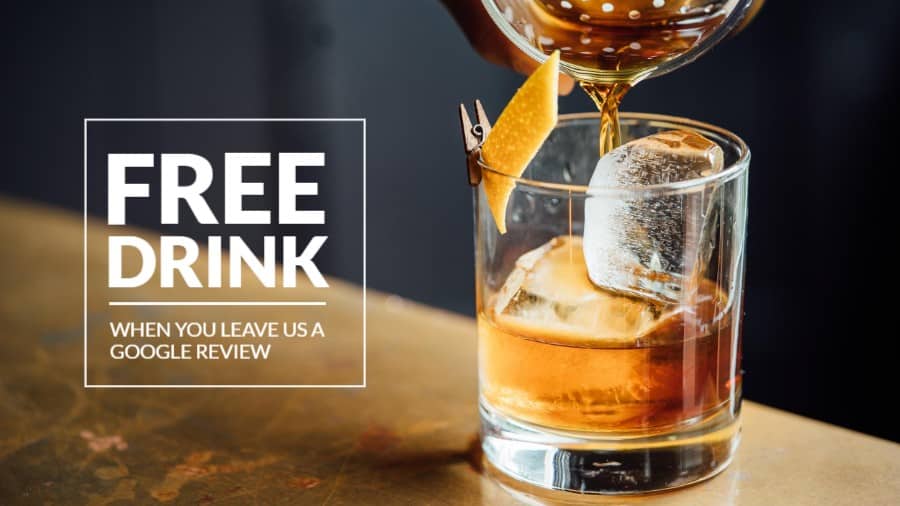 Build daily sales by 30% Using digital signs for your marketing campaigns and menu boards can help increase your sales. By showing food and drink specials, delectable desserts or salty treats, you can tempt people to buy more. Limited-time deals get a great response because of the FOMO factor. Using digital signs for entertainment encourages people to stay longer, also boosting daily sales.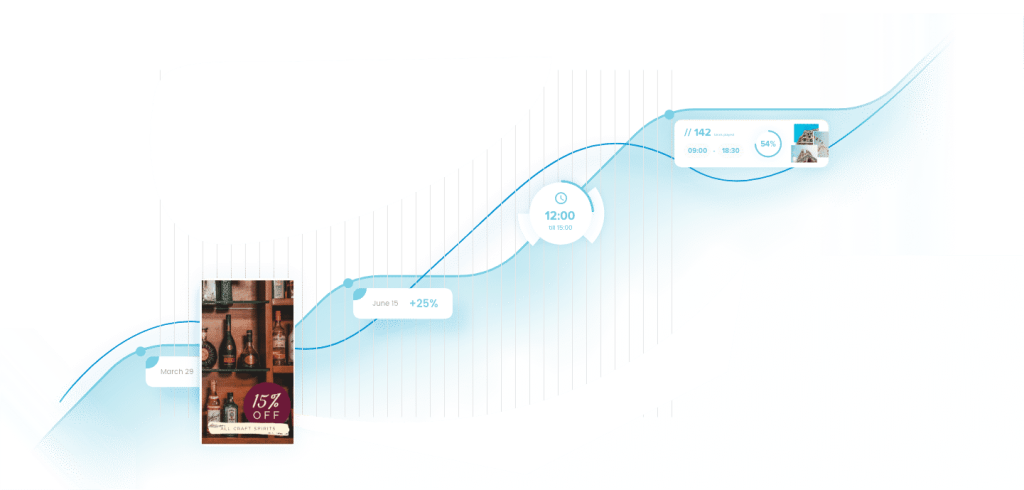 Increase profit margins By advertising tempting food and drink options, you can encourage people to buy more expensive items. A remarkable 70% of customers purchase products because a sign caught their eye. Signs in pubs and bars are great for steering people towards fancy cocktails, boutique beers, fine wine or exquisite seafood options that can drive profits sky-high.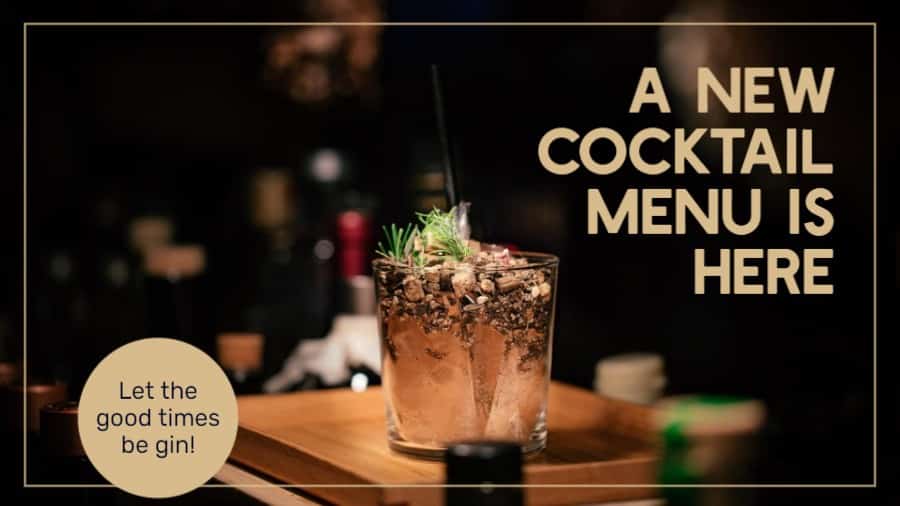 Offer insights into what works Some digital signage solutions offer detailed reporting and analytics so you can see what's working. By running different promotions and content at different times of the day and matching it up with sales data, you can learn what works, update remotely any time and refine your campaigns for maximum success.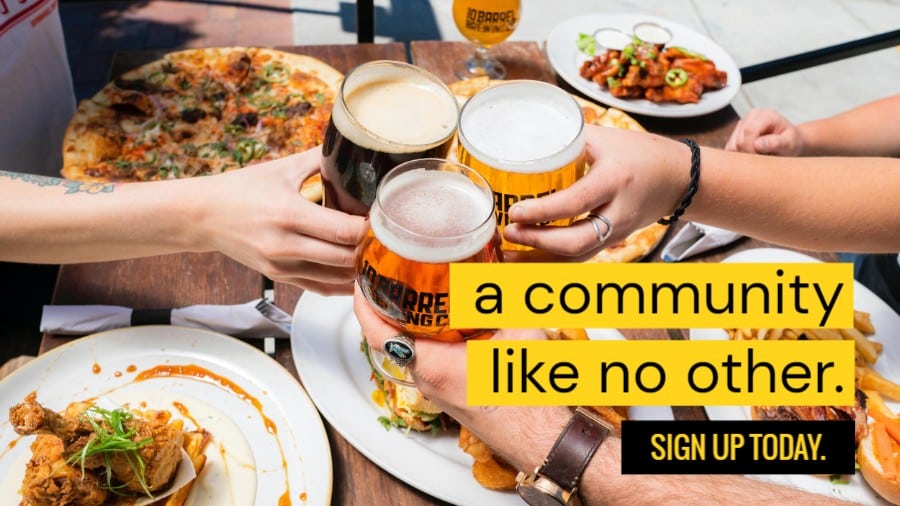 Save time, money and the environment Not a week goes by in pubs and bars without a menu change or a new event. Digital signs are more efficient than constantly designing, printing, shipping, and installing new signs and posters. You can easily create beautiful new signage, remotely and in minutes. You'll be showing your updated content on one or more screens in just a few clicks.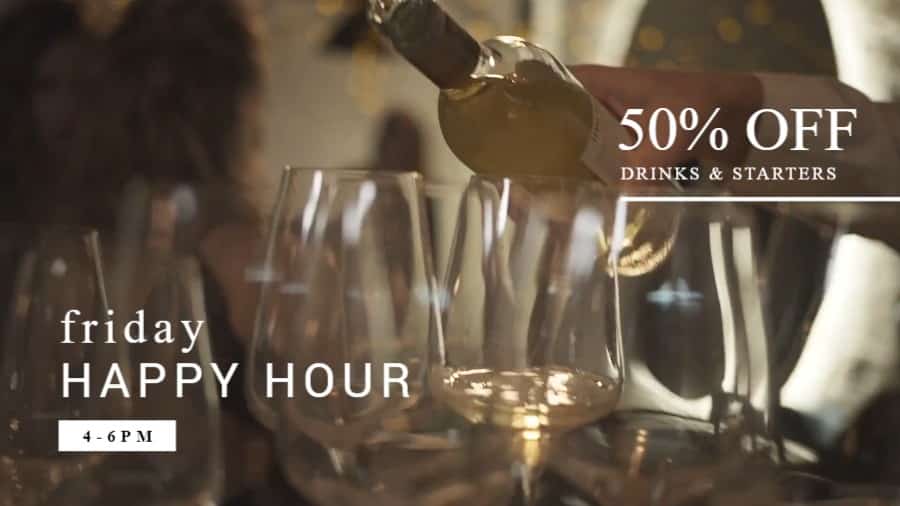 Improve customer engagement Studies show digital signs lead to a 33% increase in repeat buyers and a 21% increase in customer satisfaction. That's awesome news for pubs and bars. Digital signage in bars can be used to show your brand personality, entertain your clientele and keep them coming back for more time and time again.
---
Is digital signage easy for pub owners and staff to use?
It's super easy if you choose a great digital signage partner.
For instance, Mandoe has a simple drag and drop digital signage builder so literally anyone can create and launch beautiful, impactful digital signage.
You don't need any experience in graphic design. Bar staff and publicans who are more comfortable with pouring a beer than working with computers can get phenomenal results with our self-service, Canva-style system. We'll show you how to design, manage and display your own professional-looking content for your pub in four easy steps:
Choose from hundreds of beautiful templates built especially for pubs and bars
Personalise it with your own text and pictures or choose from our extensive collection of millions of stock videos, images, graphics, icons and more
Select the dates and times for your content to display
Deploy to one screen or many in seconds
---
6 winning digital sign ideas for your pub
Rotate your menu: Finally, a solution to the lunch and dinner menu changeover. Your menu can automatically update any time you choose. You can have specials that turn on and off at different times of the day, offer lunchtime drink and food deals and switch to the dessert menu late in the evening. It's all pre-programmed so you and your staff can focus on giving your customers the best experience possible.
Share important information: Streamlining check-in procedures and reminding customers of social distancing requirements or new ordering processes will save staff time, speed up service and improve your customer experience. In case of emergency, you can quickly share evacuation protocols. In peak busy times, you can ask customers to bear with you so they don't get frustrated with the wait.
Entertain your customers: Your customers are at your venue for a good time. Bars and pubs are all about entertainment and your digital signs can enhance the experience for your customers. You can make the screens central to the entertainment experience by connecting sports broadcasts, TV programs, news feeds, social media feeds and more to your screens. Or you can use screen content to reduce perceived wait times by giving people something to do while they wait for their meal.
Engage your customers with stories: Sharing information about your venue, your team, your history or your menu can build a connection with your customers and make them more inclined to return. So, why not introduce your chef, show a live kitchen cam, share the secrets behind a popular menu item or interview the brewer who made the beer. You can update content remotely and push to one screen or many, so you can customise your content if you have several locations.
Share social media feeds: This can be a great way to encourage user-generated content. Running competitions also gets people to interact and extend positive word of mouth recommendations through their social networks.
Sell advertising space: Some pubs set up a new revenue stream by selling advertising space to local businesses on their screens. It's a great way to encourage the community to support local and running cross-promotions can be a huge benefit to all parties.
---
Mandoe in action 
We've worked with big and small businesses to help them grow with our digital signage solutions for over a decade.
Thousands of businesses across the world rely on
Mandoe's digital signage solution
to attract customers and grow revenue.
Corowa RSL – a pub and club digital signage success story
We helped increase their sales by over 15% whilst modernising their business with digital signage.
"Mandoe's digital signage software has had a positive impact on our business. It's easy to use, reliable and meets our needs really well. Our digital signage has helped reduce annual costs by over 10% and increase sales by over 15%. The support from Mandoe has been terrific, they always take my calls and help me with anything I need." Lauren, Marketing Officer - Corowa RSL Club
---
How much does digital signage cost for pubs and bars?
Digital signage is more affordable than you think. Pub owners report that it easily pays for itself. Prices can vary, so you should talk to our team to see what it would cost for you, but as a guide, you're only looking at around $35 per month.
The return on investment is great. Digital signs lead to more profit and less cost. Studies have shown that when pubs introduce digital signage, their average sales lift by 30%. There's also the savings from not spending money getting posters printed or paying staff to update
menu boards
. About 70% of pub owners say they've made their money back within 18 months. Talk to our experienced digital signage team to get a package quoted for your business.
---
Pub digital signage FAQs
Can I use my own screens?
We have a range of options available, book a free consult to work out what's best for you.
Is it web-based?
The content creation tool is available online for you to use wherever you are. You can deploy to one screen or many in just a few clicks.
Can I use my own photos and other content?
Yes. There are millions of images, videos, icons and more in our library, or you can upload and use your own.
---
Try Mandoe's instant digital signage builder for free 
Want a free trial of Mandoe's content creation tool? You'll see just how easy it is for pubs to create beautiful digital signage with a free trial of our intuitive drag and drop system.
Create beautiful digital signage for your business in minutes using our specially designed pub templates and huge library of images, videos, icons and graphics
Download your videos and share them with the world for free
No design experience needed with our intuitive drag and drop system and pre-designed pub templates
No need to enter any payment details, no obligation to buy
Written by Lachlan Ross
Marketing Manager at Mandoe
I'm a SAAS-focused marketer with 10+ years of experience who likes to think I've got a way with words - thanks for stopping by and checking out this blog.