Successful gyms create a sense of community and go all-out to deliver personalised member experiences. Fitness centres worldwide are using
digital signage
to transform their businesses. By offering a tailored digital experience for their captive audience, they're growing their customer numbers, smashing revenue goals and saving marketing costs. Studies have shown that around 70% of gym customers view around 40 minutes of screen time each time they visit (for the most dedicated, that's every day). 96% of people who watch screens at gyms say it helps them to pass the time. Read on to learn how easy it is for total beginners to implement digital fitness signage that helps builds an engaged, motivated community of members determined to reach their fitness goals.
---
What is digital signage?
Digital signage allows you to put information onto digital screens (like TVs) to communicate with your customers. They are highly effective in gyms and other fitness centres like yoga, pilates and dance studios. People love to be distracted from their gruelling workouts, taught new exercises and motivated to keep pushing through.
Bright screens with dynamic content stands out in the noisy gym environment. You can introduce your brand in the reception area and inform members of class times, opening hours, and membership deals. Inside the workout areas, educational and motivational content will be a hit. Post-workout stretch demonstrations can teach people to avoid injury, and safety guidelines can be shared near the weights. Traditional signs and posters just don't cut through like modern, professional digital signs. By using videos, animations and bright colours, you can capture attention and easily update your content from anywhere as often as you like. It's perfect whether you have one location or many.
Digital signage is a must
for gym owners who want an easy, affordable and effective way to attract more customers, streamline their marketing and boost sales.
Ready to see how digital signage might work in your fitness centre?
---
What are the benefits of fitness digital signage in gyms? 
Gym digital signage works exceptionally well. It's ideal for entertaining and informing customers while they train and leads to increased sales and reduced marketing costs. Thousands of gyms are installing digital signs every week because they: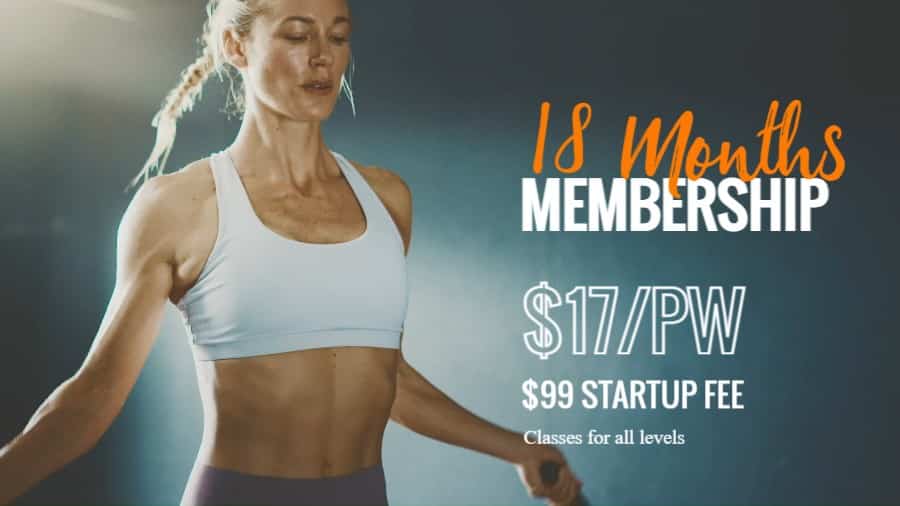 Attract more customers
Digital signs increase walk-ins by 17%. If your gym is on a busy road, passing traffic is a huge growth opportunity. Advertising your class schedule or membership deals could prompt action, and you've just won yourself another customer. Digital signs can showcase your facilities, trainers and programs in eye-catching and tempting ways, so customers feel confident to come in and give your gym a go.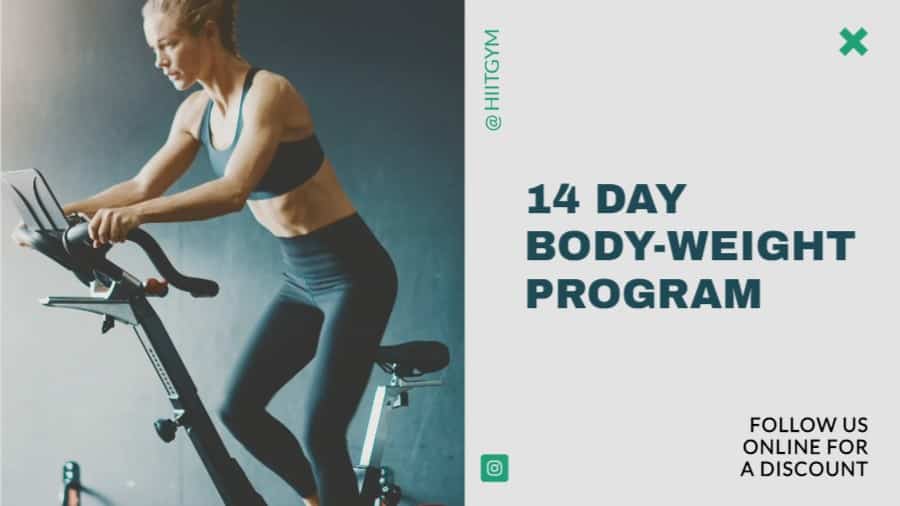 Uplift daily sales Using digital signs for gym marketing campaigns can increase daily sales by 30%. By advertising promotions, complementary products or memberships, you can encourage patrons to try something new. Someone who came in to try a pilates class may sign up for a personal training session or a membership if you promote these services with eye-catching visuals.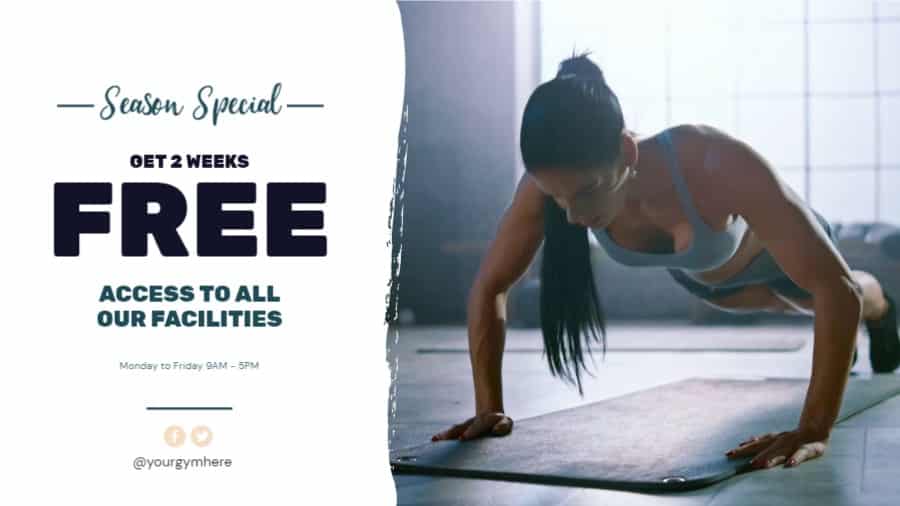 Increase profit margins Studies have shown an incredible 70% of customers buy products because a sign caught their eye. Customers in gyms are a captive audience and they enjoy relevant screen content as a distraction while they work out. Digital signs can showcase the benefits of high-margin services and convince customers to increase their spending.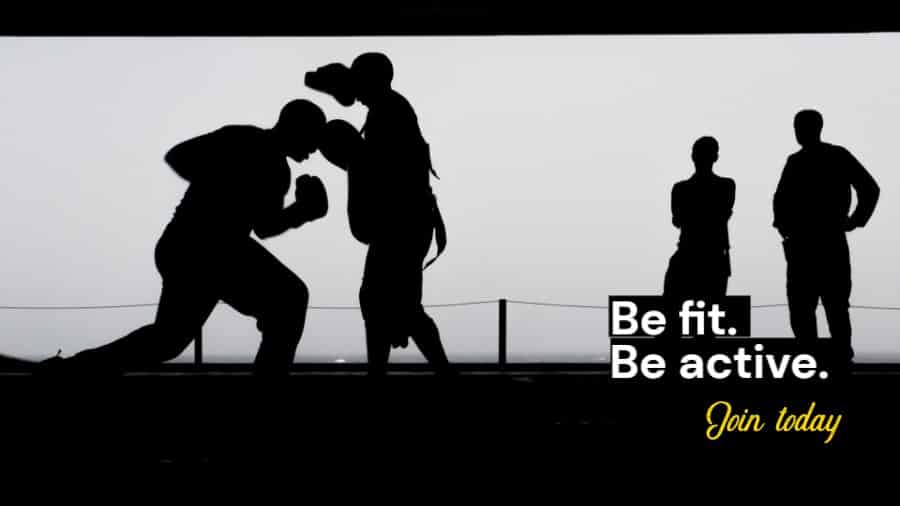 Improve your marketing Look for a digital signage solution that offers detailed reporting and analytics. That way, you can test various campaigns and promotions at different times of the day and then match them up with sales data. When you understand what your customers respond to, you can refine your offers to boost sales and profits. It's easy to update your content remotely and refine your campaigns to get the best results.
Save time, money and the environment Implementing digital signage in your gym will be transformational. Say goodbye to torn and faded window posters. Outdated schedules on the noticeboard will be a thing of the past. It's easy to keep digital signs updated with the latest information. You won't need to pay staff to manually update each noticeboard. You'll reduce your carbon footprint by never needing to print, ship, and install new posters again.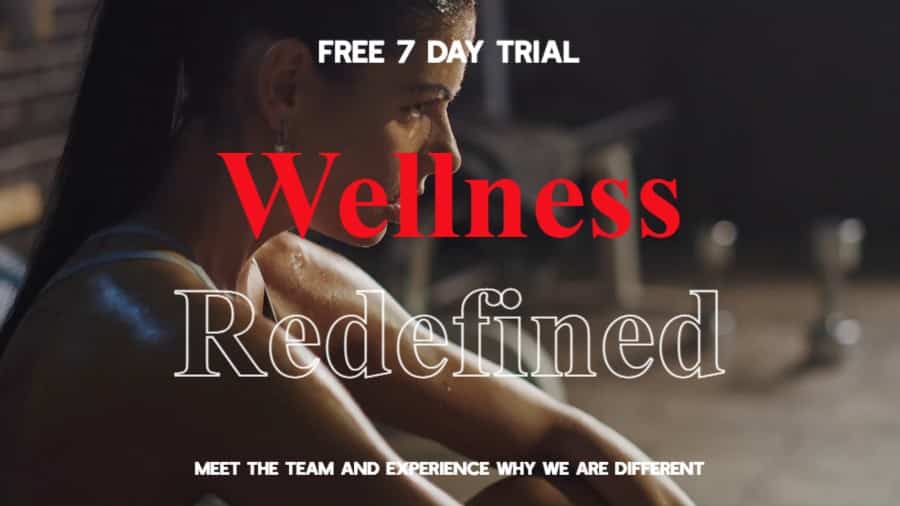 Keep customers coming back People go to gyms to exercise, socialise, get a personalised experience and feel a sense of belonging. Studies show digital signs lead to a 33% increase in repeat buyers and a 21% increase in customer satisfaction. Teaching customers how to use equipment will make them feel empowered and in control of their exercise. By offering education, inspiration and relevant entertainment, you'll create a haven where people will look forward to spending their time (and money).
---
Are digital signs easy for gyms to use?
With the help of a great
digital signage partner
, it's super easy to implement and manage digital signage in your gym. With Mandoe's simple drag and drop
digital signage builder
, you don't need previous experience or in-house graphic design skills. We can show literally anyone how to create and launch beautiful, impactful fitness digital signage. With our help, you'll learn
how to design
, manage and display fantastic looking content for your fitness centre in four easy steps:
Choose from hundreds of beautiful templates built especially for the fitness industry. We've got custom templates to suit the individual needs of gyms, dance studios and more
Choose from hundreds of beautiful templates built especially for the fitness industry. We've got custom templates to suit the individual needs of gyms, dance studios and more
Add your own text and pictures or choose from our extensive library. We've got millions of stock videos, images, graphics, icons you can use for no extra cost
Choose the dates and times for your content to display
Deploy to one screen or many in seconds
---
5 ways to use digital signs in your gym
Promote your entire range of products and services: People can't buy what they don't know exists, so if your gym does disco yoga – let people know. You can have a digital menu board that details literally everything including prices, so people can select as if they were ordering lunch at a café. Selling complementary products can be hugely profitable in a gym, so make sure to prominently promote your protein powder and branded hoodies. Try out a range of promotional offers plus referral and loyalty programs to boost sales and stop customer churn.
Educate, entertain and inform: Create a constant flow of fresh announcements, promotions and brand-boosting content. When people are working out, especially on the treadmill or exercise bikes, you have the perfect chance to communicate with them. Inspire them with health and fitness tips and teach them new exercises. Be aware that most people will listen to their own music or podcasts, so the visual display is critical. Consider using subtitles for customers who like to multi-task. With Mandoe's digital signage solution, you can easily connect news and weather services and lifestyle content to keep people entertained and engaged.
Build trust: The relationship between a trainer and their client is an important one. Customers look to their trainer for advice on fitness, nutrition and more general life matters. Introducing your team and including testimonials on screens will reassure potential customers that they will have a great experience. Showcasing staff qualifications and awards can build confidence in your service too.
Share social media feeds: With Mandoe's digital signage software, you can easily display social widgets on your digital signage. Simply connect your accounts and have live updates of your Instagram feed or Facebook recommendations. Before and after shots will provide much-needed inspiration and recognition for reaching personal targets and foster a sense of community.
Make money through advertising: You can sell advertising space on your digital signs to create a new revenue stream if you have a reasonably busy gym. Local businesses like physiotherapists may be interested in reaching your captive audience, and so might the suppliers of your products.
---
Mandoe in action 
We've helped thousands of businesses in the fitness industry make beautiful digital signage. Over the past decade, Mandoe's digital signage solution has helped businesses worldwide attract new customers, make more money and save on marketing costs.
6X Training – a gym and fitness center digital signage success story
Mandoe helped 6X Training save over 20% in annual costs associated with printing signs and helped increase sales by over 10% from impulse purchases.
"I really love our digital signage and working with Mandoe. Our signs have helped decrease costs and we've seen a noticeable increase in sales. I thought digital signage would be a novelty but it's helped transform the professionalism of 6X training. What separates Mandoe from its competitors is their full-service offering - no one else could provide that." Brad, Owner - 6X Training
---
How much does a fitness digital signage system cost?
Digital transformation in fitness centres is easier and more affordable than you might think, with gym owners reporting that it quickly pays for itself.
Talk to our team to see what your customised plan would cost. As a guide, most gyms pay around $35 per month. The return on investment is so strong because digital signs simultaneously reduce costs and increase profit. Studies show that introducing digital signage can boost average sales lift by 30%. There's also the savings from not spending money getting posters printed and paying staff to update noticeboards. About 70% of gym owners say they've made their money back within 18 months. Talk to our experienced digital signage team to get a quote for a tailored package for your fitness business.
---
Fitness digital signage FAQs
Can I use my own screens?
We have a range of options available, book a free consult to work out what's best for you.
Is it web-based?
The content creation tool is available online for you to use wherever you are. You can deploy to one screen or many in just a few clicks.
Can I use my own photos and other content?
Yes. There are millions of images, videos, icons and more in our library, or you can upload and use your own.
---
Try Mandoe's instant digital signage builder for free 
Want a free trial of Mandoe's content creation tool? You'll see just how easy it is for gyms to create beautiful digital signage with a free trial of our intuitive drag and drop system.
Create beautiful digital signage for your fitness business in minutes using our dedicated templates and enormous library of images, videos, icons and graphics
Download your videos and share them with the world for free.
No design experience needed with our intuitive drag and drop system and pre-designed gym templates
No need to enter any payment details, no obligation to buy
Written by Lachlan Ross
Marketing Manager at Mandoe
I'm a SAAS-focused marketer with 10+ years of experience who likes to think I've got a way with words - thanks for stopping by and checking out this blog.