How Mandoe helped
Who, what & where
Ashburton Meats
is a multi-awarded butchery specialising in premium quality, grass-fed, and ethically farmed meats – traced from paddock to plate.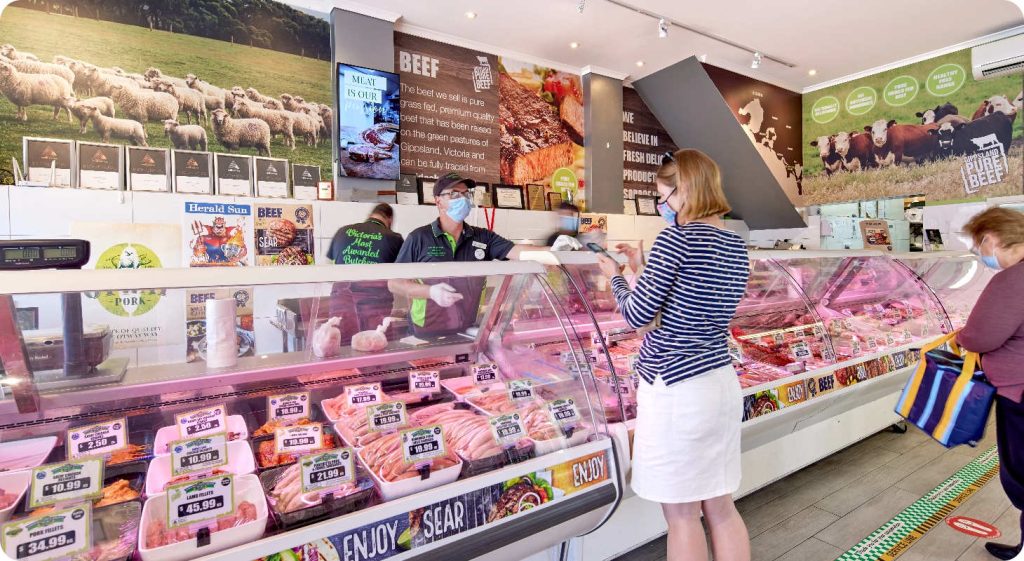 The Requirement
Ashburton Meats was looking for a
Digital Signage
solution as they wanted to promote all of the awards the store had won in recent years, Paul Klooster, owner of Ashburton Meats explained.
"For the last three years, we have won 'Victorian Independent Retail Butcher Shop of the Year'. We're extremely proud of this and wanted a way to showcase this to all of our customers."
Paul also wanted to enhance the interactions between his staff and customers whether that be celebrating birthdays or running his footy-tipping competition.
"Being a local business, our staff and customers have created many friendships amongst themselves and when staff have their birthdays, I like to celebrate this with everyone, including our loyal customers. We also have around 150 customers in our annual footy tipping competition and I wanted to display a leaderboard for who was winning each week."
Finally, Paul had also developed his own product line 'Paul's Fine Foods' – a range of 40 different spice rubs and marinades that he wanted to promote.
"My wife Kasey and I developed this range in our home kitchen and sell it exclusively at our store – we wanted to upsell these products to our customers."
The Solution
Ashburton Meats engaged with Mandoe to supply one of our 40" Digital Signage displays. Once installed Ashburton Meats was able to:
Promote all of the awards the store has won and had the ability to add new laurels when new awards are won.
Schedule signs to be displayed on staff birthdays wishing them a happy birthday.
Have a digital leaderboard for the store's footy tipping competition.
Promote the 'Paul's Fine Foods' range to customers waiting to be served.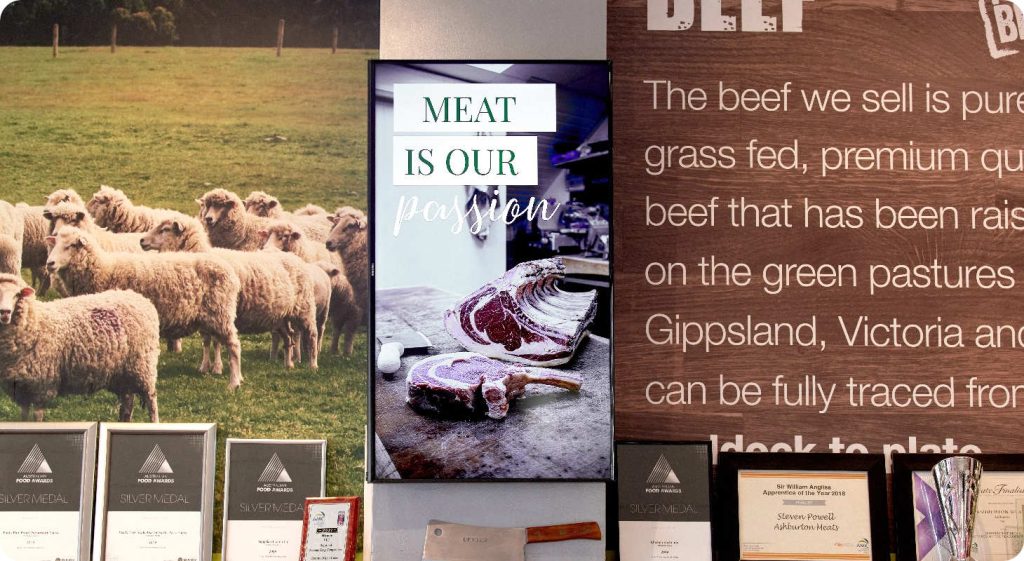 The Benefit
Being able to access Mandoe's library of free high-quality images saved Ashburton Meats thousands of dollars.
"Previously, I used to have to pay around $400 to purchase a single stock image of a piece of steak. Having access to Mandoe's free range of digital images alone pays for the solution itself."
Staff were continually congratulated for their awards, giving them a sense of accomplishment.
"When staff are recognised for their hard work by our customers, it creates an environment where they want to give 110% each day."
Employee satisfaction increased with customers wishing them a happy birthday on their special day.
"When one of our staff has a birthday, I put up a big celebratory sign on our display. The staff love it because when customers are in our store, they go out of their way to wish that person a happy birthday – it always brings a smile to their face. This has really enhanced our workplace culture"
Customers made sure to visit the store after a round of AFL to check the tipping leaderboard which increased weekly sales.
"The digital leaderboard creates a lot of good banter in the store after each weekend, and has improved customer interaction."
The 'Paul's Fine Foods' range saw a 10% increase in sales from impulse add-on purchases.
"80% of customers walk in not knowing what they want to buy, our digital sign helps influence their decision making and we've seen an increase in demand for the range."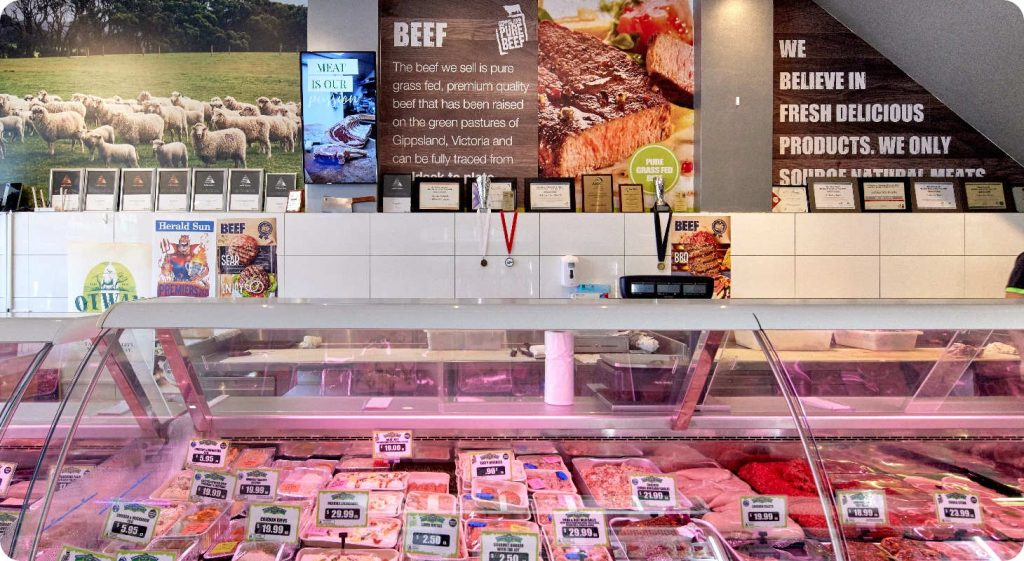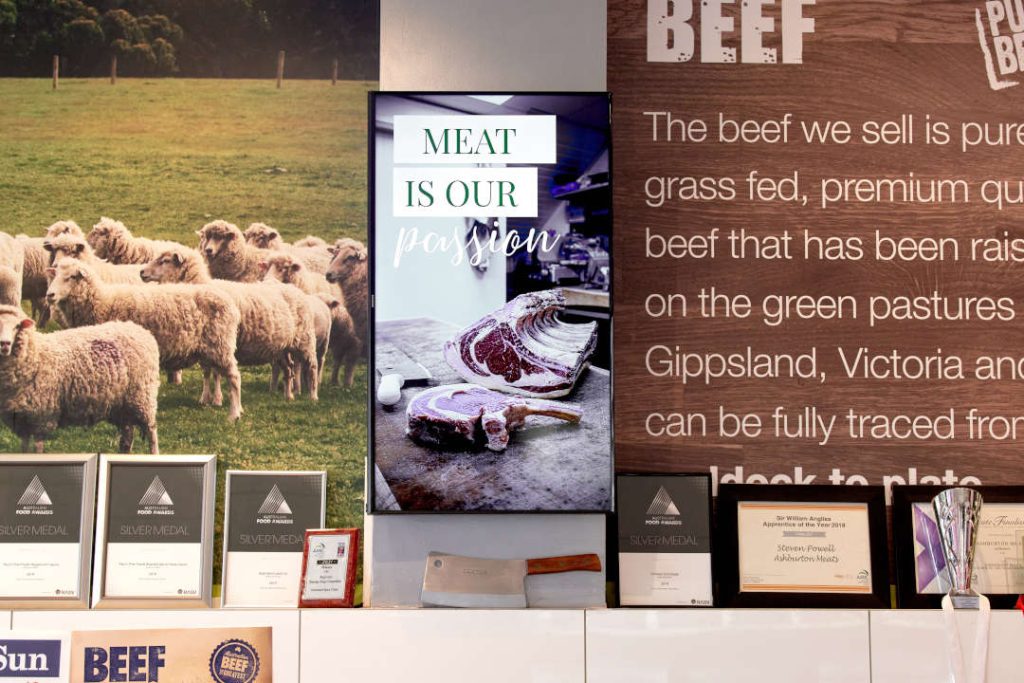 Written by Lachlan Ross
Marketing Manager at Mandoe
I'm a SAAS-focused marketer with 10+ years of experience who likes to think I've got a way with words - thanks for stopping by and checking out this blog.