How Mandoe helped
Who, what & where
Swimart
is one of Australia's largest swimming pool and spa specialist groups. With over 35 years of experience and over 75 outlets across Australia and New Zealand, Swimart is the TRUSTED expert in pool care.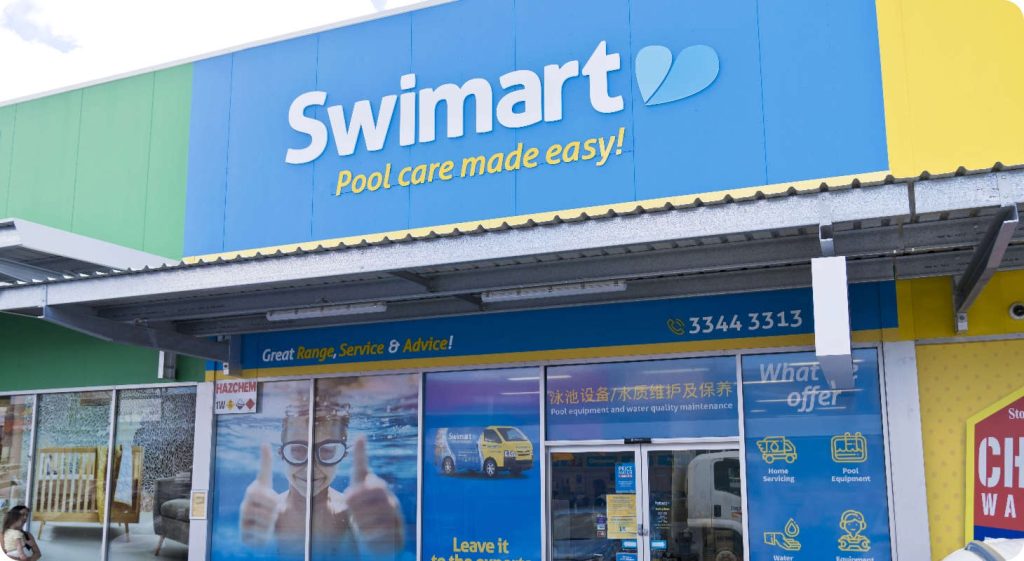 The Requirement
Swimart wanted to enhance their in store experience and how they interacted with customers. One of their services is pool water testing where a customer provides a sample of their pool water to analyse its health. Nathan Hallahan, Swimart's Marketing Manager explained.
"Each test usually takes 2-3 minutes, which means a customer has a dwell time whilst they await their results, generally staff are too busy servicing other customers to give any attention to them during this time."
"We wanted to incorporate some sort of solution where we had a 'virtual salesperson' that could engage with customers whilst they wait for their results."
Also, being a franchise group of over 70 sites meant it was often left to the franchisee to roll out promotional material.
"We didn't have control over what each store was promoting — there was no compliance over branding and key messages. Franchise owners are busy people, we wanted a way to take that responsibility and pressure off their hands."
Swimart went to the market for a
digital signage
solution but wanted something that would fit their business needs.
"We wanted a solution that was:
Easy to use
Had the technical ability to be scalable and rolled out to all our stores throughout Australia and New Zealand.
Controllable — a solution that could be managed from support office to take the hassle out of maintaining the content."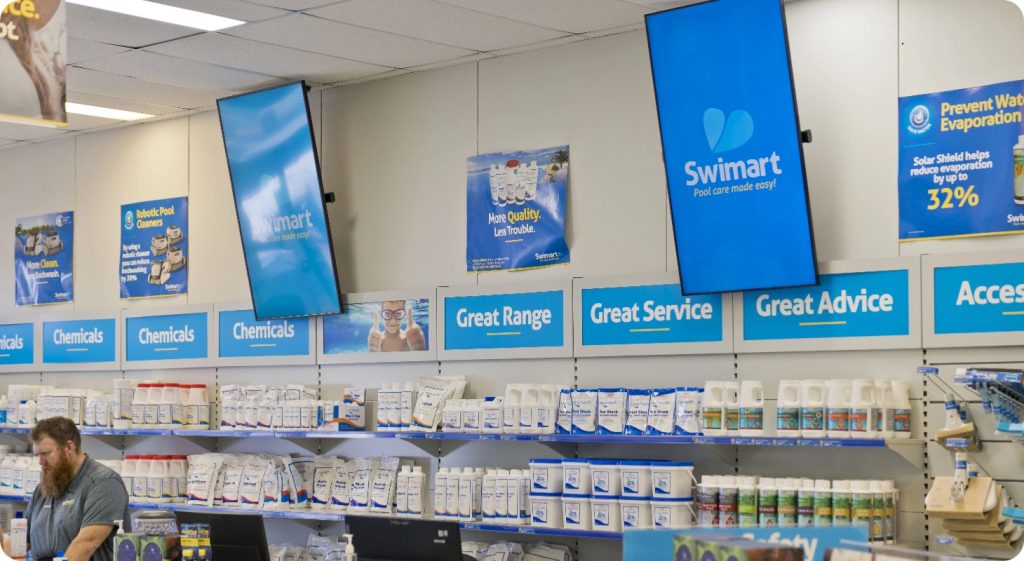 The Solution
Using Mandoe, Swimart was able to roll out a digital signage solution across their entire network of stores across Australia and New Zealand. It was initially tested at two locations before rolling out to the remaining sites.
"The feedback from our test sites was terrific, we instantly saw how easy the solution was to use so we initiated the rollout across all of our sites."
As each store varied in size and layout Swimart used a range of display sizes varying from 40" – 65."
"It was great to have the flexibility that each store could have a display that suited its unique layout."
Each display was strategically placed in eyesight of where a customer would wait for their pool water analysis results. The signs displayed promotions for seasonal specials and provided advice for the management of their pool.
"Each digital sign now acts as an extra salesperson that needs no training — the franchise owners love it."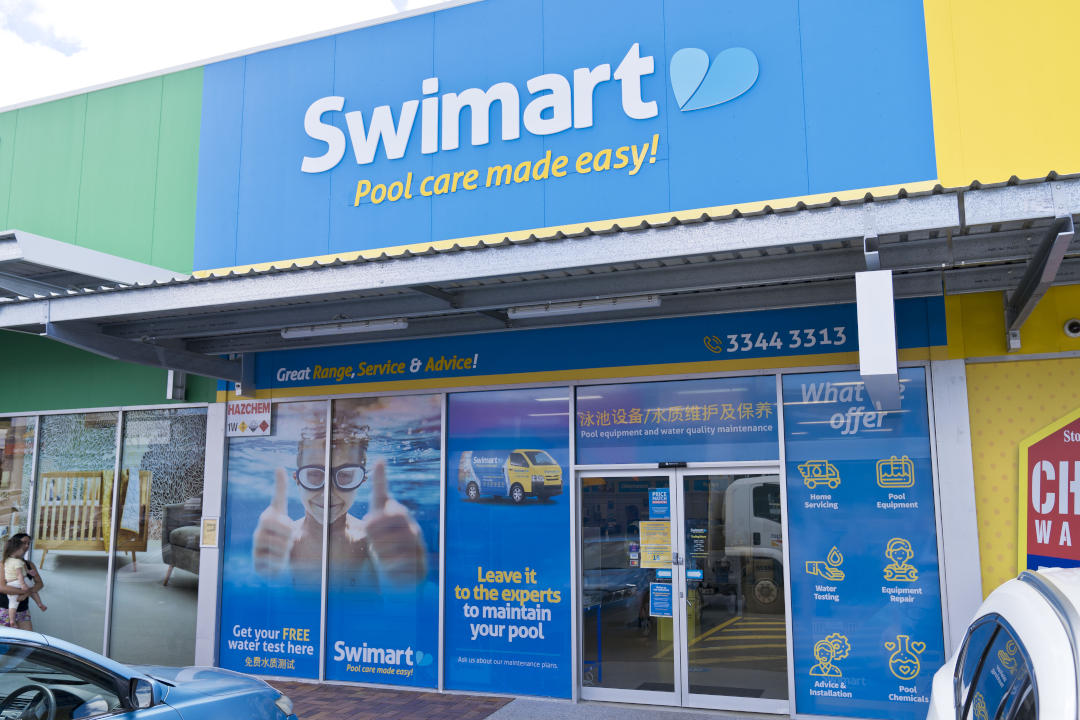 The Benefit
With Swimart's digital signage network all being controlled from their head office, Nathan was able to efficiently execute Swimarts brand strategy.
"We now have the ability to ensure everything is on brand which is critical when part of a franchise group. I no longer have to put out requests to each store to promote one of our offers. We can do it for them."
With each store now having a virtual salesperson via its digital signage, sales have increased.
"Our digital signs have 100% helped increase sales across all locations."
Mandoe's digital signage solution also saved franchise owners hours of valuable time each week.
"Franchise owners can simply put in a request for something they want to be displayed — they love that because there is no work involved for them. The feedback we have from stores is that they love the digital signs, it's critical that the franchise network supports our marketing initiatives."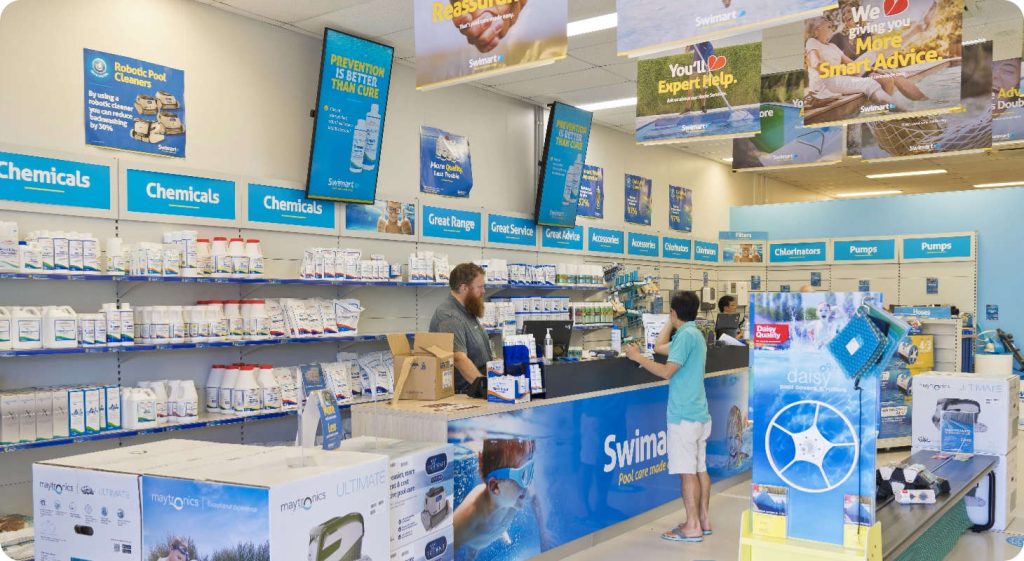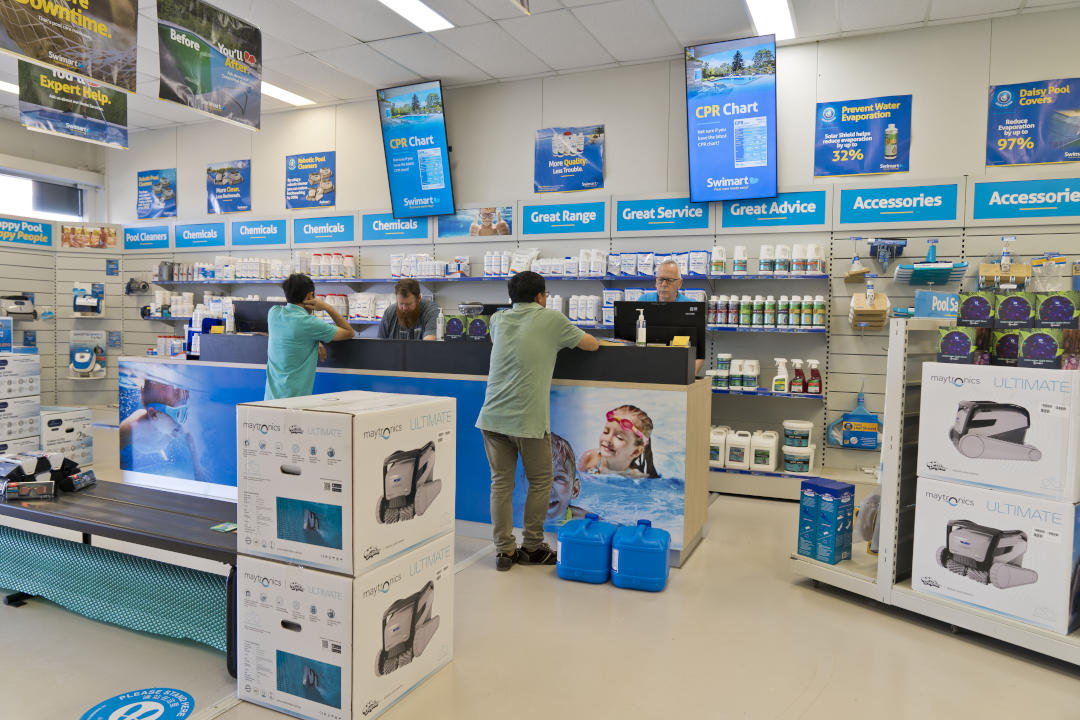 Written by Lachlan Ross
Marketing Manager at Mandoe
I'm a SAAS-focused marketer with 10+ years of experience who likes to think I've got a way with words - thanks for stopping by and checking out this blog.