Digital store signage is a game-changer for retailers. Visual merchandising has always been key to attracting customers, but constantly changing physical displays can be expensive and time-consuming. Retail digital signage changes all that.
Retail digital signage draws window shoppers inside, keeps them in-store longer, increases sales and reduces marketing and promotional costs. In this guide, you'll see how digital signage can work for all retail stores including
furniture
, florists,
electronics
,
sporting goods
,
bookstores
,
office supplies
,
art supplies
,
homewares
,
gift stores
,
fashion
,
pet supplies
, hardware and more. Read on to find out how easy it is to introduce digital signage into your retail store.
---
What is digital store signage?
In retail settings, digital signs put messages and advertisements onto digital screens, usually TVs. Without screens, the store would need posters or staff to communicate with customers. Stores can attractively display their range of products and communicate anything they like through digital displays. It's an easy, affordable and effective way to attract customers, showcase products and boost sales.
Using signs and displays in-store has always been a thing. They can be used to share wayfinding information, display prices, reveal product features and highlight promotional offers. Signs are an essential part of communication in retailing. Many retailers are still using posters, physical displays and other means for their communication needs.
Digital signage is a must for retailers
who want to replace all that time-consuming marketing, streamline their communications and increase profits.
Ready to see how digital signage might work in your shop? 
---
What are the benefits of digital signage in retail stores? 
Digital signage is perfect for the retail setting. Thousands of stores are installing digital signs every week because they: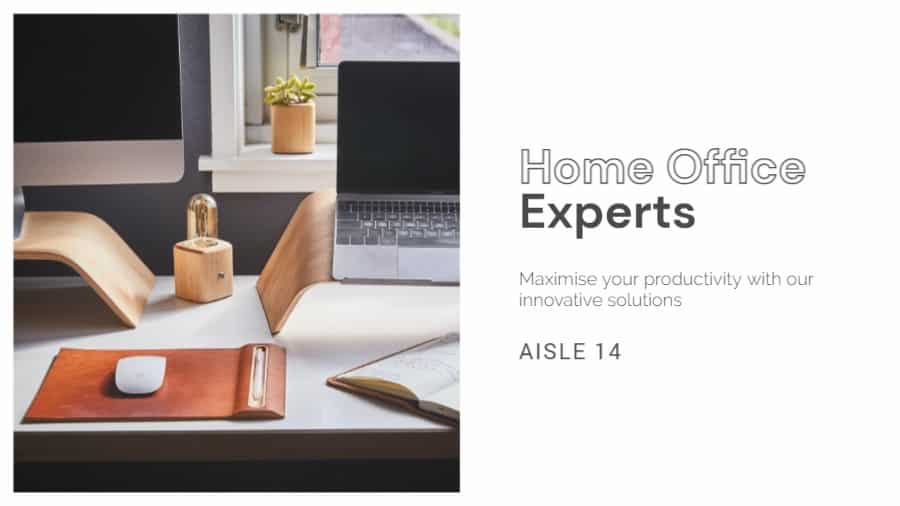 Lift foot traffic by 17%
Eye-catching shop front digital signage works wonders to entice window shoppers inside. We're a screen obsessed society, and passers-by will be naturally drawn to your screens. Digital signage does a much better job of displaying your range of products than a poster or physical display ever could, in full HD glory, supported by videos and lifestyle imagery.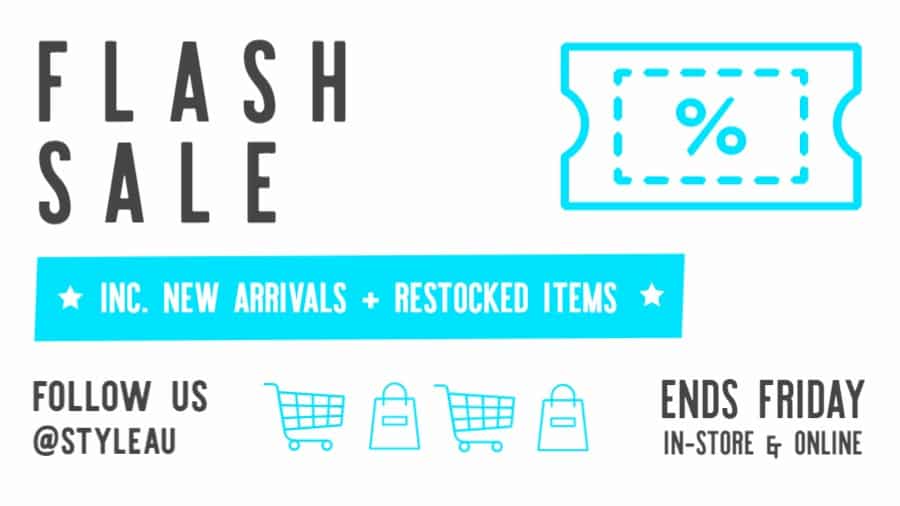 Build daily sales by 30% Using digital signs for your in-store marketing campaigns can help your sales skyrocket. You can promote clearance sales and seasonal offers, cross-sells and discount bundles. Limited-time deals get a great response because they increase the urgency to buy. Using digital signs for entertainment also encourages people to stay longer, also boosting daily sales.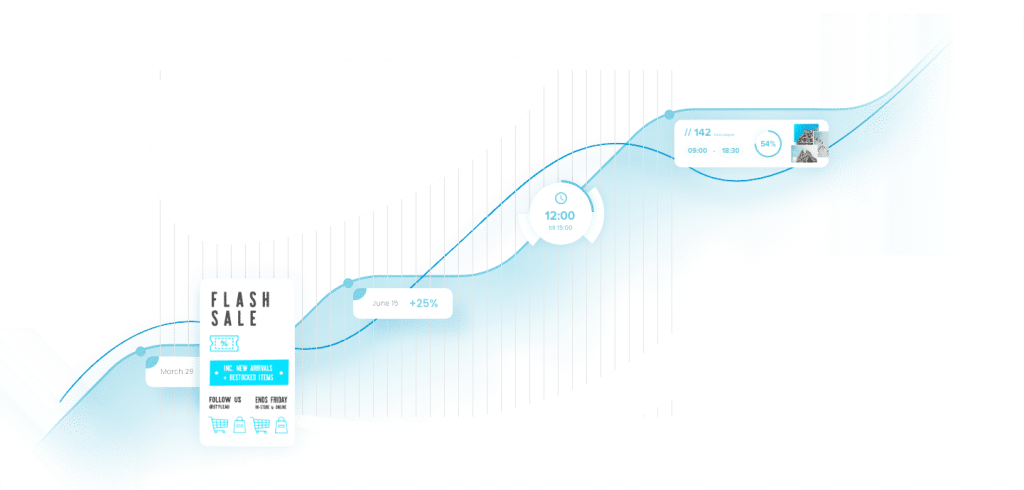 Increase profit margins By focusing your in-store digital signage promotions on your higher margin lines, you can encourage people to buy more expensive items. Amazingly, 70% of customers purchase products because a sign caught their eye. Signs in retail settings can act like extra salespeople on the floor – pushing the features of top of the line options to drive higher profit margins.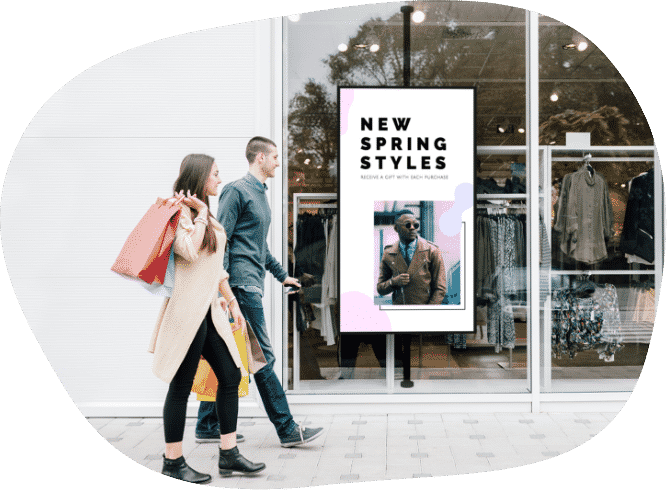 Instore data analytics Look for a retail digital signage solution that offers detailed reporting and analytics. You can test different promotions and content at different times of the day and then match it up with sales data. When you understand what works with your customer base, you can update remotely at anytime and refine your campaigns on-the-fly to maximise success.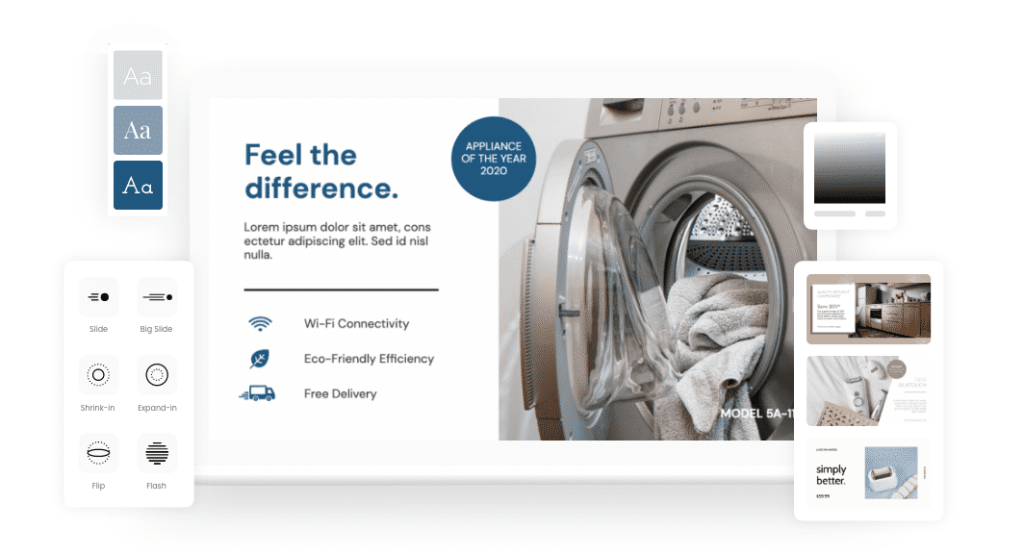 Save time, money and the environment Retail stores have a constant influx of new products. Fashion stores change their range with the season, electronics stores have technology updates all the time. Digital signs are much more efficient than always designing, printing, shipping, and installing new signs, posters and displays. You'll be showing your updated content on one or more screens in just a few clicks.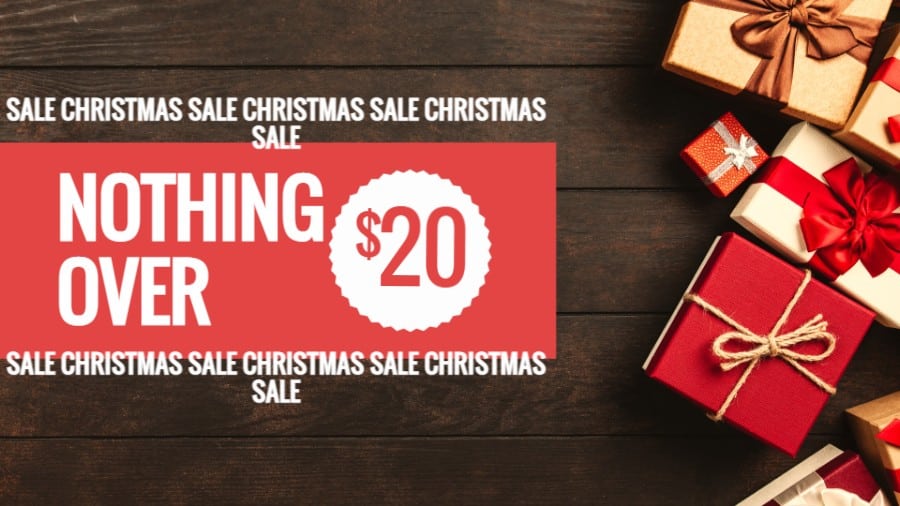 Grow customer engagement Studies show digital signs lead to a 33% increase in repeat buyers and a 21% increase in customer satisfaction. By offering better wayfinding, displaying entire catalogues to help customers make their purchase choices, or demonstrating the features of unfamiliar products, digital screens can greatly improve the in-store customer experience.
---
Is digital store signage easy for shop owners, managers and staff to use?
It's easy and cost-effective when you have the support of a great digital signage partner.
With Mandoe's simple drag and drop
digital signage builder
, literally anyone can create and launch beautiful, impactful retail digital signage. You don't need any experience in graphic design. Even people who aren't that confident with computers can get phenomenal results with our intuitive, self-service system. We'll show you
how to design
, manage and display your own amazing looking content for your store in four easy steps:
Choose from hundreds of beautiful templates built especially for a huge variety of retail settings
Make it your own by adding your own text and pictures or choose from our extensive library. We've got millions of stock videos, images, graphics, icons you can use for no extra cost
Choose the dates and times for your content to display
Deploy to one screen or multiple screens in seconds
---
5 winning digital signage ideas for your retail store
Advertising: Use your screens as an extension of your digital marketing and online presence. You can use digital signage to announce sales, launch new products or run promotions. Point of sale advertising is also very effective for impulse buys, time sensitive deals, clearance sales and package deals. And if you happen to be out of stock in-store, directing customers to your online store can ensure you get the sale.
Customer service: Sometimes you can use screens in place of staff as an efficient and cost-effective way of helping customers. They can be like a digital extension of your customer service team. Instantly sharing information through screens and can reduce the wait time for customers and increase the productivity of team members at the same time. Screens can be used for product demonstrations, to show shoppers where to find products and to connect with customers who actively avoid salespeople.
Brand building: Strong brands are top-of-mind and trusted, which leads to purchase and repeat purchase. If you use your screens to tell your brand story, you can create an emotional connection with your customers. By running engaging videos on digital signage, you can position the brand for easy recall.
Social proof: This can be a great way to encourage user-generated content. Running competitions also gets people to interact and extend positive word of mouth recommendations through their social networks. Having customer reviews displayed in-store offers social proof and builds trust, making shoppers more inclined to buy. Using influencers or ambassadors can also be a powerful tool to convince customers to buy.
Share important safety information: Digital signs are great for reminding shoppers to wear masks (if needed), use hand sanitiser and keep their distance. If you have capacity limits, this can be shared through screens too. In case of emergency, you can quickly share evacuation instructions.
---
Mandoe in action 
For over a decade, our digital signage solutions have been helping big and small retailers attract customers and grow revenue. Thousands of businesses across the world love and trust Mandoe's digital signage solution.
Swimart – a retail digital signage success story
Swimart entrusted Mandoe to roll out a digital signage solution across their network of over 70 stores.
"Mandoe has been a pleasure to work with and their digital signage solution has had a positive effect on our business. Franchise owners love them and they've helped increase sales and customer engagement. From a personal perspective, having the ability to manage our network of displays from a central location has been a game changer for delivering our overall marketing strategy." Nathan Hallahan, Marketing Manager, Swimart 
---
How much does an in-store digital signage system cost?
Digital transformation in retail settings is easier and more affordable than you might think.
Retailers report that it easily pays for itself. Prices can vary, so you should talk to our team to see what it would cost for you, but as a guide, you're only looking at around $35 per month. Digital signs have a strong return on investment because they lead to more profit and reduce costs at the same time. Studies have shown that when retail stores introduce digital signage, their average sales lift by 30%. There's also the savings from not spending money getting posters printed or paying staff to update product displays. About 70% of store owners say they've made their money back within 18 months. Talk to our experienced digital signage team to get a quote for a tailored package for your business.
---
Retail shop digital signage FAQs
Can I use my own screens?
We have a range of options available, book a free consult to work out what's best for you.
Is it web-based?
The content creation tool is available online for you to use wherever you are. You can deploy to one screen or many in just a few clicks.
Can I use my own photos and other content?
Yes. There are millions of images, videos, icons and more in our library, or you can upload and use your own.
---
Try Mandoe's instant digital signage builder for free 
Want a free trial of Mandoe's content creation tool? You'll see just how easy it is for retailers to create beautiful digital signage with a free trial of our intuitive drag and drop system.
Create beautiful digital signage for your retail store in minutes using our specially designed templates and huge library of images, videos, icons and graphics
Download your videos and share them with the world for free
No design experience needed with our intuitive drag and drop system and pre-designed pub templates
No need to enter any payment details, no obligation to buy
Written by Lachlan Ross
Marketing Manager at Mandoe
I'm a SAAS-focused marketer with 10+ years of experience who likes to think I've got a way with words - thanks for stopping by and checking out this blog.