Sydney is a vibrant city of 5 million people which welcomes 16 million visitors in a typical year. So, unsurprisingly the vast majority of the 15,800 restaurants and cafes in New South Wales are in Sydney. Because there is so much competition, Sydney has some of the most instagrammable eating places. Cafes, bars, and restaurants that visitors just cannot resist photographing and sharing on social media. For this roundup of them, we have chosen a mix of Sydney cafes that are located close to the city´s iconic locations and those with the most social shares. As well as a few of the hidden gems that are not yet that well known but look great and are starting to be talked about.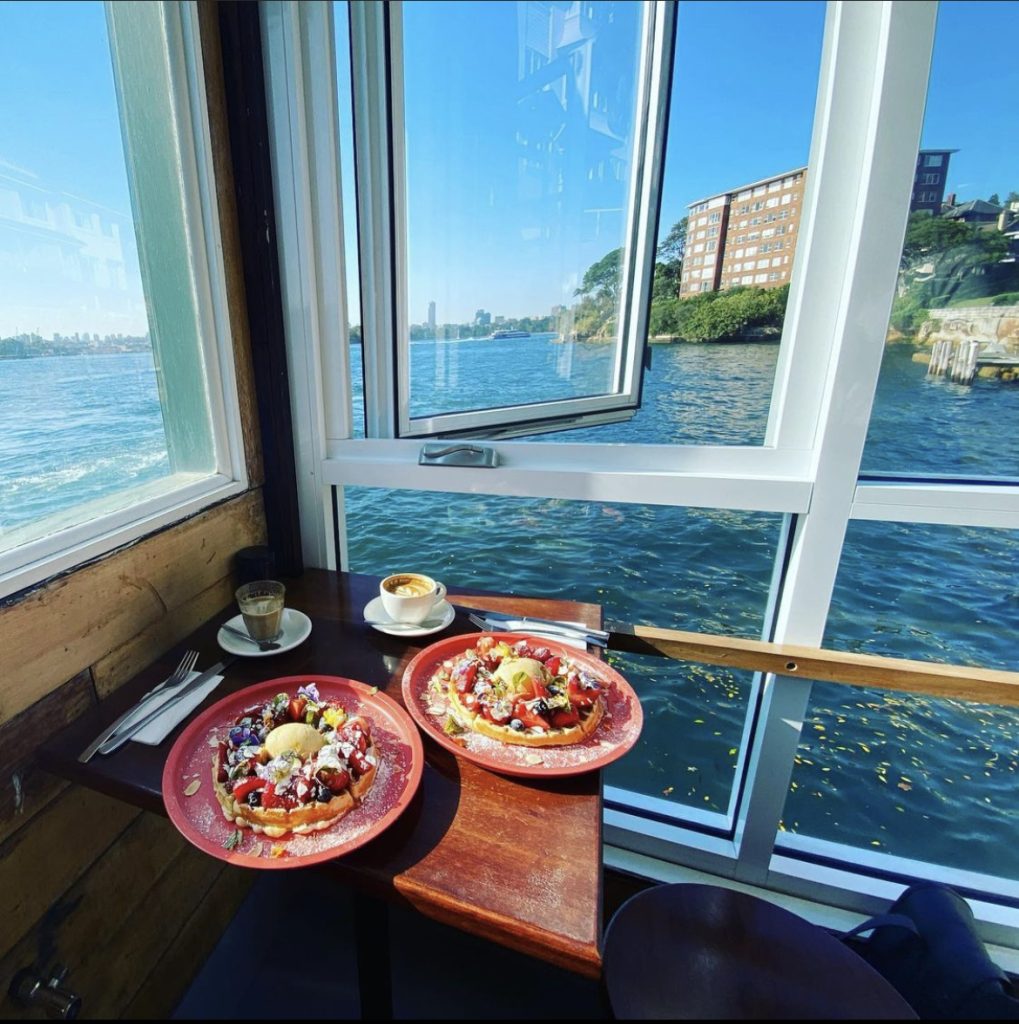 25.8k Followers #CelsiusCoffeeCo.
Where:
Commuter Wharf, Holbrook Ave, Kirribilli NSW 2061 This cozy small café is tucked away on a ferry wharf that is located behind a big mansion next to Kirribilli Pier, which is in North Sydney. You can access it by boat, which you pick up from the circular pier, or by bus. It is a stylish modern cafe that offers awesome waterside views which take in much of Sydney Harbor. The view is what features in the vast majority of the photos shared on Instagram. Celsius is best known for its coffee and desserts, especially the waffles. Lots of people praise the strawberry waffles and suggest that you order them with a cup of mandarin duck milk tea. If you don´t have a sweet tooth, order from their all-day breakfast menu instead.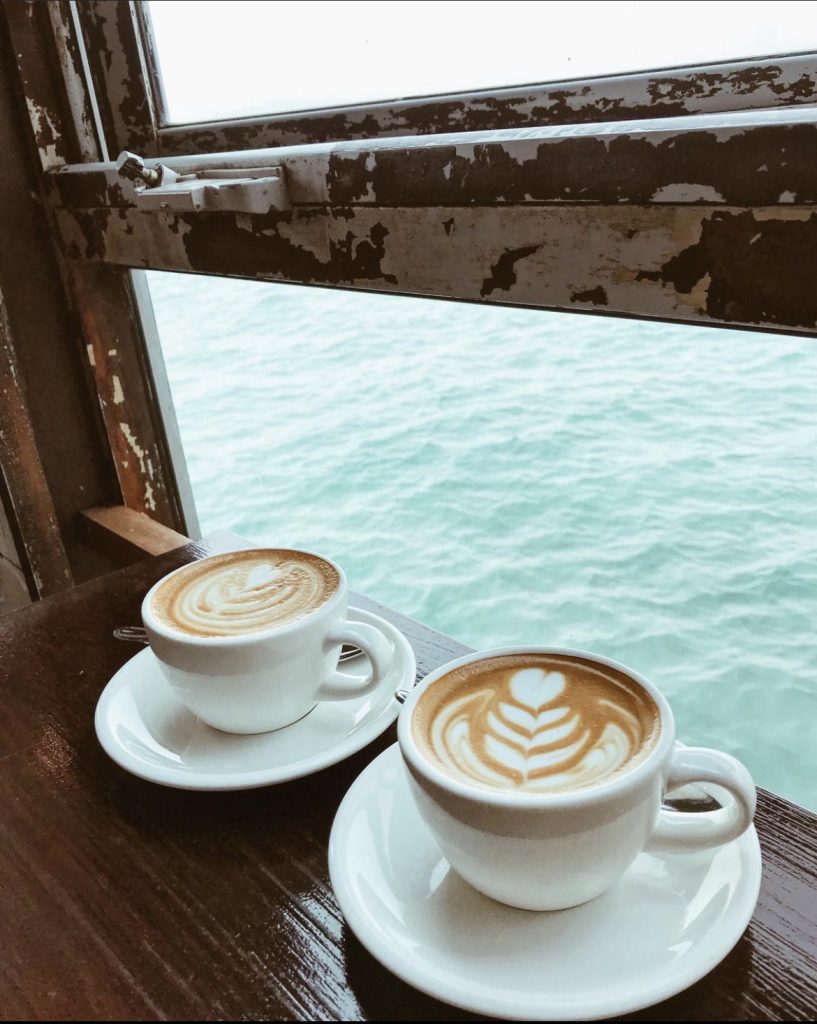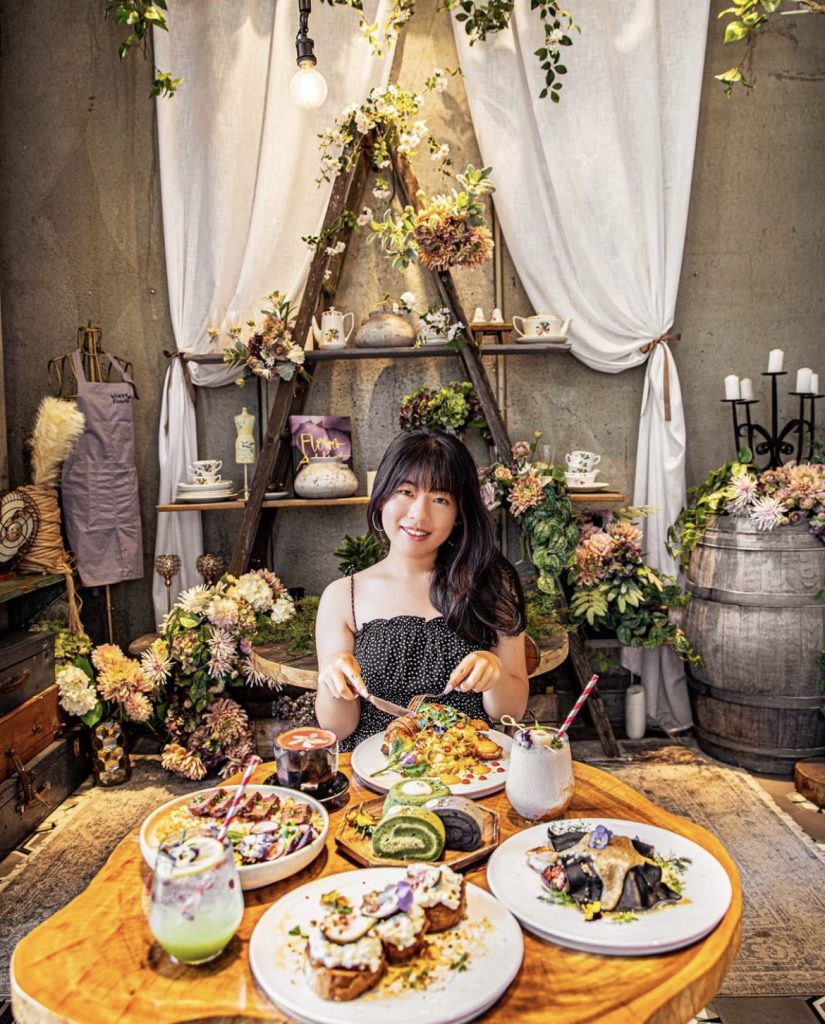 22.7k Followers #cuppaflower 665 posts
Where
: Shop 1, 15 Allen Street, Waterloo, NSW and 19-33 Kent Road Mascot, 2020 NSW The clue to the theme of this coffee shop is in the name. It is set up in a florist's shop, which means that you get to enjoy delicious coffee and food while being surrounded by fresh flowers. Most of its tables are made from sawn tree trunks, which are highly polished, but the seating, flooring and other elements of the décor are modern. So, this café does not feel too chintzy. A wide range of food and drink are sold throughout the day, including all-day breakfast and an extensive range of brunch-style dishes. Their fresh fruit juices, pancakes, red velvet lattes, acai bowls and matcha are all widely spoken about on social media. The Waterloo branch of Cuppa Flower, which is the one we are talking about here, is also dog friendly so it's a no brainer that it's one of the most Instagrammable cafes in Sydney. There are two tables outside where patrons can sit with their pets.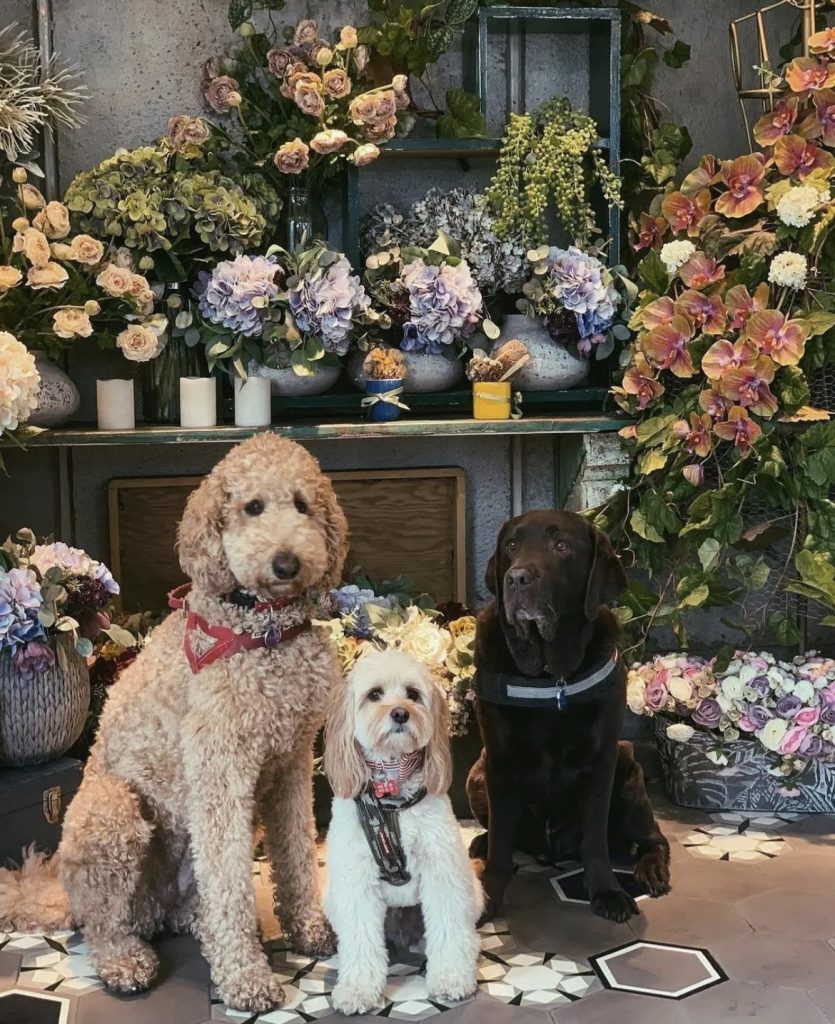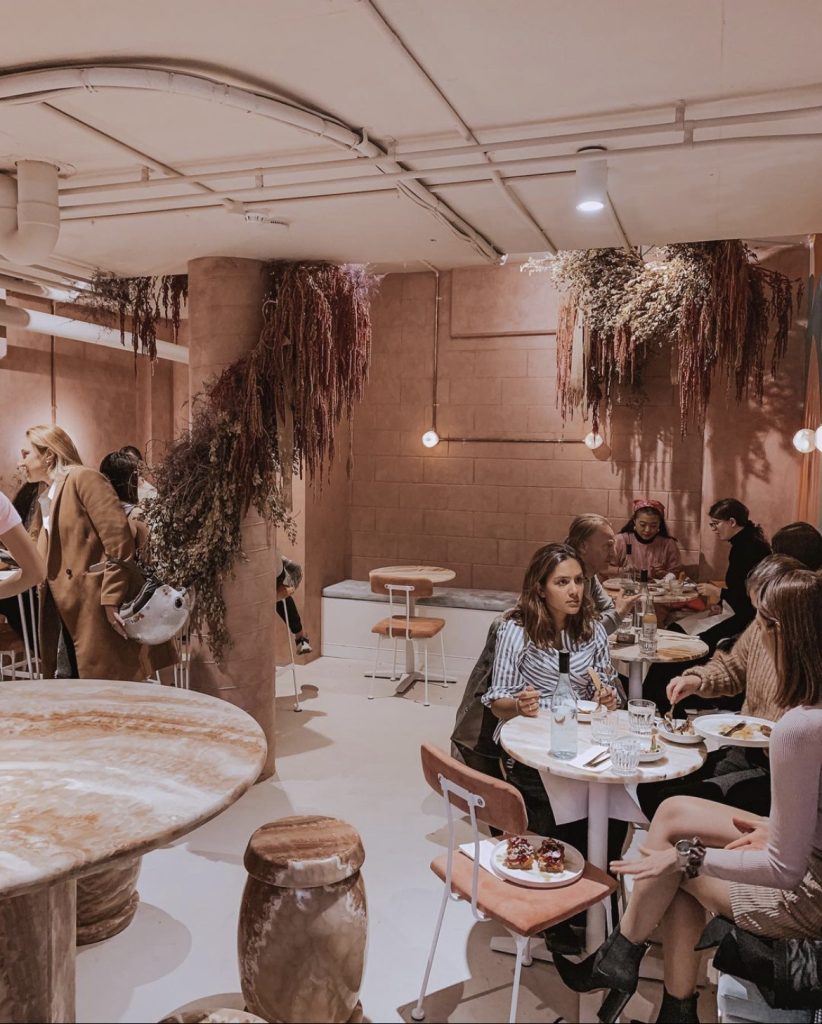 46.4k Followers #themayflowersydney 513 posts
Where
: 2/303a Liverpool Street, Darlinghurst, Sydney This opulent café is located in an art deco building right next to the stylish East Village, in Sydney. The Mayflower's charming floral interior is inspired by the fact that in the 1990s the building was an Art Deco Florist. The mostly pink interior is certainly striking, but it is the food that people want to photograph. This café focuses on serving dishes you would expect to see served on a luxury cruise or in a high-end restaurant. The menu includes Black Pearl Beluga Caviar, trout gravlax, Wagyu burgers and Tuna Tartare.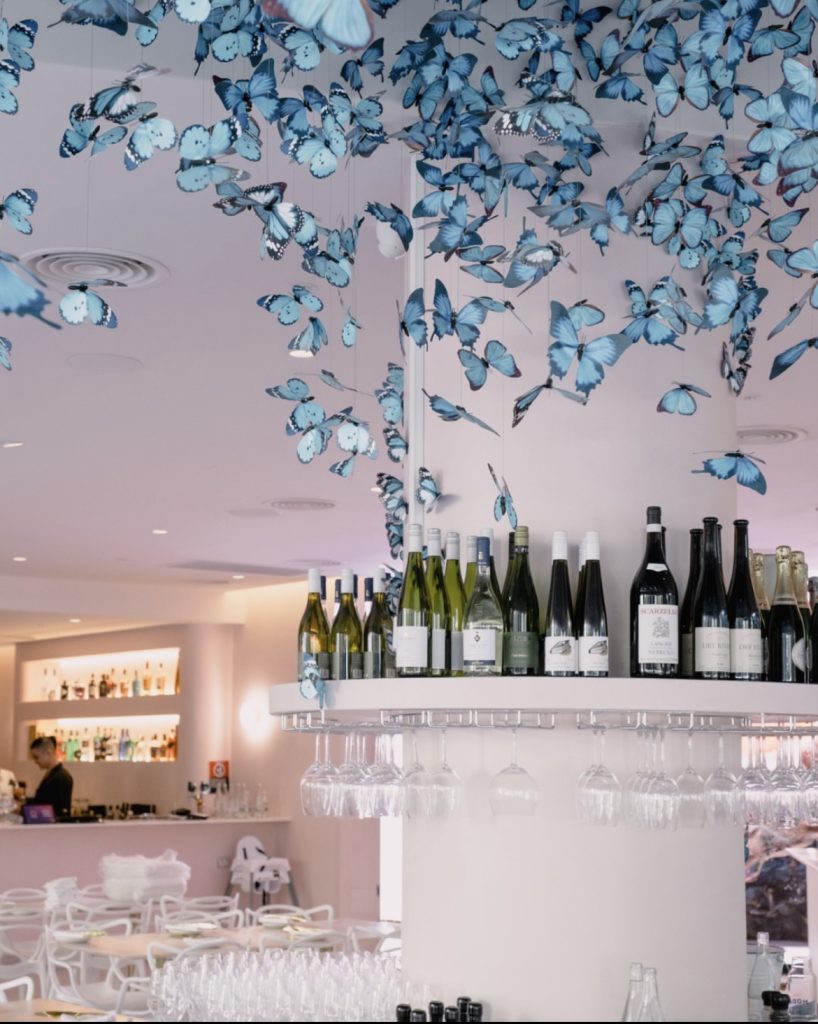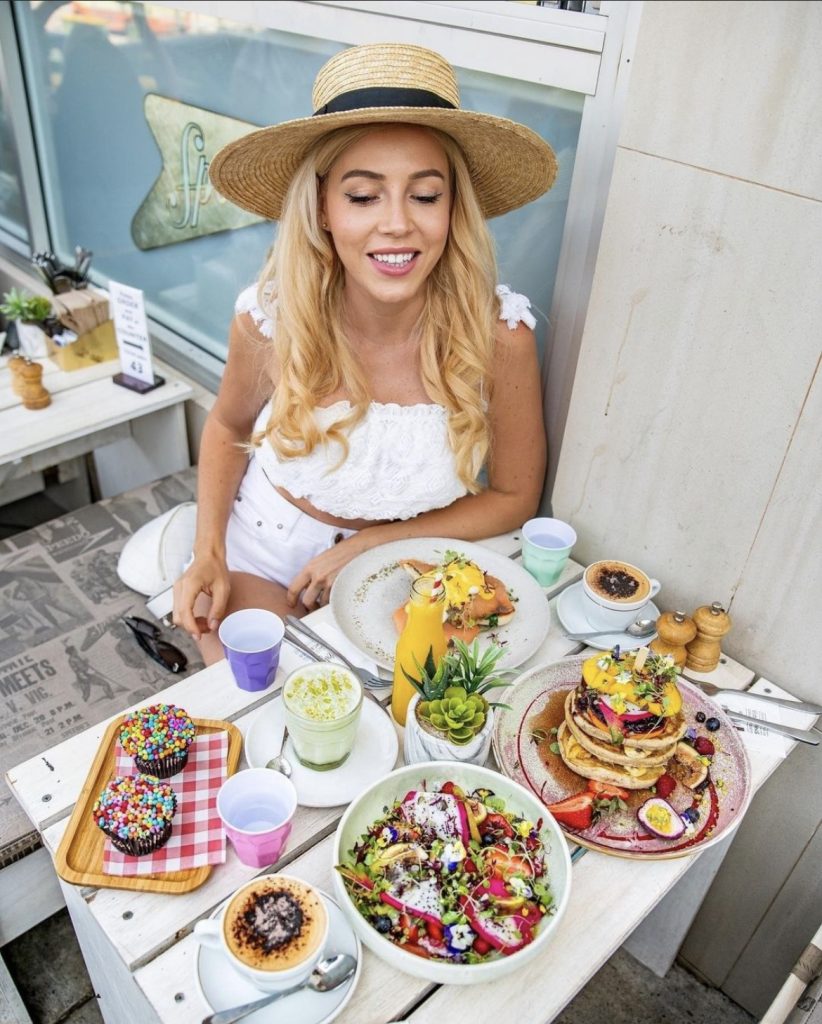 46.8k Followers #speedoscafe 7,356 posts
Where:
126 Ramsgate Ave, North Bondi| The owners of Speedos Café on Bondi Beach are pretty confident that they have something special to offer. Their strapline is "Dine in the world's MOST Instagrammable Café."  Judging by the number of photos of this café and its views you find on all of the social media platforms and review sites they could be right. The cream and brown décor is crisp and clean. Its large mirror, which is mounted on the far wall, helps to make it feel spacious. While the full glass frontage, which looks out over views of the beach, lets in plenty of light. Speedos is renowned for serving highly colorful food. Their menu is extensive and includes pancakes, breakfast dishes, salads, fish and chips, ragu, soft crab burgers and many more options.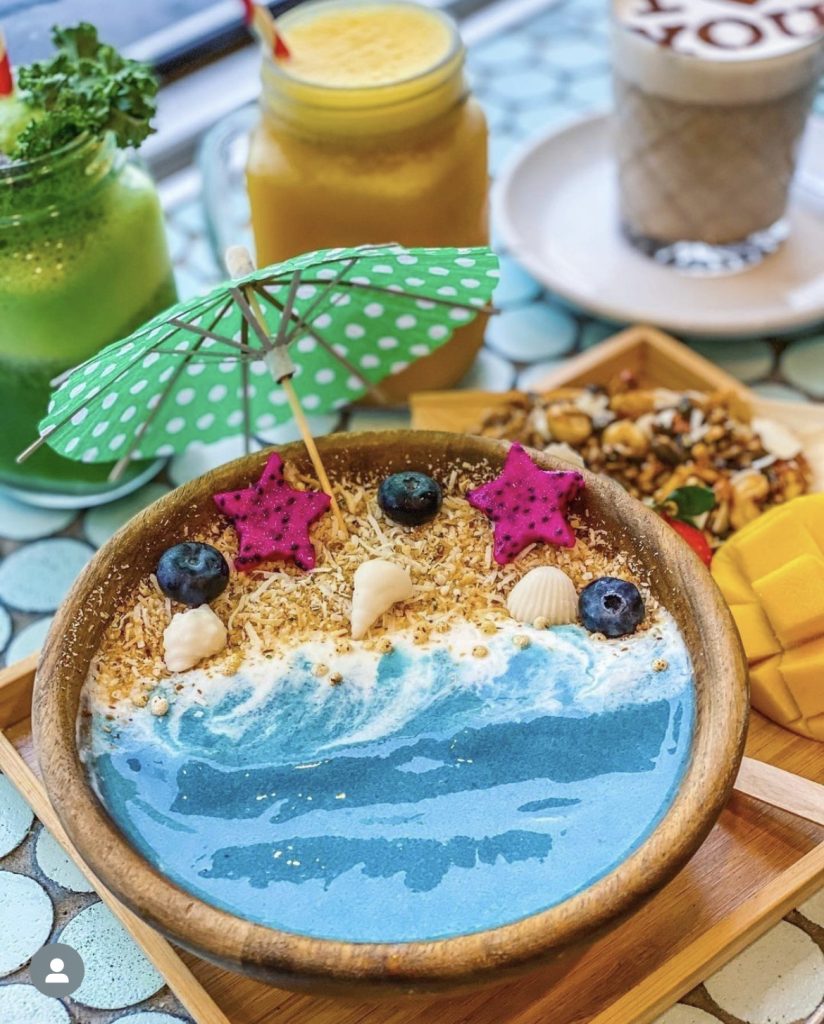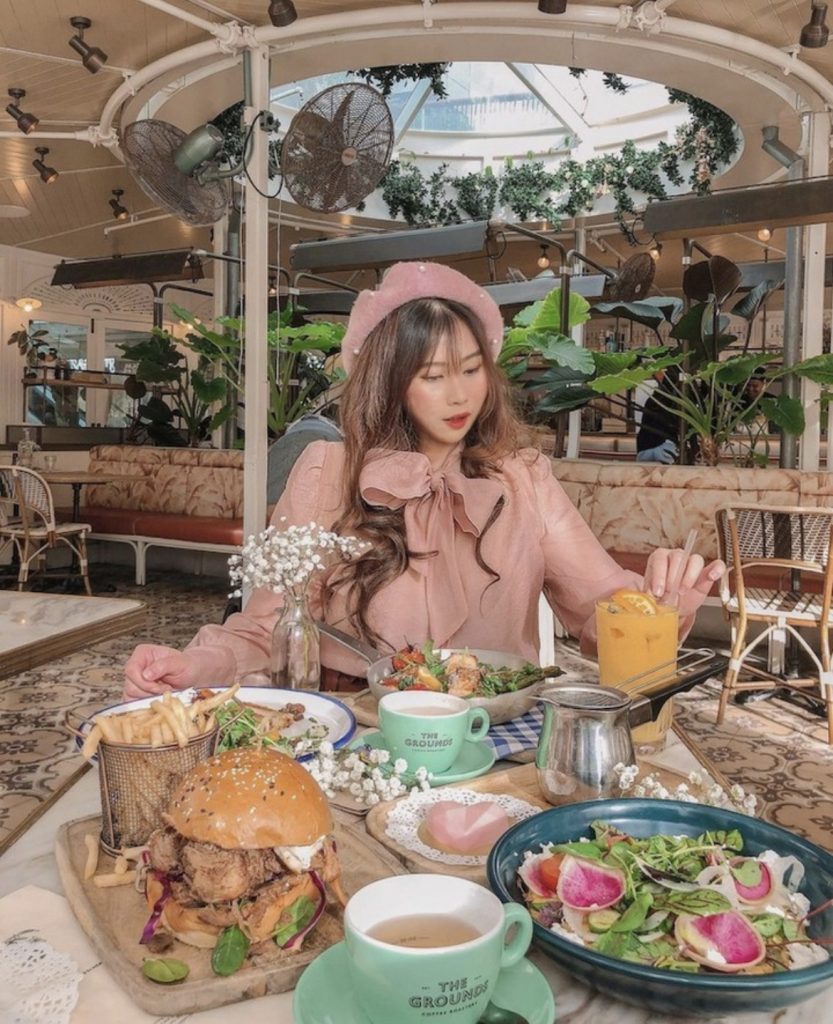 19.5k Followers #flowerchildcafe 6,690 posts
Where
: Westfield Shopping Centre, Shop 391/1 Anderson St, Chatswood NSW 2067, - Ground Floor, Westfield Warringah Mall, Corner of Condamine Street and Old Pittwater Road, Brookvale, Sydney and K3201/6 Castle St, Castle Hill NSW 2154 This is another floral-themed Sydney café. There are three branches for you to visit, at Chatswood, Castle Hill and Warringah shopping centers. They are all extremely popular with Instagrammers, but it is the Chatswood café that they flock to. The conservatory-style interior is bedecked in flowers, including plants hanging from the ceiling. It creates an enchanting and restful environment in which to enjoy the beautifully presented food and drink. The emphasis is on freshness and sustainability. Flower Child serves a wide range of dishes made from free-range meats and, as much as possible, organic fruit and veg. They truly have created a dining oasis. One that makes you feel like you have stepped back in time into an Edwardian conservatory.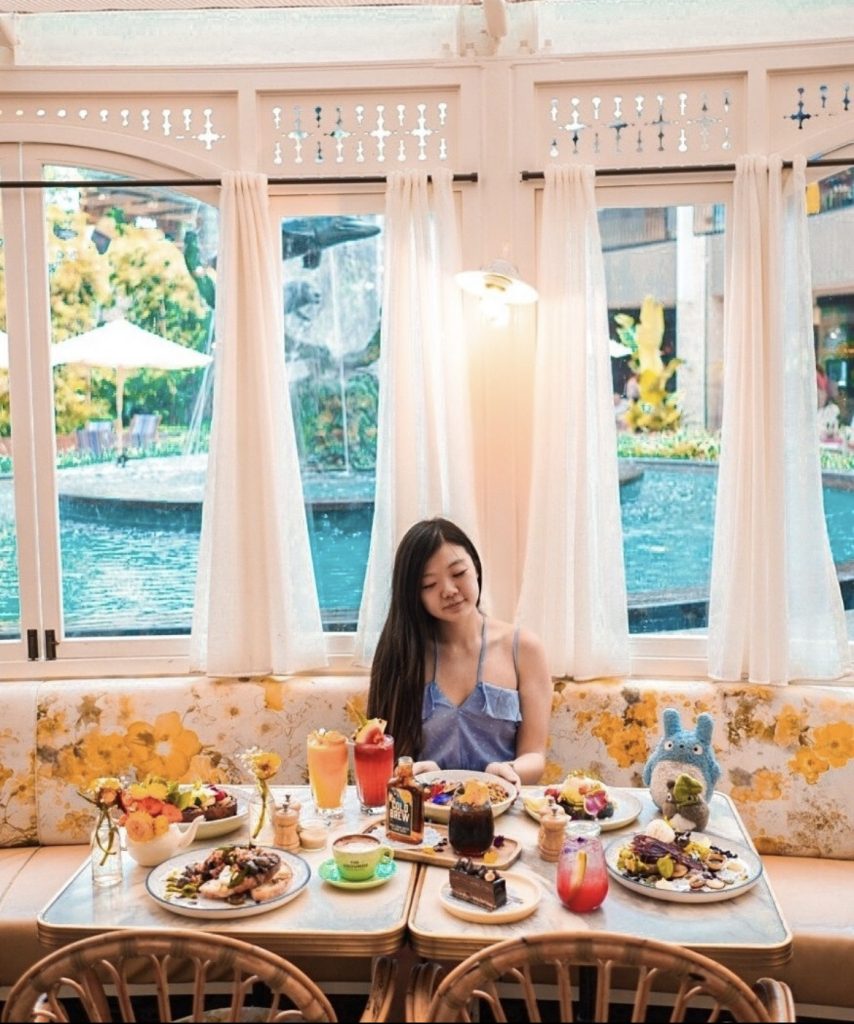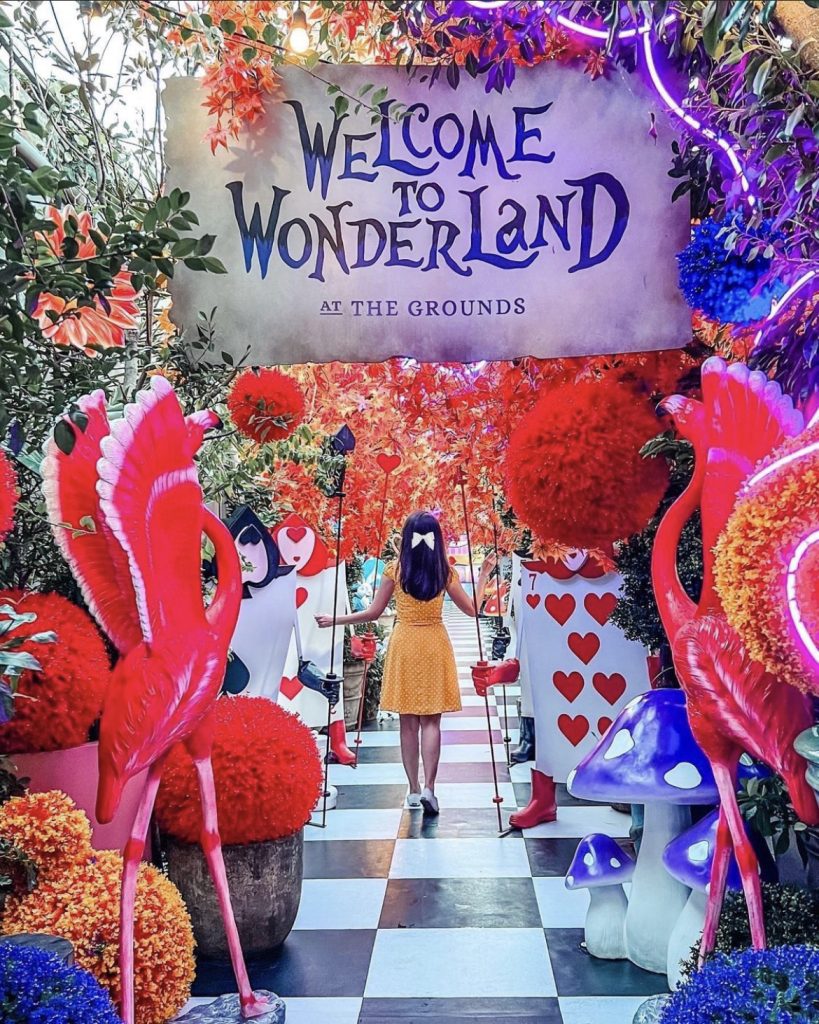 302k Followers #thegrounds 130,405 posts
Where
: The Mill. 7a/2 Huntley St, Alexandria NSW 2015 This enchanting garden café provides the ultimate indoor-outdoor dining experience. The best place to eat is in the conservatory area, where you are surrounded by climbing plants and flowers on all sides, including from above. Traditional breakfast dishes are served until 11.45 am, at which point the lunch menu becomes available. With pasta, meat, fish, and salad dishes available, there is plenty of choices. The café is the perfect place to stop off after exploring the grounds, which, in truth is where most people take their Instagram shots.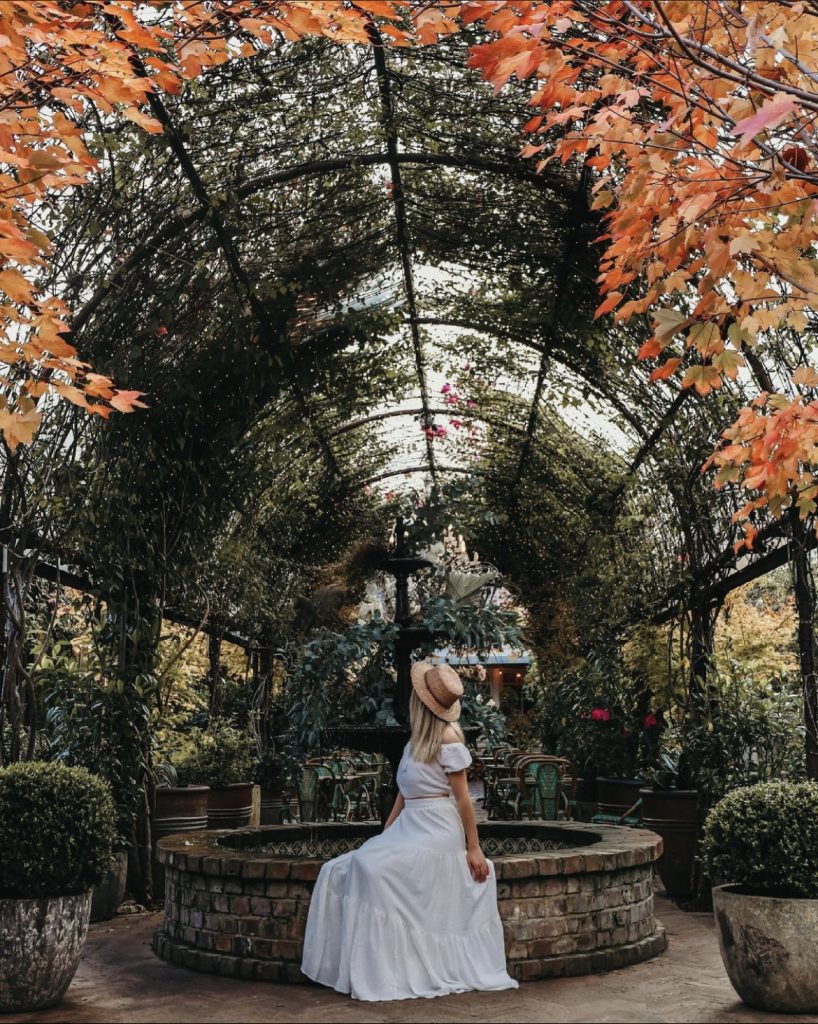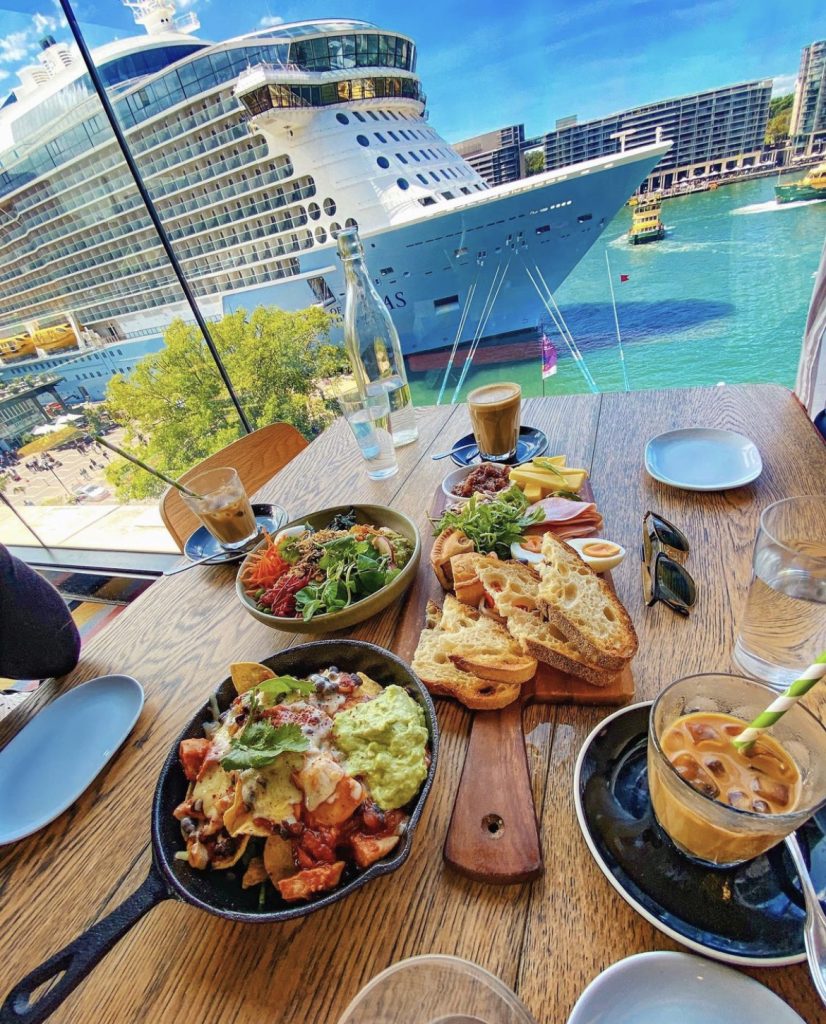 2.4k Followers #mcacafe 1,828 posts
Where
: The Museum of Contemporary Art Australia, 4/140 George St, The Rocks NSW 2000 This modern rooftop café and bar is one of Sydney´s best-kept secrets. As you can see from the number of followers and posts, not that many people have woken up to just how great this place is. It sits atop the roof of the Museum of Contemporary Art and offers panoramic views of the harbor, bridge, and opera house. As well as the roof terrace, there is an indoor dining area, which has floor-to-ceiling glass, which creates a light, bright space, which also has spectacular views. The menu consists of modern classics and light bites. As well as desserts and small cakes, which are perfect for enjoying with a coffee, cocktail, or glass of wine.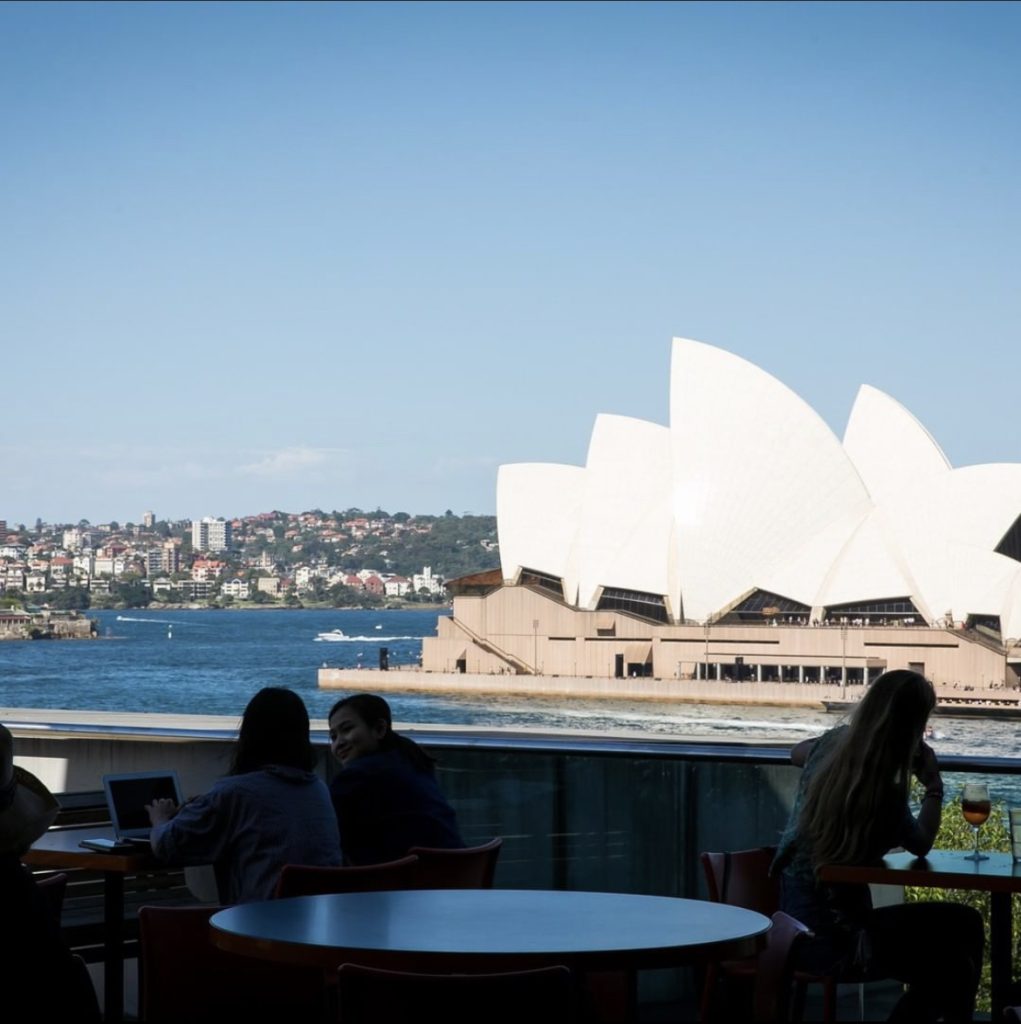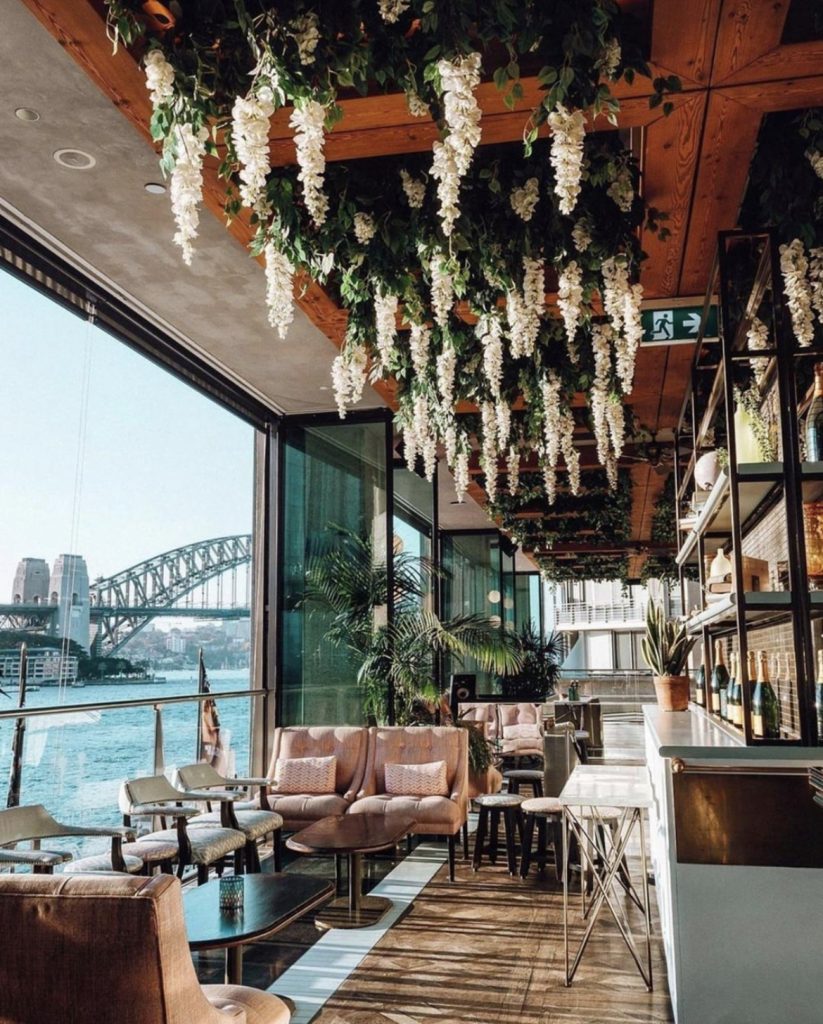 29.2k Followers #hydehaciendasydney 632 posts
Where
: 61 Macquarie St, Sydney NSW 2000 This vista bar is said to have been inspired by the architecture of Cuba´s grand plantations. It has a luxurious look and feel, yet it is not at all stiff or stuffy. When you walk through the door, you get the feeling that you have stepped back into a very chic version of the 1950s. It is more of a bar than a café. But plenty of people pop up there for a coffee or mocktail and a few South American-inspired light bites before the lunchtime crowd arrives. Many visitors do so just to photograph the stunning views of the harbor. Provided there are no big parties booked, it is also a good place to go for a drink in the early evening.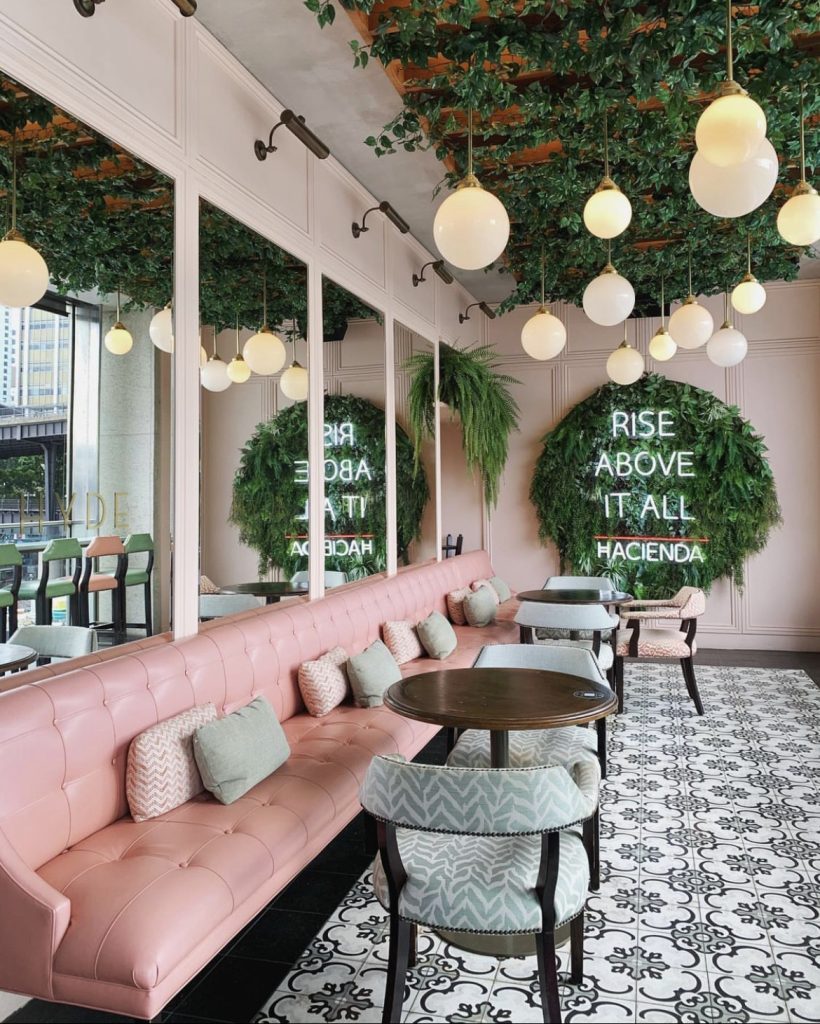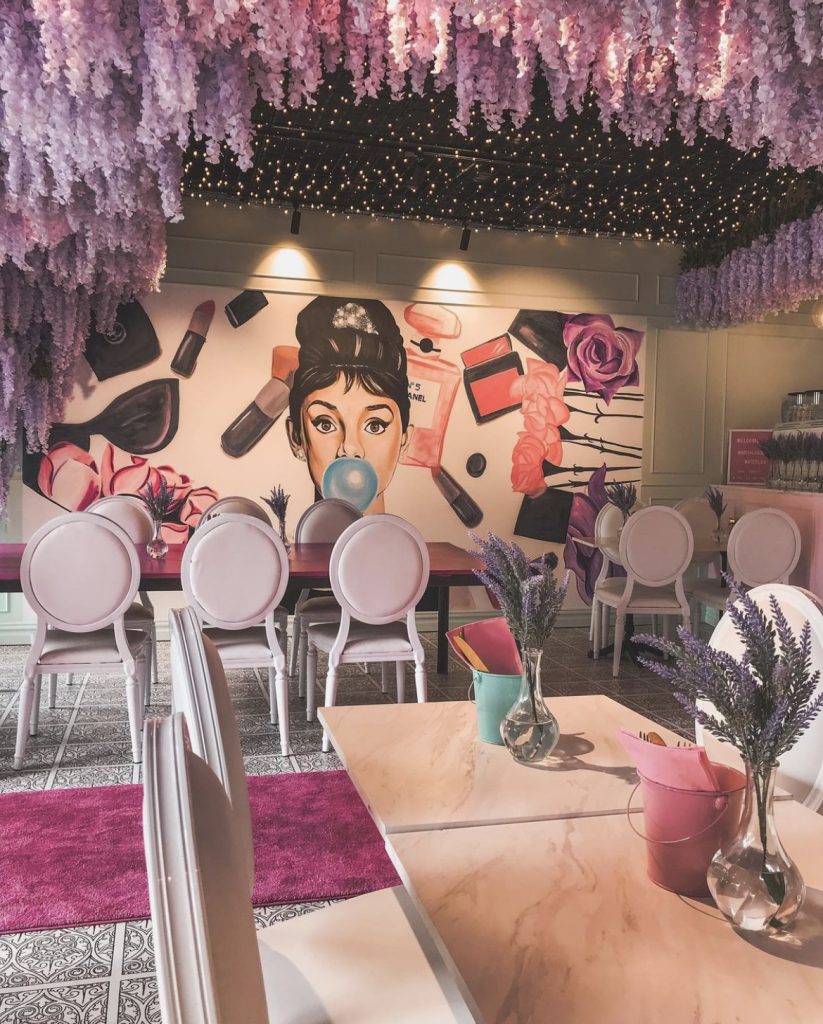 69k Followers #socialhideout 12,605 posts
Where
: Shop 4/5/25-33 Allen St, Waterloo NSW 2017 This has been described as Sydney's prettiest café. With flowers covering most of the walls and the ceiling, how could it not be? The dishes they serve are deliberately designed to be bright and vibrant, making it hard to resist photographing them and posting those snaps on social media. Most of what they serve are brunch dishes. The menu includes hotcakes, granola, burgers, salads and more. For drinks, there is a choice between smoothies, shakes, coffees, teas, and alcohol-free cocktails. Hundreds of Instagrammers have photographed themselves against this café's floral wall which is studded with neon signs that feature social media-friendly sound bites. A clever marketing ploy that also looks fantastic and adds to the overall ambiance.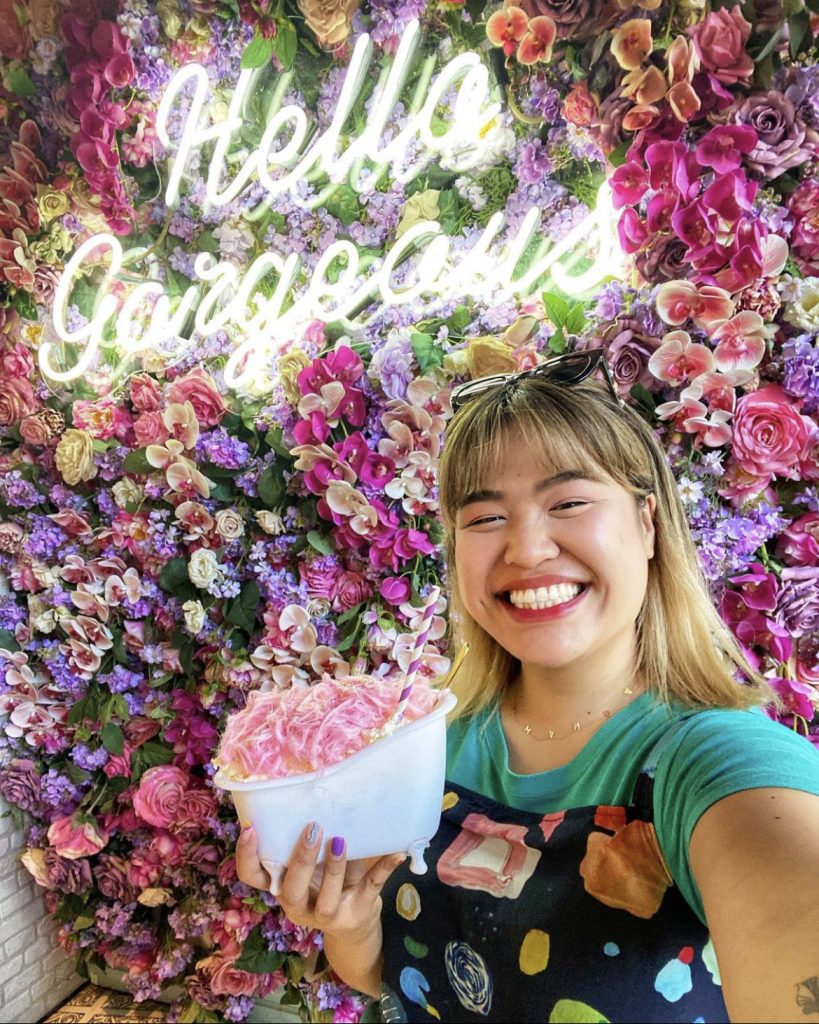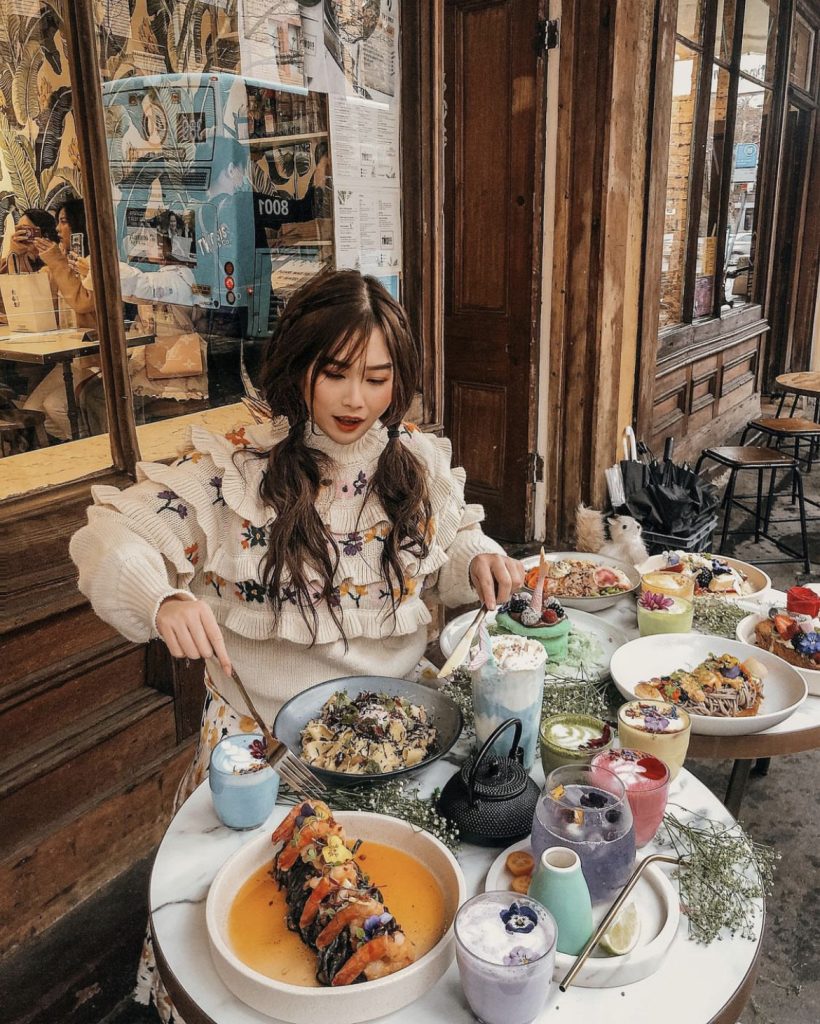 22.7k Followers #junorooms 313 Posts
Where
: 306 Harris St, Pyrmont NSW 2009 The food served here is vibrant and fun, which is one reason so many people share pictures of their visit on Instagram. Two Sis & Co's food also delivers taste-wise. They use high-quality and seasonal ingredients, including truffles, foie gras and Wagyu beef, and then cook it well. There are plenty of glowing reviews online that attest to this fact. So, it is hardly surprising that this little café is packed most of the time. This small café has a crisp, modern interior, which is light and airy. It has been laid out in a way that enables everyone to have a view of the ever-changing street scene outside. Making it a wonderful place to people-watch.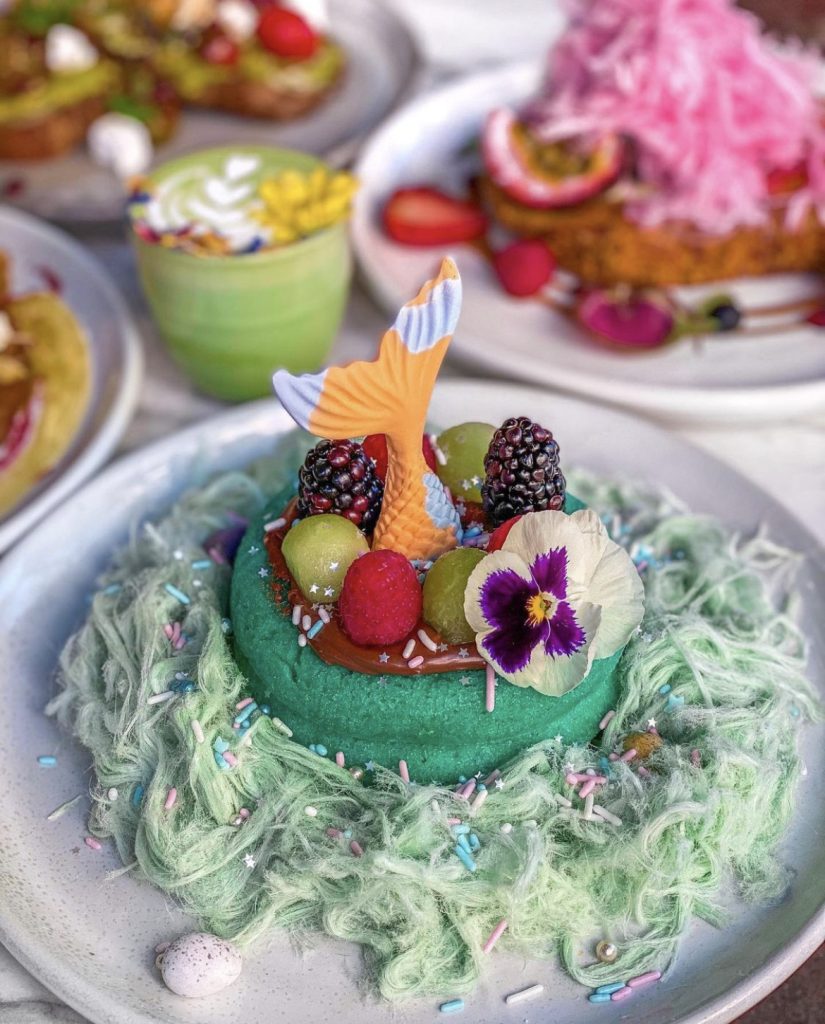 Now that you know where all the most instagrammable
cafes
in Sydney are, all you need to do is to organize some flights and visit a few of them. When you do, perhaps you will also feel compelled to take a few photos and share them on your favorite social media platforms.
Written by Lachlan Ross
Marketing Manager at Mandoe
I'm a SAAS-focused marketer with 10+ years of experience who likes to think I've got a way with words - thanks for stopping by and checking out this blog.