Looking after our little furry friends can be a tough task, and finding the right person to groom and care for them when they need it most is something that shouldn't be taken lightly. We want our pets to feel safe, comfortable and loved. With so many grooming options around, it can be hard to decide which one is right for our pets. And if you're thinking of opening a dog grooming store, you've got even more to consider. For many, a visit to the dog grooming store is the way to go. For others, the ease of a home visit can't be beat. Let's have a look at how the two compare and help you decide which one is the right choice for you.
In-store dog grooming
The traditional go-to for pet owners looking to have furry loved ones groomed. Ranging from very basic trims and cuts, all the way through to full pampered day spas, these brick and mortar stores take pet care to the next level. So with all of these amazing features, are there any downsides? Let's take a look.
The good
Price:
While soaring rents and property prices might have you thinking that in-store grooming will be more expensive, the truth is, it isn't. With more staff on hand to groom more pets per day, costs can be kept down, meaning you can take care of more animals for a lot less.
Easy to book:
There are a lot of pet grooming stores out there. For in-store groomers, you'll always find more groomers working on more pets each day. This means that you can easily fit any pet into your schedule and not have to worry about other owners missing out on a spot.
Options galore:
Having a bigger, permanent space means more room for all the bells and whistles. This includes larger baths, better quality equipment and a greater selection of grooming and drying methods.
The not so good
Stressful environment:
In-store groomers have to accommodate many pets at any given time. This includes loud dogs, loud equipment and a flurry of customers and staff bouncing around the store. For many animals, this can make the whole experience way too stressful.
Longer groom and drying time:
With greater flexibility comes longer groom times. You may have to look after pets all day while they wait their turn to be groomed. Some pets do not feel comfortable in kennels amongst other animals, so it's best to let potential customers know that this is how you operate.
Different groomers:
People dropping their pet off with you will most likely result in a different groomer working with their pet each time. This can lead to less consistency each visit and less one-on-one care – something that mobile grooming does very well.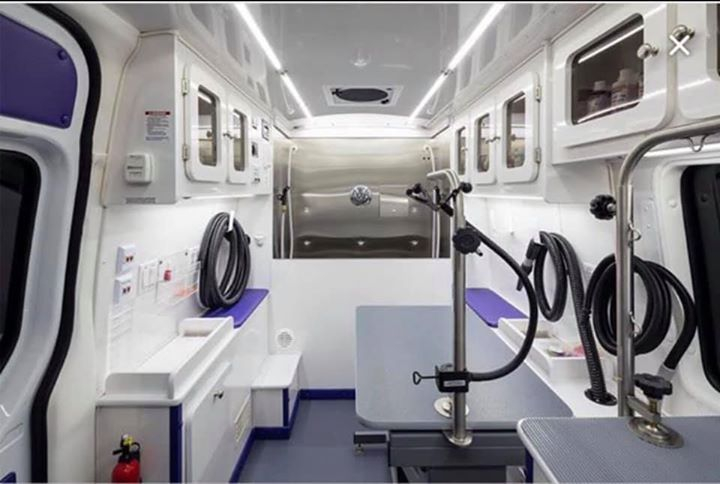 Mobile dog grooming
With many people living an on-the-go lifestyle, mobile pet grooming has become a
booming pet trend
that provides a personalised and much less stressful way of providing pets the care and attention they deserve. Let's have a look at the ins and outs of mobile grooming.
The good
Convenience:
Mobile pet grooming removes the stress of your customer getting in the car, driving somewhere out of the way and waiting around while their pet is groomed. With mobile grooming, customers can chill out at home and relax while their beloved furry friend is taken care of.
Familiar environment:
Pets love their homes. They're familiar with their own space and they feel comfortable there. Mobile grooming means your customer's pet won't need to cross paths with other unfamiliar animals or wave after wave of pet owners and staff. This is a great way to lower anxiety and create a safe and inviting space for each pet to be pampered.
More attention for each pet:
With home visits, there are less distractions for the groomer. No barking dogs, no stressed out staff and no chatty patrons. Just one groomer who can focus solely on each dog. This way, they get the love they deserve at a speed that just isn't possible in-store.
The not so good
Cost:
Mobile groomers usually work on a tight schedule. They need to travel and can only groom so many dogs per day. Once you take all of this into account, mobile groomers can charge more than their in-store counterparts. This might be good for business, but customers might not be so fond of it.
Limited bookings:
With only one groomer working at a time, you may have to wait until you have space in your booking calendar to take on more clients. While you'd love to groom as many pets as you can, it's often not possible, and you may lose potential customers.
Equipment:
While many mobile groomers have state of the art equipment with them, you'll need to take extra care of it. If your equipment breaks down or plays up on the road, things can get tricky.
No matter which way you go, digital signage can help
In an industry that values extra care and open communication, digital signage can help bring you, your customer and their pets closer together. With
Mandoe's large range of digital signage options
, you can easily create, edit and deploy super relevant content that will keep your customers engaged and up to date with all the hap[penings at your business. It doesn't matter if you're operating in-store or on the road, with the right digital signage, you can quickly display:
Specials and promotions
New pet product information
Customer loyalty programs
Sales and discounts
Educational and promotional videos
Pet health care tips and tricks
With all of these amazing options at your fingertips, get in touch today and find out how Mandfoe can help your pet grooming business grow.
Written by Lachlan Ross
Marketing Manager at Mandoe
I'm a SAAS-focused marketer with 10+ years of experience who likes to think I've got a way with words - thanks for stopping by and checking out this blog.