With more and more brands moving towards digital signage, you might be thinking, "How is my digital display going to stand out amongst this sea of beautiful, well-crafted content?" Simple – deliver engaging content that makes an impact. O.K, it might not be
that
simple, but with a little planning, a few good ideas, and an industry-leading
digital signage
provider like Mandoe, you can easily create the content of your dreams and keep your customers happy. Here are our top 5 ways you can create engaging content for your digital signage.
Use video graphics for your digital display
If you really want to capture attention, add a little video to your digital display. As we already know, motion is something humans are drawn to. If there's a digital slideshow or video in the vicinity, shoppers are going to engage with it. So why not use this chance to really tell a story? With high-quality, targeted video content, you give your business the best chance at
attracting the eye of potential customers
and letting them know what your brand is really all about. And if you have the ability, shooting your own content is an even deeper way of building a connection with your loyal customers. If you don't think you're quiet at the film directing stage just yet, Mandoe has a wide range of stock video graphic templates to use alongside your promotions. With short, sharp videos and moving graphics, you'll keep your playlists fresh and interesting, something customers simply can't ignore.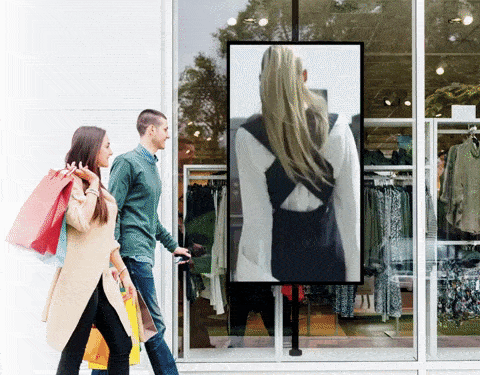 Promote customer success stories onyour digital display
A little social proof goes a long way when it comes to building trust with your customers. By including past success stories, potential customers can get a good glimpse of what you do and how well you've been doing it for others just like them. With online connectivity to your Mandoe CMS, you can easily share those glowing reviews from anywhere on the internet. And if you decide to include photos or videos of your products or services in action, you can strengthen your brand credibility and attract more customers who feel confident in what you can do.
Use social media widgetsonyour digital display
A step in the direction towards interactive digital signage, social media is now playing a huge part in getting the public involved with your
brand's content
. Using social media widgets, like those found on the Mandoe CMS, you can quickly upload a YouTube clip, Instagram feed or Twitter review for all of your customers to see. Got a happy customer who loves their new sneakers? A group of mates who've enjoyed their Friday night meal? Get them to take a photo, tag your business on your platform of choice, and share it on your digital signage displays for everybody to see – it's that simple.
Use high-quality images
Using the best quality images you can find is key to making your digital display pop. It gives you the best possible chance of leaving a lasting professional impression. So how do you find the right images for your brand? If you have the means, bringing in a professional photographer to snap some unique, branded imagery will definitely make you stand out from the crowd. If you don't have access to a photographer, there's a universe of high-quality stock photos available online. But if you want even less hassle, Mandoe supplies its own top-notch library of millions of
FREE
high-quality images to get you started. All you have to do is browse, select and watch your beautiful new display come to life.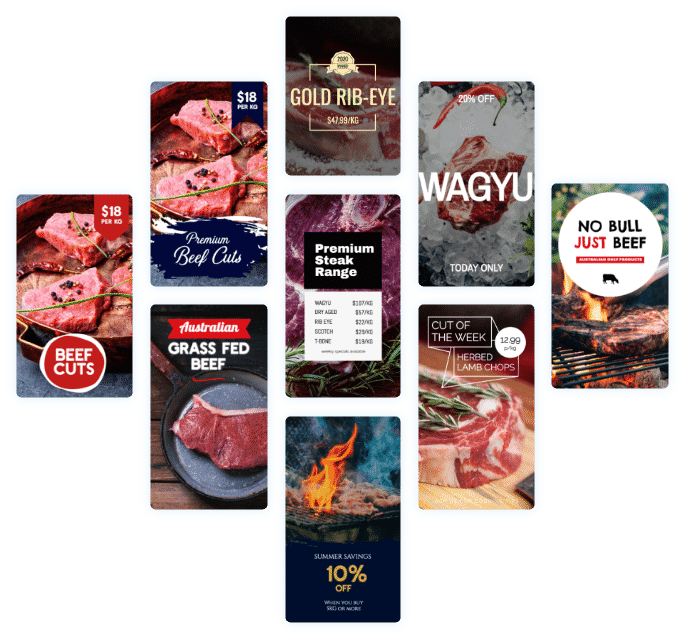 Rotate and schedule fresh content
To keep your audience truly engaged, updating your content on a regular basis is the way to go. With a consistent rotation of news, specials, social media feeds and all the other awesome happenings in your store, your customers will never feel left out or fall behind with what's going on with your business. And with access to detailed marketing insights – like the ones that
Mandoe CMS
provides – you can easily schedule your content to switch over exactly when you want it to. This allows you to set start and finish dates for limited time promotions, or even start and finish times within the same day to keep things fresher than ever – it's all at your fingertips.
Up your in-store content game - book a demo today!
If the idea of getting your new digital signage up and running seems a tad scary – it isn't! With Mandoe's beautiful displays and easy to use drag and drop builder, you can make the most of our beautiful video and image templates to create unique content that shows off exactly who your brand is. And with only a few clicks of your phone or device, you can engage your audience like never before. Want to learn more? Check out our free tour of the digital display builder over at
Mandoe Media
. And if you're ready to dive in to see which options best suit your business,
get in touch today.
Written by Lachlan Ross
Marketing Manager at Mandoe
I'm a SAAS-focused marketer with 10+ years of experience who likes to think I've got a way with words - thanks for stopping by and checking out this blog.