Naming can be one of the trickiest parts of opening a café. Whether you're drawing a total blank or are incapable of choosing between numerous good options, don't worry. There is a method to the madness of selecting just the right name. In this article, we'll give you some actionable tips for coming up with the perfect name for your new café.
How to choose the right coffee shop name
First of all, if you want a
traditional sounding
name, it's okay to lean on what's been used in the past. Think of some of the coffee shop names you've heard over the years. Which ones do you like the most? And what is it that you like about them? If there's a play on words, or some sort of imagery that the name creates when you hear it, what are some similar ones? Create a list of names that have the same effect but that are different than the ones already taken. After you've gathered a list, do some research to figure out which names are taken and which aren't.
Be mindful of word associations
A play on words or some sort of made up word can be fun, but make sure you're aware of what imagery your name could mistakenly conjure up. For example, "Cocoffee" seems to suggest something related to coconuts. Likewise, make sure your café sounds like an actual café. For example, "Barry's Place" isn't exactly specific enough for people to guess that it could be a café. You want people to be able to deduce what sort of business you're running based on just the title. This will aid in bringing in passersby or gaining customers through word of mouth. You could simply call it "Barry's Café" instead, and although that's probably not the best name in the world, it at least makes sense. Plus, "Barry's Place" simply isn't as memorable as something like, "Steaming Cup".
General naming tips
As with any business, there are several rules of thumb you should follow. After all, creating a name for your brand is a big decision, so you should make sure it meets all the most basic requirements for success. Here are some essential things to keep in mind:
Keep it brief – Don't choose a name that's a mouthful or is too long to remember
Be tasteful – The sound of your name should roll off the tongue and sound good when spoken
Avoid trends – Trends can result in your brand seeming dated and played out after not too long
Spell it out – If your café's name is hard to spell or isn't even English words, some people could have trouble remembering it or even finding it
Don't limit yourself – The name "Early Morning Coffee" implies that your café is not open in the evenings
Website availability – Make sure you can get the '.com' domain for your café's name. Especially if you plan to someday expand abroad, this is important
Take a survey – Ask people what they think of your café's name before committing to it. If many people don't like it, you might want to come up with a different one
Pick one you like – Make sure your café's name is something you actually like, not just something that's available. After all, you're going to be dealing with it quite a lot in the future
Show your café name bright and bold
In front of your café, you should make sure you have a large sign that's clearly visible. In addition to that, you should be using
digital signage
to catch the eyes of passersby. The dynamic, attention-grabbing nature of digital screens can draw people in much more effectively than plain old printed signs. And inside, using
digital menu boards
will encourage people to make buying decisions since your beverages and snacks will look delicious on bright, high-definition screens. Not only that, digital signage can help customers remember your café by strengthening your brand identity and promoting your products in a way that resonates.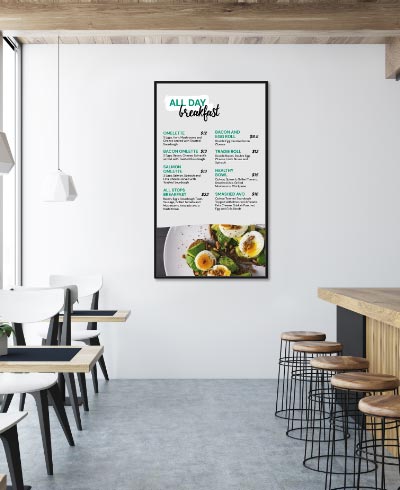 Conclusion
Coming up with good cafe names can be easy with the above tips in mind. Once you've chosen your café name, consider installing a digital signage system to help promote your brand. Then, at your grand opening, you can make an even bigger splash with the help of eye-catching digital content playlists.
Get in touch
with Mandoe Media today to find out more about how we can help your café take off using digital signage and digital menu boards.
Written by Lachlan Ross
Marketing Manager at Mandoe
I'm a SAAS-focused marketer with 10+ years of experience who likes to think I've got a way with words - thanks for stopping by and checking out this blog.