It's hard to walk into a restaurant or hospitality venue these days and not see the eye-catching content displayed on digital signs. There's a pretty good reason for that. They're easy to design, easy to use and they engage customers. Most importantly, they are able to persuade customers to buy in ways that old-school signage simply cannot do. To say digital displays have transformed how restaurants do business would be an understatement. From simple
menu boards
, to interactive kiosks and easily accessed news and entertainment, this modern marketing tool is playing a big role in helping hospitality brands connect more engagingly with customers. Let's have a look at six ways restaurant
digital signage
can boost sales.
Restaurant digital displays help attract more customers to your restaurant
Before anybody can get stuck into your amazing menu, they need to actually be in your restaurant. Digital signs give you an amazing opportunity to
reach potential customers
before they even set one single foot in the store. Greater visibility at all times of the day and the ability to target messages for time of year, promotions and seasonal trends give these signs a massive edge over traditional, static signage. And with interactive, up-to-date digital displays, you can catch the eye of any passers-by quickly, drawing them into your restaurant where they can finally see what your venue is all about.
Digital displays and menus enhance customer experience 
When somebody visits your restaurant, they're hungry. The last thing they need is to be waiting around or waiting in line, feeling like they should've gone somewhere else for speedier service.  Digital signs and menus in restaurants are a simple way to enhance the dining experience and
influence purchases
How does that work? Interactive kiosks keep the customer in control of their order. Dynamic and engaging content entertains while reducing perceived wait times. And free Wi-Fi ensures your customers will be walking out the door with a smile on their face. Happy and satisfied customers are most likely to come back with a smile on their face. That is invaluable for your branding!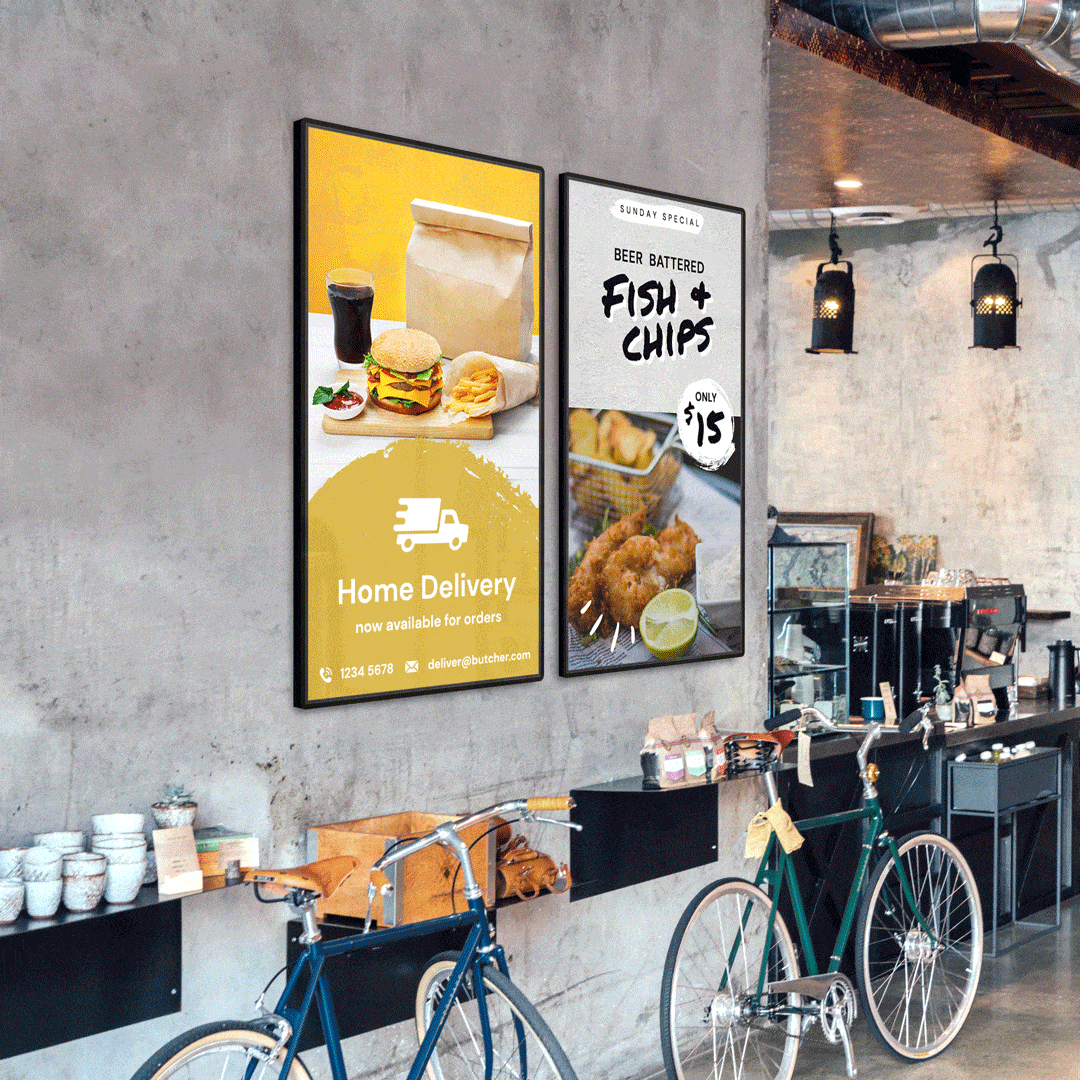 Updating digital menus is quick and easy
Sick of printing a new menu every time something is sold out? Saying you are out of that may be typical in restaurants, but that leads to dissatisfaction and take away from a pleasant customer experience. Thankfully, you can make that a thing of the past. With the right
, you can easily update your menu and keep your valued customers in the loop-all with just a few clicks.
Happy hour special? No worries. Time for the lunch menu? Done. With automated menu updates, all your customers know what exactly is on offer and can choose what is on offer when they're ready to order. Naturally, you will see shorter queue times, more orders coming in, and of course, satisfied, returning customers.
Upselling and cross selling to your customers 
Upselling persuades your customers to buy something additional or more expensive than they typically do. Cross selling occurs when you try to sell a different product or service to a customer who usually does not purchase such items. We've all been there. We want the exact meal we're after and nothing more… except, maybe for that scrumptious looking dessert. Or that extra side dish for a super low price. We can all be persuaded to buy something extra, or more expensive with the right kind of prompting. This is exactly what some of your digital menus and restaurant displays can do for you. And they do that in an engaging, and harmless way, without seeming to be pushy or in their face. Making sure you've got the right upsell or cross-sell offers in front of your customer's eyes is a tried and true way of
increasing your daily sales and profits
. Use
instant digital displays
in your restaurant to get the flexibility you need to take your upsells and cross sells to a whole new level. Easily add new items, specials and discounts. Give customers a little more to think about their orders. How about that new starter? Not planning to have dessert? How about coffee. Give them time and keep them busy and engaged all the way from the arrival till the time they are ready to pay.
Connect with customers via social media for greater impact
Today people seek info on anything and everything on
social media
. That includes new hangouts and places to eat. And they can be swayed easily with the power of crowd sourced information on social channels. They want to see what the food looks like, what the reviews say and whether their favorite celebrities endorse them. You've all seen it, right? People spend more time taking shots of their food instead of eating it. Why not display those photos on your signage and get it shared on Instagram in exchange for a freebie, or showcase your stellar Zomato ratings for everybody to see? With this direct connection, customers will feel a part of your team, and will do their best to support your amazing restaurant. So learn to leverage social power with digital displays!
Show off your brand personality
Some brands are just known. We know the colours, the jingles and probably the entire menu. Why is that? To a large degree, this is thanks to a consistent brand image and widespread awareness that they carefully promote. With
indoor digital sign solutions
in all the right places, you too can show off your business logo, themes, and values for all to see. By creating, managing and displaying your own rich branded content across all your venues, your customers will know who you are and exactly what to expect every time they pay a visit to your venues anywhere.
Jump on board - book a demo today!
Digital displays make it easy to connect with your customers and give them the best experience they can get. With customized, dynamic content only a few clicks away, businesses big and small can reduce their marketing costs, bring in greater foot traffic and boost sales. You too can have compellingly designed templates and easy to use software to boost your marketing power a few notches up to beat your competition.
Reach out
today. Book a demo to see how our digital display solutions can help you grow your business to new heights.
Written by Lachlan Ross
Marketing Manager at Mandoe
I'm a SAAS-focused marketer with 10+ years of experience who likes to think I've got a way with words - thanks for stopping by and checking out this blog.