Remember the days of getting the ladder out and hanging your new product banner in your store window? Yeah, we do too. But with the digital signage revolution well and truly taking off—and pretty strongly too—it is now the time to put that ladder away. Instead, fire up the
Mandoe's online portal
to design and display beautifully designed compelling ads that your customers would love. Let's take a look at 5 reasons why digital display, signs and info boards are an essential marketing tool for your retail store.
Retail digital signs help increase sales
It can be tricky trying to get people's attention and even trickier trying to wow them enough to hand over their hard earned cash. Digital displays offer a gateway to better customer experiences and
greater in-store spending.
With quickly updated displays, you can get customers spending more frequently, on higher margin items. Gorgeous multimedia screens filled with the right type of content can help you boost sales and reach those financial targets. Here are a few ways you can use Mandoe's
indoor digital sign
solutions to increase your retail revenue:
Highlight your amazing products and services with engaging content
Deliver captivating product demos
Connect with people who usually avoid salespeople
Point customers towards other relevant products
Showcase your best package deals
Display in-store only discounts to attract more customers
Got an unbeatable sale at the moment? According to Software Advice, a POS system research site, discounting is the top
"pricing strategy for retailers across all sectors, used by 97 percent of survey respondents"
. And that's no surprise. Who doesn't love a bargain? Let your customers know where they can grab a great deal by using your digital displays to highlight where there's money to be saved. If you're low on stock or need some product moved, quickly use our app and change up your custom discount display signs across all your locations and watch the items fly off the shelf. You can also pre-schedule upcoming sales for bargain hunters who may want to visit the store on those dates. Any time someone comes in through your doors, the higher the chances of selling them other items as well.
Point of sale advertising for impulse purchases
Impulse buying is a giant part of consumer culture. We walk into shops with a plan, and somehow, for some reason (most likely good point of sale advertising) we walk out with a little something extra than we had planned to purchase.
A recent study in the U.S found that 68% of consumer purchases during major shopping trips were "unplanned".
That's a lot of potential revenue you might be missing out on if you don't engage your customers with add-ons at the counter. As marketers, we need to be able to use every such opportunity to our advantage. Promote impulse buys in compelling displays and place them within easy reach to entice customers. Most people can't resist grabbing them. And once they've sold out (because they will), jump on the app and switch the deal to the next awesome product.
Increase purchases from foot traffic
The more people visiting your store, the bigger the chance of making a sale. So how do you draw a crowd into your store when your customer's choices of retail outlets are overwhelming? According to data firm Nielsen,  among 120 respondents who use digital signs in their stores,
80 percent reported as much as a 33 percent boost in sales.
What retailer wouldn't want to increase sales by a third more, each day? It doesn't matter what type of retail store you have. Deploy bright, engaging screens that capture the public's attention. Compelling visuals go a long way towards pulling those shoppers in through your doors. And with the ability to quickly update your screens across multiple locations, you can be sure you're getting the right message out there to drive people into your store.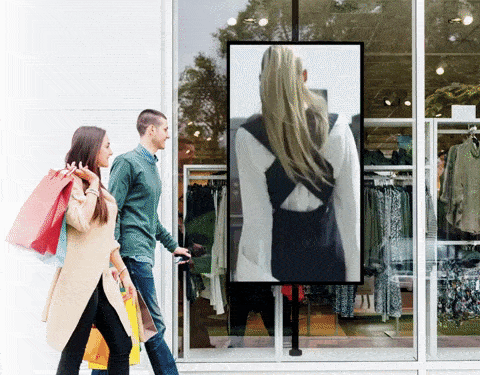 Visual merchandising
By now,
digital displays have become ubiquitous in retail stores
across the globe. People are used to seeing beautifully presented, constantly updated screens that showcase their favorite brands and enhance the ambience of their shopping experience. Without buying into the trend, your store risks falling out of favor with your customers. You can change this easily and become a trendy shopping destination. Incorporate your brand imagery into your store signs with easy to use digital sign creation software. Did you know that recall rates for visual displays are far higher than for static sign boards. So help yourself and help your  customers identify products and services with your business. For retail businesses, the options for placement of these displays are huge. Here are a few places where digital displays can be most effective:
Window displays
In-store displays
Point-of-sale screens
By having your branded content in these spots, brand awareness grows, and so do the sales. And there's more good news. You can check the history of your visual merchandising campaigns to see which ones performed the best and which flopped. Tweak and learn for the best performers to improve your visual merchandising and digital display designs for the next campaign.
Ready to use digital signage in your business? 
The investment you make in digital displays and software in your store can help amplify the impact of your marketing budget. After all, what other media is so
versatile and powerful
as to be visible as your spokesperson 24/7, be more appealing than traditional signs and have through-the-ceiling rates for customer recall and brand building effectiveness? They are the perfect solution to help captivate customer attention to get your shop noticed and products flying off the shelves.
Reach out
 and book a demo today to find out more about Mandoe Media's range of digital display solutions for  retail businesses.
Written by Lachlan Ross
Marketing Manager at Mandoe
I'm a SAAS-focused marketer with 10+ years of experience who likes to think I've got a way with words - thanks for stopping by and checking out this blog.