Open and clear communications is key to any company's success. Driven by technology, much of this back and forth has jumped over to emails, social media, and third-party apps like Asana and Slack. But a screen full of emails can be a little disheartening and isolating for many employees. Consider using
digital signage
as another tool in your communication tool mix. Effective use of digital displays offer plenty of opportunities to bring staff together and enhance workplace culture. Here's how.
Workplace signs can promote your company values
Want to remind everybody of why they're proud of their workplace? With well placed
indoor digital signs
in the office space, employees can always have a clear sight of the  company vision, mission, values and ethos that your business is built upon. It's a great way to
reinforce the core principles of your company
and remind staff the many benefits they collectively provide to your customers. For businesses who are trying to build a socially responsible workplace,
digital signage hardware
can play a critical  role in keeping their team members informed of how they–and the organisation–are making a difference.
Highlight top performers and milestones through digital signboards
A little bit of recognition and appreciation goes a long way in making people happy, productive and loyal to your business. One of the most
effective ways to boost employee performance
is through praise from up top. Digital displays are an easy way to highlight those who are putting in the work and delivering results for the company and its customers. Effortlessly display employee of the month (or weekl), highlight and congratulate on individual achievements or team success. On top of this, you can also showcase employee milestones like anniversaries, birthdays, weddings, engagements, birth of children and passing of exams as a way of bringing everyone together to celebrate their amazing colleagues.
Communicate internal activities and events
"Sorry, I must've missed that email." Who hasn't forgotten an important meeting or team event because of an overly full inbox? With digital messaging, you can
strengthen your internal communications strategy
and ensure that everyone "gets the memo" about everything. It helps maintain consistency in the workplace and keeps everybody in the know. Here are a few bits of information you may share with your employees using digital displays:
Meeting room schedules
Important dates, projects and deadlines
Calendar and holidays
Conferences and speakers
Upcoming team events
All these and more matters that all team members should be aware of can be deployed to workplace digital displays for everyone to see.
Workplace digital signage can highlight COVID safety protocols
Workplaces learnt to adapt quickly to new safety protocols during the COVID-19 pandemic when constant changing info and protocols made it near impossible to keep employees and visitors up to date. Companies can use
Mandoe's Digital Sign
solutions to quickly and easily design and upload health and safety information and reminders in a visually engaging format and deploy them across multiple locations at once. It is also an easy way to display QR codes when following
government mandates
and quality standards. This was particularly effective during the pandemic when information needed to be
accessible for both desk and non-desk workers
, like those who work in warehouses, clinics and supermarkets. Here are some protocols businesses shared through their digital sign boards during the pandemic:
Properly wash your hands
Use disposable gloves
Mask protocols
Use elbow for coughs and sneezes
Disinfect shared spaces
Stay at home reminders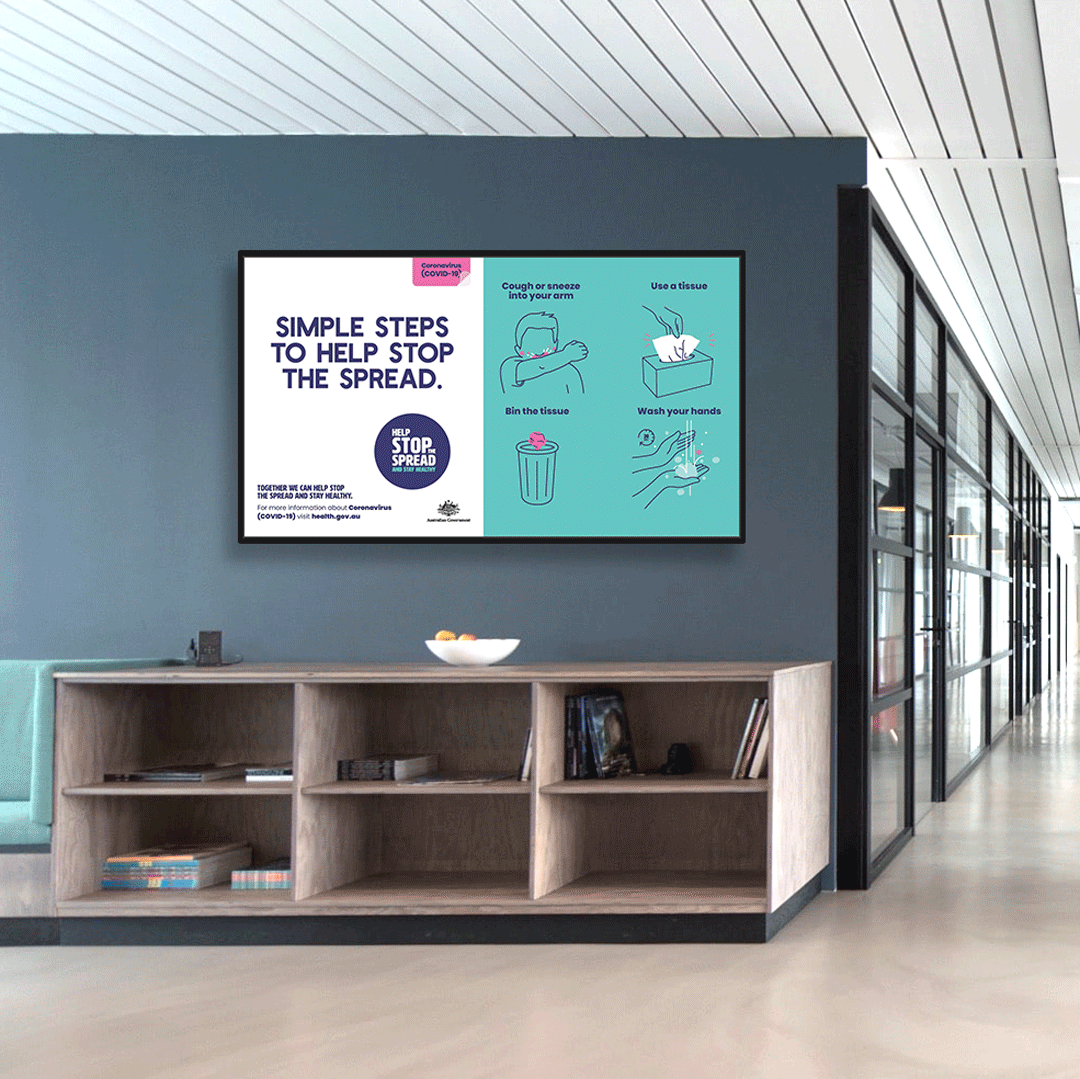 Before the pandemic these were meant for health service providers, but became commonplace as COVID-19 spread across the globe. Here's an interesting snippet: Did you know that
basic hygienic practices like washing hands could save lives
in hospitals and surgeries across the world? This is amazing but true. So we can very much see how digital displays, rather than old fashioned printed signs, can serve the same purpose, and perhaps more effectively. And who knows what new health protocols like these that we may need to get used to as time goes by and new diseases emerge from various corners of the world. Aside from health emergencies, your business can use your in house digital displays to share quality and customer service protocols among all your staff members. In settings where both customers and staff mingle, this type of announcements and protocols ensures compliance by all. Think of the airline safety videos. They let all passengers know what to do and what to expect. And employees can save the time they spend explaining these to staff members and actually spend their time servicing customers. It is a win-win really. They can make everyone happy and your staff more productive. This certainly enhances the good will of your brand and infinitely improves  the customer experience.
Regular communication, messages from executive team
Meeting challenges head on becomes much more difficult when messaging is lost in translation; or worse, fails to get there at all. Communicating important strategies and changes in workplace culture and practices (and why they matter) are a vital part of running a successful business. Explaining what changes will occur, and why everyone should get on board with the agenda is critical to ensure people across the company understand why they must comply.
Failure to communicate clearly
increases the chances of failure of the new initiatives. Whether you are looking to improve customer service and experience within your business, put in place productivity practices, adopting new technologies or helping onboard new hires, your digital displays can do it better. Use your digital displays to announce new company initiatives (or whatever messages) in clear, simple terms to get
more employees up to speed
and ensure buy-in to those necessary changes.
Boost your internal communications today
Within the past few years, companies have had to adapt to new ways of operating. With more employees working from home, and the uncertainty of how people will adjust once back in the office, getting on the front foot will be key to fostering a stronger workplace culture. If you'd like to see how using Mandoe Media's
digital signage software and hardware solutions
in your workplace can support and enhance your workplace culture, reach out today and book a demo.
Written by Lachlan Ross
Marketing Manager at Mandoe
I'm a SAAS-focused marketer with 10+ years of experience who likes to think I've got a way with words - thanks for stopping by and checking out this blog.