Sports inspire and entertain us. They leave us in awe and encourage us to get out there and try things for ourselves. With more and more of us wanting to explore our fitness and skills through organised sports and other outdoor activities, sporting retail stores are facing a surge in demand. They are places to try out the latest equipment and gear to help sports minded among us reach our lofty goals. Naturally, the fast-paced sports industry is trying to lure customers who are increasingly more attracted to dynamic, high-quality digital advertising.
Digital signage hardware
gives sporting goods stores the power to connect with a growing audience to dramatically boost sales. But how exactly does that work? Let us take a look at 6 advertising ideas you can use with digital displays in your sports store.
Point of sale advertising for impulse purchases
While sporting customers usually have a clear idea of what they're looking for when they visit your store, making the most of impulse purchases on their way out can be critical for driving up your overall sales. With almost
two-thirds of Australians opening up their wallets to impulse purchases
, the potential to sell small and discounted items at the cash counter is constantly growing. By using
digital displays
at the checkout counter, you'll have the opportunity to 'place' related items in front of your customer's eyes. From discount racks of last season's activewear, or any number of small sporting goods like tennis balls, skipping ropes, swim gear, hats, armbands and more, you'll see many of your satisfied customers walking out with more in their shopping bags all thanks to your well placed promotions on your digital displays.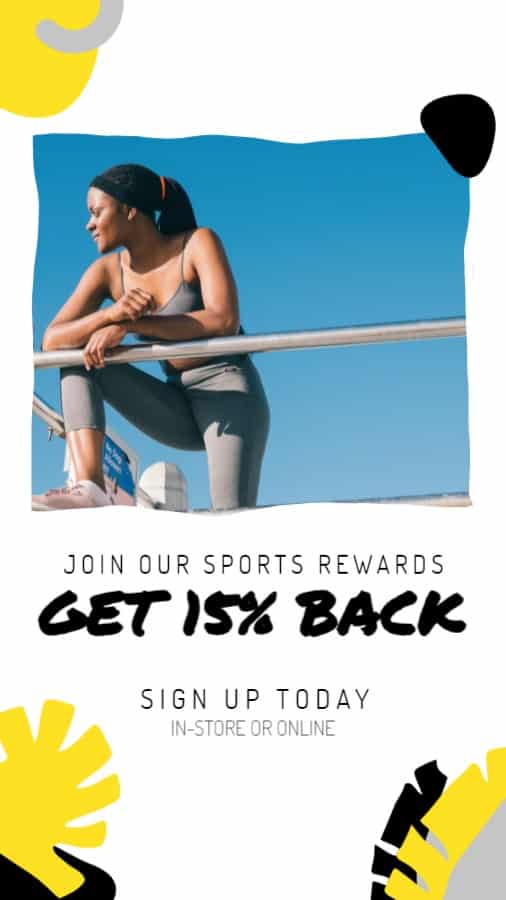 Advertising time sensitive deals with sports store digital signage
With the dynamic nature of physical activity and sports, having a bright, fun and interactive way to promote seasonal and limited time offers makes perfect sense for sports retail. Limited edition sneakers that'll fly out the door? A new product that has an exciting intro offer? No stress. Use rich, dynamic content like videos and audio to clearly show what's in-store and how long your customers can grab these amazing deals. By placing these digital signs in your windows or across retail centres alongside information stands and maps, you can easily draw more people to your store who might have normally missed out on these strictly limited offers.
It is a great idea to have sports themed sales from time to time. Pick the
most popular sports among Australians
and come up with periodic themed sales to coincide with big events.  Everyone wants to buy into the excitement, even the armchair sports enthusiasts. Make use of the periodic opportunities to merchandise your sports great and sports wear.  
Clearance sale advertising
Sports retail has one of the most consistent seasonal update cycles in retail. With new runners, sports jerseys and plenty of other items getting a slick new refresh every 6 to 12 months, there's always the opportunity for bargain bin clearances and rack after rack of affordable sporting equipment that's just as good as the current season's batch, but only a little older. So if you need to clear your shelves and make way for the new, exciting items, use
digital displays
across all of your locations to sell those slow moving items that don't seem to be going anywhere. With easily designed displays, you can show off your huge discounts and make sure those sale items
recoup some of your wholesale purchase costs
. Let your digital signs work their magic and  watch those items fly out the door.
Sports store digital signage can help your visual merchandising
Consumers are savvier than ever today. With mobile devices and wide internet access, they research products extensively and know what they want when they visit a brick and mortar retail store. So how can your sports retail store stand out and showcase the premium items you have for sale? Use high-end,
target-specific digital signs
for your visual merchandising – that's how. And it has become so expected that retailers risk losing business if their displays are not up to the mark. With beautiful imagery and detailed interactive displays, you can easily place familiar branding and logos alongside the world-renowned athletic and sports brands you have in stock. Use digital displays throughout your stores in various locations for maximum effect. You can choose from among: 
Window displays

In-store displays

Point-of-sale screens and

External screens (such as shopping centre information and maps)
Having your branding in the right places is key to helping your brand awareness significantly increase, and with it, your sales and profits.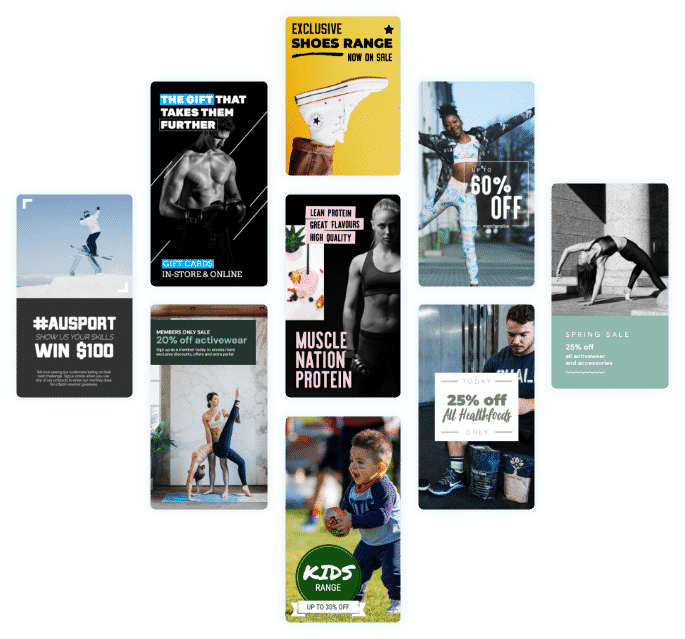 Advertising competitions with sports store digital signage
Do you have an exciting competition to promote? Maybe it's a training session with an AFL, NRL or A-League team. Or the chance to win a signed sports jersey from one of Australia's best. Displaying these promotions alongside your dynamic catalogue of sports goods is another great way to draw customers into your store and increase the chance of a sale. With the
right contest marketing strategy
, you can drive brand awareness, promote your products, gain greater insight into your target audience and build a stronger interactive experience through higher engagement. So, if you've got a clever idea for an event, giveaway, poll, quiz or any other sort of fun competition for your customers, sharing it via an engaging digital display in your store is a great step towards building more participants, and ultimately, sales.
Promote your store on social media
Bringing people along on a journey from their phones and into your store doesn't have to be too difficult. With many Australians finding out about new products via social media, digital signage gives your sports store the chance to show off your new range of items via
trusted reviews, shared photos and content
. Team up with sports stars and get those new sneakers circulating on Instagram, Twitter, Facebook and more. For the clued-in customer, seeing these displays of their sporting idols promoting your store via an engaging in-store social media feed is a sure fire way to get people coming back and buying more.
Connect with your customers – book a demo today!
With easy-to-use templates and accessible software that lets anybody create a display of amazing visuals,
Mandoe Media
can help your sports store take your marketing to new heights. From dynamic catalogues and front window displays to reels of glowing feedback from your loyal customers, Mandoe has got you covered.
To learn more on how Mandoe can help your business jump to the next level,
reach out
and book a demo today.
Written by Lachlan Ross
Marketing Manager at Mandoe
I'm a SAAS-focused marketer with 10+ years of experience who likes to think I've got a way with words - thanks for stopping by and checking out this blog.