In the fast paced hair and beauty industry there is no shortage of exciting new brands and novel ways to enhance natural beauty. The competition is severe with each street home to a few hair salons and beauty shops. Customers are constantly seeking new ways to look and feel good while businesses compete to capture eyeballs and mind space. So how can your hair or beauty business stand out, bring in the right clients and boost your bottom line?
Digital signs
are a powerful and extremely effective marketing tool that every hair and beauty business should invest in. Incorporating digital display solutions from Mandoe Media offers an alluring and irresistible invitation to draw new customers into your business. Use beautifully designed, engaging visuals to highlight your product and service portfolio. Feature new products and brands, with testimonials. Keep customers informed about exciting events, demonstrations and special promotions at your venue. Read on to find out how to up your marketing game with the aid of window and in-store electronic displays.
How to up your marketing game with digital displays
The benefits are many and their popularity worldwide indisputable. Studies show that five out of ten communications professionals, yes 50%, are using this channel in their marketing mix. Here's how you can benefit.
Increase sales of your hair salon or beauty shop 
You and your staff are busy selling and helping as many clients as possible. You can't be everywhere at once. Imagine having an extra salesperson? How about two, or three? Indoor digital displays can play this role at a fraction of the cost. And they work 24/7, no breaks, no holidays. Studies show that digital displays capture 400% more views than static displays. Customers are 47.7% more likely to remember your brand after seeing your displays. Beyond brand awareness, customers will also feel more at home in your salon or shop upon seeing visual displays in store and in shop windows. And they will know what to ask for, instead of aimlessly browsing or wasting your sales people's time. All you have to do to gain that marketing advantage is design compelling visuals that showcase your most profitable products and deploy them strategically to capture the attention of customers. With a conveniently placed digital screen or two, depending on your store layout, you now have extra virtual sales assistants that you can count on to keep boosting your sales and profits for a long time. If your customers do not make a purchase immediately, be not discouraged. Digital display recall rate is over 80%; meaning they are likely to recall what they saw a lot more compared to after seeing a poster or print ad. You can probably count on repeat visits and delayed purchases. And as recent studies show, businesses using digital sign boards can
expect a 29.5% bump in the average purchase amount
by customers. All of this adds up to a less impatient, more relaxed customer who is ready to spend a little more and tell their friends and family about their experience in your salon or shop.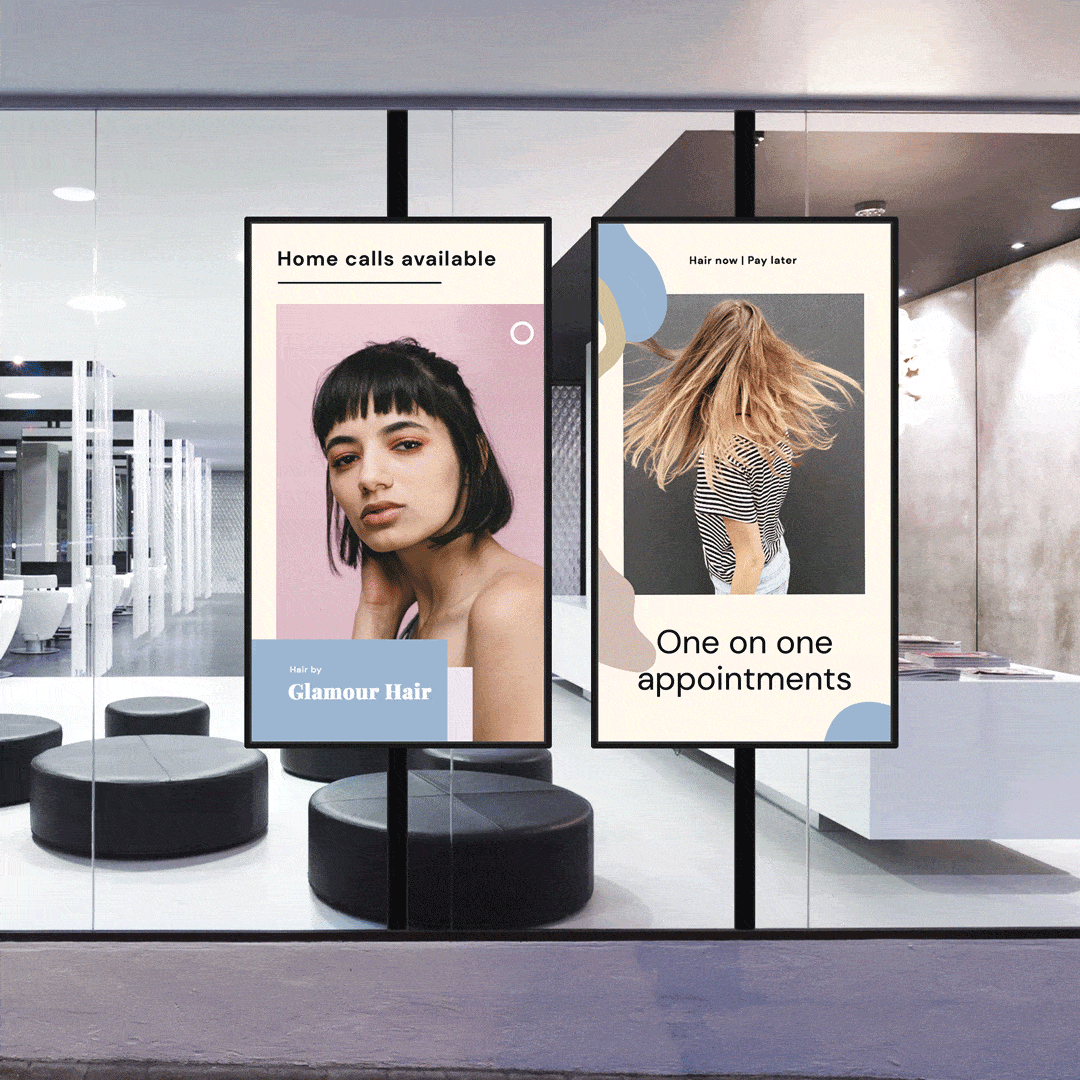 Boost up your Point Of Sale impulse purchases
So, now you've got a satisfied customer who's just had their hair done to perfection. Or a customer who came to stock up on their favourite skincare and beauty products. It's time to break out the impulse purchases. With
62% of Australian shoppers
more likely to make an impulse purchase when the product is discounted or affordably priced, grabbing your customer's attention can lead to more frequent, last-second purchases. Display alluring visuals with irresistible discounts and advertisements at the point of sale. You'll have customers walking out the door with extra items that they didn't even know they wanted. It's a tried and true way of boosting sales and improving the customer experience. You can count on the professionally designed visuals to capture the attention of  those waiting in line. Well designed digital display visuals are within easy reach with our online
digital sign software
. Use it to quickly create and update your displays for awesome new products and attractive bargains. Then, promote those products with a strategically placed digital display as your customers are waiting in line to pay. It is that simple.
Share your glowing testimonials
There's nothing quite like word of mouth to get people flocking to your salon or beauty shop. You're probably already sharing all those fantastic Google reviews via social media. So why not proudly display them in your store and windows for all visitors to see? Online ratings play a vital role in building brands across all industries–hair and beauty businesses aren't any different. By installing a digital display in your salon or shop, make sure everyone can see just how good your products and services are. And before you know it, you'll have new customers wanting to get their hands on all you have to offer.
Promote monthly and weekly specials 
Digital screens offer an engaging way to promote all of your amazing specials and promotions. Introducing a new treatment? Got a limited time offer on a new line of products? Getting ready for seasonal bargain sales? Use your digital signs as a dynamic catalogue to cycle through all of your current and upcoming specials. Easily include prices, images and other important info to help draw in passers-by. Your regular customers that come in for their 'usual' buys too will see the deals and specials and be enticed into trying something new.
Build and strengthen community with staff profiles
When your customers come into the shop, they want to be taken care of and pampered. And they trust the people who are helping them do it. They trust in  the people who cut their hair, do their nails and tell them about the latest products that will help them look and feel better. For some customers, it's about a lifelong relationship with friendly faces, helpful advice and good conversation. Its your job to nurture those relationships and help them be stronger. Mandoe Media software enables you to add a personal touch to your store with staff profiles, action shots and funny quotes to create a welcoming, feel-good, connected space. You can even include congratulatory messages for birthday, special life milestones and achievements for all to see.
Ready to give digital signage a try?
A visit to the salon or beauty shop helps people feel good. So why not give them the best experience possible? Our dynamic digital solutions, including in-store signs, window signs and digital video walls, can help you take the next step forward in creating a modern, welcoming environment.
Reach out
and book a demo today. Book a demo today if you'd like to see how digital signage can take your salon or beauty shop to new heights.
Written by Lachlan Ross
Marketing Manager at Mandoe
I'm a SAAS-focused marketer with 10+ years of experience who likes to think I've got a way with words - thanks for stopping by and checking out this blog.