Knowing how to market your services effectively is critical for running a successful hair salon business.
Enter digital display solutions!
They are more eye-catching than billboards, signs, banners or posters. Research shows that the global market for digital displays—both inside and outside—is
on a strong growth trend
. Think about it. If you are not considering them, your competitors may be. Why not retain your competitive edge by using digital displays in your hair salon?
Growing in popularity among retailers and service providers like you
Here's what makes them a popular marketing and proportional tool among retailers and service providers like you.
Cost effective. Small and mid sized businesses need to use their marketing dollars wisely. Digital signs offer a range of benefits that make them worth each dollar spent. Once initial costs of display and software are paid for, there are no maintenance costs worthy of mention. In contrast, getting static signs made, from time to time can be an ongoing costly affair. If your goal is to grab more eyeballs and mind space for your messages, compare one off costs vs ongoing costs you would end up paying for new static signages and boards. The ongoing benefits are undisputed and that is why the in store market is on a growth trend.
Easy to use. Once you install a screen and plug and play digital signage software you are in the game. Think designing is hard? Don't worry. There are ready to use, professionally designed templates for every industry including yours. There are also millions of stock images, videos, animations, icons, apps and more in the content library that you can use to create captivating displays that deliver results.
Engaging and versatile. In this fast paced world of ours, people are distracted, and have short attention spans. Use your digital displays to show images, videos, animations,  documents, web pages and social media feeds. Make it engaging by live streaming content with a few clicks. You can mix your inhouse content with weather apps, news tickers, live TV or pre recorded content to keep things fresh and ongoing.
Control multiple screens.  For the cost of display screen and software, you can get multiple display screens for different sections of your salon. Tailor your messages for each and every display, with quick and easy controls.
A big bang for your marketing dollars. Needless to say, you also get a bigger bang for the bucks in terms of the space taken compared to other in-store promotional alternatives.
Top 5 Ways to Use Digital Displays in Your Hair Salon
Here are the top 5 ways businesses use digital  displays to drive more foot traffic to increase customers, sales and profits. Why not use them in your hair salon business?
1. Promote in-store services you offer with digital signage
Everyone knows that getting new customers is costly. It is much more effective to retain the customers you already have and to sell more of your services to them. Your in-store clients are a captive audience because they have to sit there until their turn comes or till their hair is done. Why not promote the entire range of services you offer? Tell your customers the many ways in which you can help them. Inform them about special offers and promotions. Doing so, you can increase sales to those who already know you by cross selling and upselling your services. This is what you and your staff try to do routinely, anyway, isn't it? Digital reinforcement makes those efforts more effective by increasing the trust factor.  Well designed highlights of your service portfolio would give new walk-in customers and soon-to-be clients an appealing overview of the services you provide. And they can inspire your regular customers to try out new services as well. Digital display ads and videos are also great conversation starters and ice breakers. So give new walk-in customers and soon-to-be clients an appealing overview of the services you provide. For example, if your business specialises in cuts, colours, extensions, or some other service? Use the electronic display as an opportunity to showcase your service portfolio and your unique strengths. All this eventually translates to increased sales.
2. Display customer testimonials proudly
While
"location, location, location!"
is a mantra for selecting where your business is located, once that is done, you need to make use of the footfalls and traffic that goes past your business. Trust is central to any marketing strategy for personal services like hair salons. In order to grow your  business, you need to provide social proof of your value.  How better to achieve that than sharing customer testimonials in a short, sharp visual format? You can highlight your best reviews, giving newcomers to your business all the more reason to trust your work. When it comes to building a great reputation, nothing is as valuable as the words of the people you already serve. You may inspire your existing customers by offering them the opportunity to be featured in the in house video testimonials. And be sure that they would recommend your hair salon to their friends and family!
3. Showcase your industry expertise to boost brand awareness and trust 
Clients searching for a new hair salon are looking for skilled and qualified hair stylists. They want something more, something better than what they already have. But how do they know whom to choose? To establish your salon as a professional business with a wealth of industry experience, it's important to leverage this information in your marketing strategy. Using digital information screens in your marketing mix is a great way to achieve this goal. Use the signage to promote your and your staff's portfolios. Don't forget to include any industry awards that your salon and staff have won over time.
4. Make it interesting and engaging with social media profiles
In the age of digital marketing , social media is a key driver in building a
community
with your customers. Online communities and social interaction is the 21st century way to spread the word. Use Mandoe's versatile software that allows for social widgets to be displayed on your screen, mixed in with your other content. You can easily and simply connect your business's social accounts to display a running visual of your Instagram feed, Twitter feed or Facebook recommendations. Harness the power of your followers by making them advocates for your salon. The interactive social displays feature will help you achieve that goal cost effectively.
5. Share special deals and important info about your business 
Every hair salon has information to share with clients. Sure, a sign or a social post would get the message across. But it drops out of sight and out of mind. This is true whether you are running a promotion, offering special rate days or routine announcements like holidays or changes in opening hours. You can use looping to keep relevant info fresh and top of mind by using your digital info screens. Make your info attractive and visually engaging to bring them to the attention of clients and potential clients. At the end of the day, successful marketing is all about getting attention of new and existing clients, creating an interest in the services offered by your business, making your services desirable to your target audience and prompting them into action to visit your hair salon and making use of your services. The tools that you use in your marketing mix can make a difference. And modern day clients prefer exciting and engaging digital content over static any time. And digital displays trump over posters, signs and billboards because you can make them way more entertaining and engaging.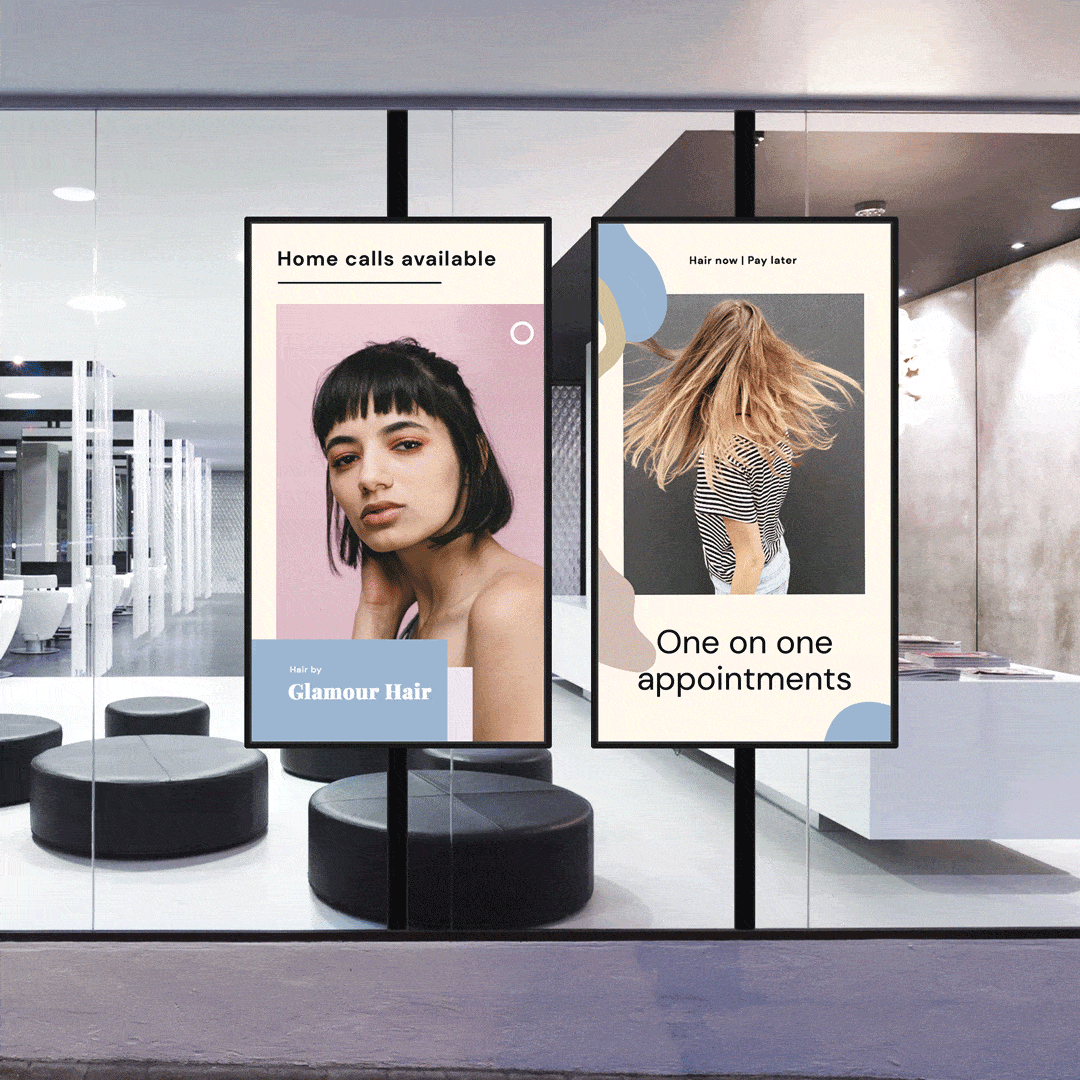 Are you considering how to employ digital info screens in your hair salon business? 
At Mandoe Media, we love helping businesses grow with our professional solutions for indoor and outdoor digital displays. Find out
how to begin using the Mandoe Platform
to create powerful messages.
Visit our blog
, the ultimate guide for getting started, news, updates and more. Learn more about our product range and solutions including Window Signage, In-Store Signage and Video Walls. Browse the
Case Studies
to see how other businesses like yours have used Mandoe Media as a partner on their journey to success.
Contact us
to find out how we can help you!