Going to the gym is a big challenge to many; an exhausting one at that. Although initial excitement and motivation can prompt people to get membership, ensuring membership renewals can be a challenge for gym operators. For the members who stick with it month after month, finding a sense of community is the key to building up healthy and regular habits. Using
indoor digital displays
in your gym, you can showcase beneficial fitness advice, foster a healthy amount of competition, and ultimately, bring members together and help lift each other up. All of that eventually translates to membership growth and ongoing membership renewals. 
Here are 5 ideas on how you can use
digital displays
in your gym to promote your brand image and build that vital community spirit to grow and retain membership.
1. Showcase videos with exercise tips and tricks
The gym is a great place for people to stay healthy and keep active. But it can be a little confusing when there are so many ways of exercising and exercise machine options if you are unsure how to get started or go about it safely or effectively. 
Use digital screens in your gym to showcase tips and tricks to help improve your member's experience. It can be as simple as a video showing the importance of warming up, the proper form when exercising. For regulars, spice up the content mix with not so well known hacks on how to make the most of their gym time. You could even include nutrition tips to help complement your member's hard work. Also, why not feature a workout of the day that would break the monotony of regular routines with some additional adrenaline and novelty. 
With
Mandoe's versatile digital sIgnage software,
you can easily schedule and update short videos with new workouts to keep everybody motivated and engaged. Needless to say, such additional care into gym member well being would be welcome and certainly reflect well on your gym's brand loyalty.  
2. Interactive leaderboards
There's nothing like a little healthy competition to keep people motivated. Maintaining an ongoing leaderboard for classes and programs can 
instill a greater sense of pride and a bit of fun into your member's gym time
. Update your challenges daily, weekly, monthly, or  whenever you want. Switch it up and keep track of member's steps, distance travelled or weights lifted. You know your members best. So you can customize it to whatever you think will get the people moving. 
As an added bonus, an interactive leaderboard is a great way to engage your community and take your social media marketing to the next level via shares and posts. So remember to share your social profiles in your digital displays. 
3. Promote your personal trainers and create a friendly supportive ambience
You have worked hard to get some of the best personal trainers in the biz. So let your members know who they are. Show how these star trainers can help them succeed in achieving their personal fitness goals.
With digital info boards, you can easily display short bios of all your friendly trainers and staff. You can even ask satisfied members to share their experiences working out with their favourite trainers and staff members. 
Place the digital screens around your gym to connect members with your business. Foster a sense of community in what can sometimes be an intimidating environment, often with lonely struggles and pursuits. Shared experiences help people bond better and this is good for your gym's brand. Positive experiences translate into endorsements and personal recommendation of the gym and its trainers. 
After you create such an ambience of community of shared experiences and friendly support, once the time comes for members to ask a question or book a one-on-one session, they'll feel comfortable approaching your staff without any hesitation. Count on this to boost your membership renewals year after year. 
4. Promote class timetables with in-premise and window signage
Gyms get busy; really busy at times. With various classes, programs and sessions available to your members, it can be a little overwhelming keeping everybody informed of what's going on.
Mandoe's digital signage
solutions allow you to easily schedule and display live calendars. And the best part? With our
digital signage builder
, you can make all of your changes from any internet connected device.
Got a trainer that can't make it? Need to start a little later? No worries. Make all the changes you need straight from your device and watch as they instantly update on your displays in real time.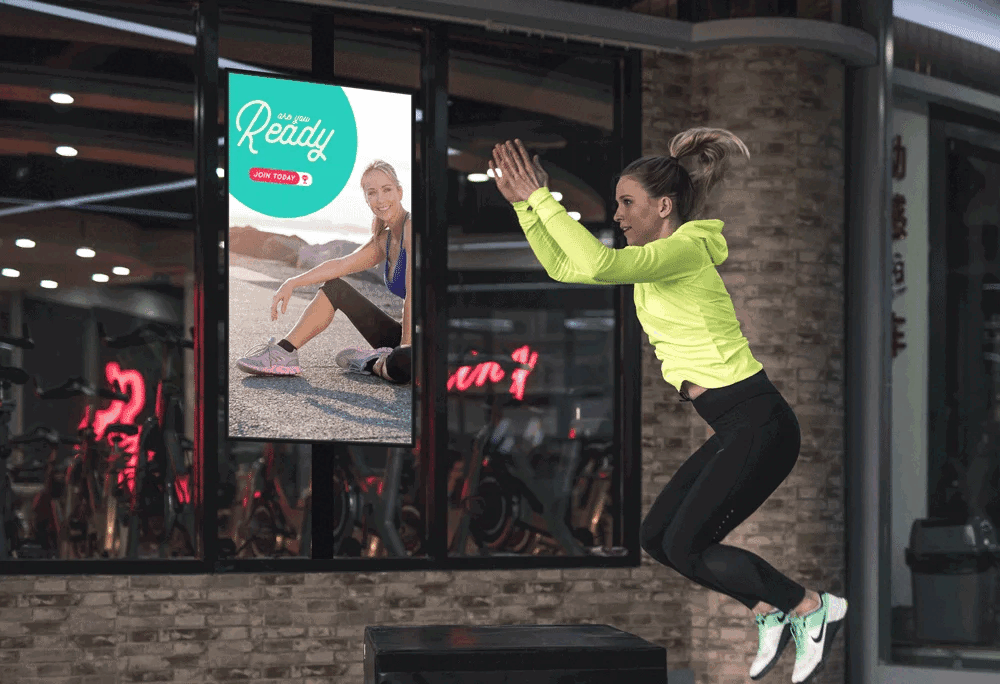 5. Share inspirational member success stories
Ultimately, people attend gyms to improve their health and lead an active lifestyle. It's a personal journey, but hey–a little outside recognition doesn't hurt. And you can be sure it would serve as inspiration to other members who may be struggling to achieve their own personal fitness goals.
Showcase the success stories of your members with appealing visuals and short videos. Highlight how far they've come in their pursuit of better health. Not only is it great for personal growth, but it shows that your programs actually
work.
With the right guidance all members can achieve their own exercise goals.
Get a head start - Make your gym a compelling venue for fitness enthusiasts 
Technology has helped many businesses transform their business operations for the better. Gyms aren't any different. And considering how challenging it can be for most of us to get off the couch and into the gym, anything that makes the experience friendlier and more accessible is welcome. It is a worthwhile investment if you can get more customers through the door and ensure a high rate of membership renewals. So if you'd like to see how digital displays can bring your gym community closer together and boost your gym membership and the bottom line,
reach out
and book a demo today.
Written by Lachlan Ross
Marketing Manager at Mandoe
I'm a SAAS-focused marketer with 10+ years of experience who likes to think I've got a way with words - thanks for stopping by and checking out this blog.