Getting your marketing campaigns right can make or break your business. A healthy mix of T.V, online, social media, radio, and print advertising will lead to greater brand awareness and an increase in foot traffic, but to really boost those sales, you mustn't forget a solid in-store marketing strategy. As the final piece of your marketing puzzle,
digital signage
follows on from your other marketing channels and continues to tell your brand story. Let's have a look at how creative digital signage can enhance your current marketing campaigns.
Showcase your promotions with digital displays
The most effective way to use digital signage is for in-store promotions. It allows you to showcase your best offers and deals, all while keeping your customers in the loop. As there's always something going on in-store, be it sales, special offers, new products or special events, vibrant digital signage captures your customer's attention and gives them more opportunities to not only get involved but also spread the word about your amazing deals.
Build brand awareness with digital displays
It's a competitive sea of brands out there. So how do you stand out? How do you stay
memorable
? With most customers loyal to their favourite brands, it can be a tricky task winning over a knowledgeable, well-informed consumer base. But with digital signage, you can show off your branding via
captivating
content that'll boost recognition and drive deeper engagement. Including this storytelling in your marketing campaign is much more
memorable
than a bunch of bland numbers and stats, and will keep your business front of mind next time your target audience heads to the shops.
Increase point of sale advertising for impulse purchaseswith digital displays
Surveys have shown that when consumers visit stores,
40% of people spend more than they plan to
. That's
a lot
of impulse buying. Digital signage can help give the final step in your marketing campaign a gentle nudge in the direction of more sales. With well placed signage, you can easily showcase relevant add-on products, last minute up-sells or 'too good to refuse' bargains that may have not occurred to customers. And while traditional signage has done this job for some time now, deploying dynamic content via digital signage will increase the number of messages delivered to consumers, giving them greater choice and opening up the opportunity for increased sales.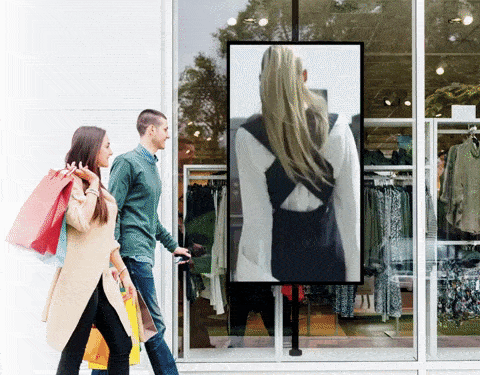 Display social media feeds via widgets
Your marketing story probably started somewhere online. Maybe it was an ad on Instagram, a share on Facebook, or a random positive review on Google. All that matters is – it got you in front of the right eyes. This type of connection is quite personal, because it's your customers' that are recommending your brand, it's them vouching for what you do. Not some spokesperson or paid actor. So why not make the most of this and build an even deeper connection by including social media feeds on your digital signage in store. It does wonderful things for your
social proof
, and best of all – it's instant. By including customer reviews and other interactive content, you'll find your brand is more engaged with its customers and they'll be excited to engage and share your brand online, amplifying your marketing campaign outcomes.
Mandoe can help boost your marketing campaigns
While many might think that digital signage is only effective as an in-store tool, the fact is – it's essential to an effective overall marketing strategy. It helps bridge the divide between online sales campaigns and your in-store presence, allowing you to grow your brand awareness, improve customer experience and increase your sales.
Mandoes's digital signage solutions
can take your marketing campaigns to the next level. With beautiful
templates
and a simple to use interface, you can easily create and display dynamic content to drive greater customer engagement. If you are ready to up your marketing game,
reach out
and book a demo today.
Written by Lachlan Ross
Marketing Manager at Mandoe
I'm a SAAS-focused marketer with 10+ years of experience who likes to think I've got a way with words - thanks for stopping by and checking out this blog.