How often do you think about your menu boards and signs as a hospitality venue operator—whether it's a restaurant, bar, pub, cafe or other? Not a lot? That's probably more common than you think. The truth is, business owners mostly think about their menu when it's time to print a new one and remember how tedious, expensive and time consuming that process is. Aside from the hassle, menu changes can sometimes stop your business or slow its operations significantly. This is something you can do without.  With
digital menu boards
and signage, those troubles will be forgotten. You will be able to quickly update displays with well designed menus, and cover a diverse range of content. You can expect greater interaction, brand awareness, and a healthier bottom line from your investment in digital solutions to replace printed signs and menus. Let's take a look at 5 reasons why
digital signs
have made printed signs and menu boards a thing of the past.
Updating digital menu boards are easy as ABC
Got a new breakfast special to roll out? How about a happy hour deal that's way too good to pass up? Digital screens let you display your current menu and special offers in a flash, in their mouth watering presentations, colors and textures, on HD TV screens.  No more awkward switching of boards around; no more jumping on the ladder to update front window displays; and no more disgruntled customers who've ordered the wrong item at the wrong time of day! With the right
digital signage software
, it is almost too easy to keep your menu updated and your customers in the loop. In fact, for those businesses who really want to run a tight ship, you can even automate your menu changes for a streamlined solution. You'll have shorter queues and wait times, more orders being placed, and of course, more satisfied customers.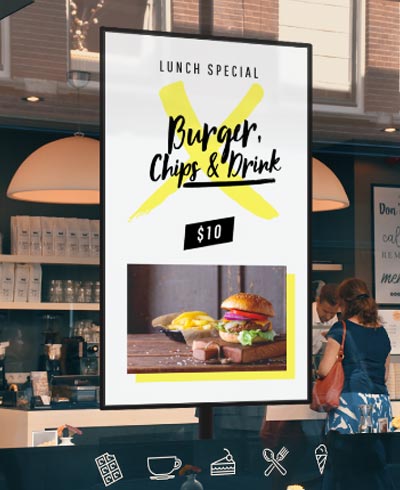 Brand awareness
So you've handed out your old printed menu to the party that's just sat down. Or you've listed your spot-on specials for the day in… chalk, maybe? Although these could be seen as the small, forgotten parts of running a
restaurant
,
cafe
or
bar
– they are incredibly crucial. Why's that? Well, people love to take their time, browse the menu and find what's right for them. With all that time spent looking at your menu, the opportunity to grow your brand awareness is flying out the door with stale, printed logos and text. With digital menus, you have the chance to include video graphics, images and messaging that showcases what your brand is all about. With this consistent display of brand imagery via rich content on your signage and menus, your customers will know who you are and exactly what to expect every time they drop by.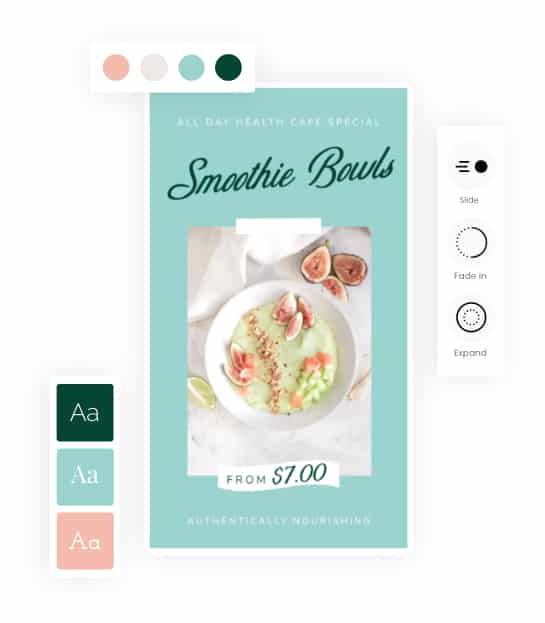 Menu boards with custom content
Do you want to really stand out and leave those printed menus and displays in the dust? If so, delivering your own custom content in digital format is the way to go. Thankfully, 
Mandoe's
easy to use platform and the content management system (CMS) puts the creative power in your hands. With the modern and clear interface, even new users can create and deploy dynamic content that connects and engages within minutes. Deliver captivating videos, custom images, interactive QR codes and more in just a few clicks. Got a new menu item that'll have people drooling? Quickly display that delicious new photo you've taken. Want to show off your amazing chefs doing their thing? Easy–display a quick video right next to their tasty creations and give customers a reason to love and trust your business. Having these options at your fingertips brings your customers closer to your brand every minute they are inside. That is something those old-school printed signs and menus just can't do.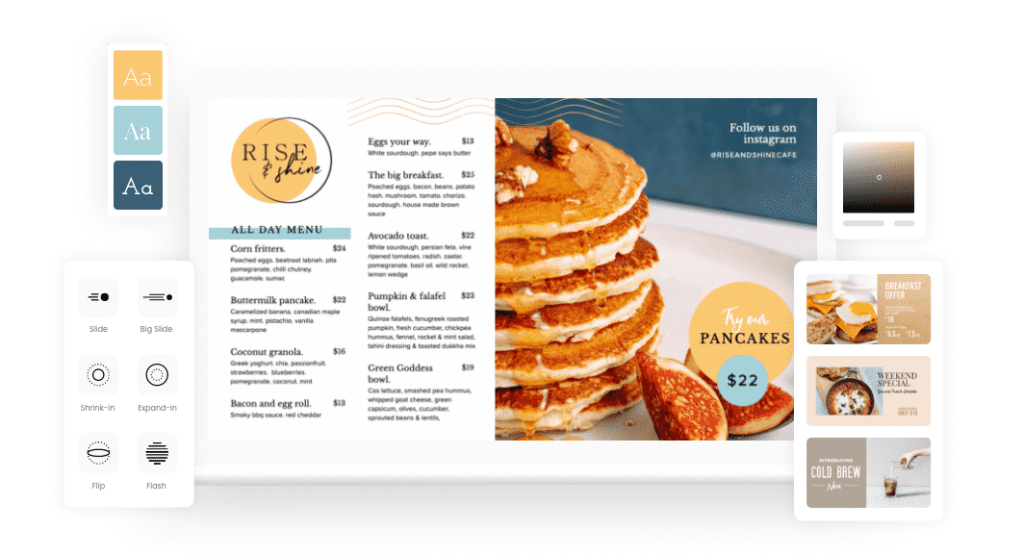 Connecting with customers
Every chance to connect with your loyal customers is a chance to show them why they love your venue in the first place. By including QR codes, social media widgets and links on your digital menu boards and displays, you not only grow your brand awareness, but also interact with, entertain and educate them. And yes, you can include QR codes and links on traditional menu boards and printed signage too. But, discussed earlier, keeping your menu, promotions and offers updated as well. So if you have new content to share across your socials, or some amazing news about your brand, business or products, simply link those to your digital displays streams and watch how people instantly engage with it!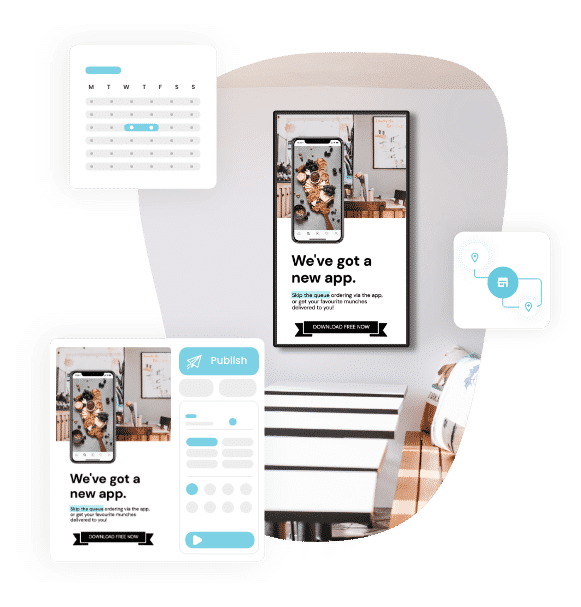 Going digital means lower operating costs
Taking the leap to digital may seem to put a dent in your marketing budget. But in reality, it doesn't. Once you make that initial investment on the display screens and software, your ongoing running costs become insignificant, and produce a bigger bang for your marketing bucks. You can also say goodbye to those daily practices that wasted too much of your precious time (and money). No longer will you need to spend money printing and updating for every new promotion; nor will you need to constantly waste staff time on changing posters and signage every time there's a new menu item or deal. You will save time, money and effort with the shift to digital. With digital signage solutions from
Mandoe
, you can design, create and deploy your new signage and digital menu boards within minutes. And the change over to digital gives you a much more engaging range of in-store displays.
Ready to go digital with your business displays?
As technology evolves and people become more connected than ever, sticking with printed menus boards and signs will leave you lagging behind. There are few marketing tools that are as effective as shop displays in digital format to help keep up and stand out as a business. And the results can be instantaneous with a painless transformation. With Mandoe's range of digital sign solutions, you and your staff can easily design, create and deliver rich, dynamic content that's hard to ignore; all with just a few clicks. And you don't need any design experience either, thanks to our professionally designed templates and millions of stock images and videos to help enhance your creations and make them your own.
Start a free trial
today and see how Mandoe can change the marketing game and the look and feel of your venue.
Written by Lachlan Ross
Marketing Manager at Mandoe
I'm a SAAS-focused marketer with 10+ years of experience who likes to think I've got a way with words - thanks for stopping by and checking out this blog.