In the manufacturing industry, effective communication keeps everyone safe in a lot of ways when it's utilised. Factories and production facilities are dependent on following various protocols. This is how digital signage can keep everyone on the same page.
Digital signage
is the ideal tool for communicating in the manufacturing industry on a daily basis. Their eye-catching and engaging nature makes them almost impossible to miss. Especially when you regularly change out your content playlists for fresh ones. Which is much faster and easier than it might sound—the messaging will hit its mark. Let's take a look at some of the ways
digital signage
can and should be used in the manufacturing industry.
Communicate OSHA standards through digital signage
Reminding manufacturing workers of mandatory OSHA guidelines is essential. But after seeing the same tired messages over and over, it's easy to haze right over them. That's why having a fresh way to deliver those reminders is important, enter digital signage. Digital signage can grab people's attention in a way that static signs simply can't. And you can easily update your screens. Meaning you can make changes on the fly from any device with a web browser. You can even repurpose some of the existing content you have on the subject. For example, pamphlets or posters. You can scan those materials. Then use them in your digital signage playlist if you want to save time in terms of creating your playlists. With OSHA standards reminders constantly being shown on your digital signage, your employees will always have them in mind when they're on the job.
Manufacturing safety messaging using digital signage
In addition to keeping everyone on-site informed on OSHA guidelines. Showing your team that the management really cares about their safety goes a long way. Even the gesture that your company invested in digital screens to display safety information shows that workplace safety is a major priority. The fact is, digital screens are far more difficult to ignore. Especially when you use dynamic content instead of plain text boxes on your screens. You can post safety messages in a way that engages viewers. Also ensures messages are well-noticed.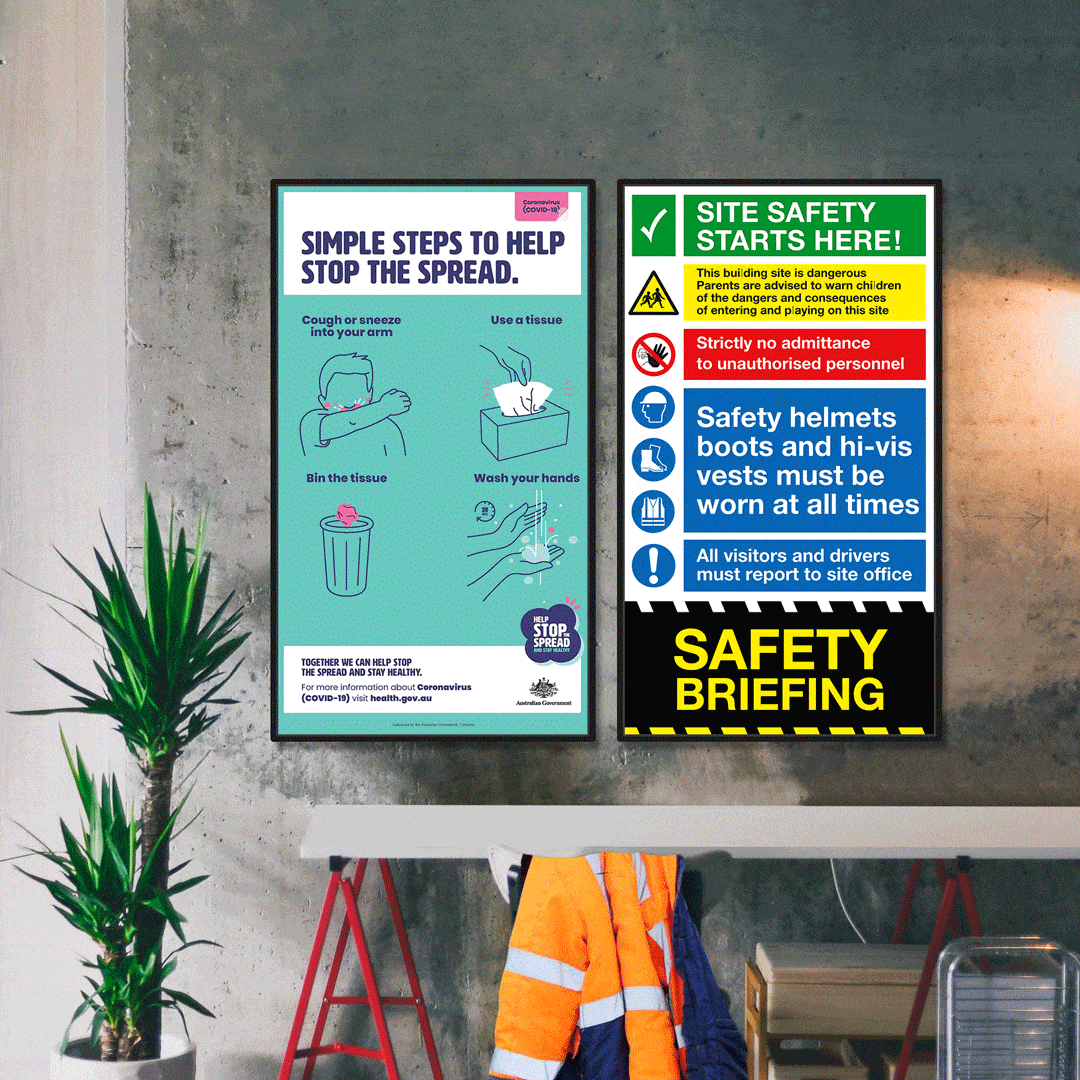 Motivate employees using digital signs
Let's be honest, there are a lot of mundane tasks that need to be done in the manufacturing industry. It's only natural that those who have the responsibility of doing these tasks daily might work more steadily on some days than others. That's where
motivational content
on digital signage can be a huge help. It's amazing what a few choice words can do for morale, especially during the busiest times. Digital signage is great for delivering these messages in an effective and engaging manner. You can use them for employee recognition. You can show encouraging statistics like how many products have been delivered, or announcements like birthdays to show your employees that you value them as more than just a worker. Digital signage is an ideal tool for garnering a stronger bond with your employees and nurturing your corporate culture.
Display COVID-19 protocols on digital signage
Keeping everyone on the same page when it comes to COVID protocols is essential in the manufacturing industry workplace. Your digital signage network can be used for this as well. Employees can get fresh, compelling reminders to sanitise their hands frequently, wears masks at all times, and maintain social distancing as often as possible. You can have these reminders appear on signs that have other uses as part of your playlist. That way you'll be getting multiple uses out of each screen.
Other uses for digital signage in the manufacturing industry
Digital signs can also be used for things like general announcements, training, or meeting room presentations. Can even be used as tools to display necessary data on-screen. You can have a different playlist for back office areas that displays relevant data for management to always have on-hand. You can even use digital signs in your break room for reminders, news, and entertainment. The use
cases for digital signage
solutions in the manufacturing industry are virtually endless. Anything that requires information being displayed can and should be done using digital signs. And although it's important to take things seriously at the workplace, a little humour can do a lot to lighten the mood. Your digital signs can be a great tool to do that tastefully.
Conclusion
Put simply, when compared to other options, digital signs are far more engaging, more effective at delivering messages, more dynamic in terms of the types of content they support, and more versatile in terms of how they can be used.
Get in touch
with Mandoe Media today to find out more about how our digital signage solutions can dramatically improve communication at your workplace.
Written by Paul
Marketing Manager at Mandoe