Your choice of digital signage software makes all the difference. From the kind of interface, the UX, the amount of tools and settings, integrations, deployment, management, the list goes on. Below, we've outlined seven aspects or features of the best
digital signage software
that are essential when choosing a platform.
Media Format Support
First and foremost, ensure that your
digital signage
software can support all of the core media formats you intend on displaying. Any software can display static images such as JPG and PNG, but what about video formats such as MP4? The same is true with more complicated formats like HTML5 and 4K video. Be sure that your digital signage platform of choice can display all the content formats you plan on using.
A Stable Platform
It's important to choose a platform you can rely on to display your content without any glitches or delays that could interrupt your playlist. Using stable and
reliable software
means not having to worry about crashes or errors. That way, you can focus on the development and deployment of your digital content.
Scalability
One of the most common issues digital signage software users encounter is poor scalability. Sure, your first software choice may work well in managing and displaying content for a small number of screens, but what if you eventually grow your network of screens to multiple locations or simply increase your screen count? Inadequate software cannot properly deploy your digital content without causing errors or crashes due to its inability to handle large swaths of data at one time. In this case, you'd have to choose a different platform and spend time and money transferring your content to the new system. You can avoid this by going with a highly scalable digital signage platform from the start.
Remote Monitoring and Updating of Content
Managing multiple devices individually and on-premise is incredibly inconvenient and inefficient, not to mention outdated. Make sure your digital signage software includes the ability to manage all of your devices and content features remotely. This creates a streamlined system that enables you to both monitor and update the content on your devices from any location. You should also be able to single out specific devices to adjust the content on the fly.
Digital Signage Software Analytics
Merely displaying and controlling your digital content is not enough. Your digital signage platform should also come with intuitive analytics features that give you clear insights into the content you are displaying. For instance, you should have
easy access
to see when and how many times your content was played, what screens the content was displayed on, how long it was displayed, and so on. These valuable insights can give you a better idea of when to display certain types of content at specific locations. Plus, if your digital signage contains paid third party ads, you'll be able to provide them with a deeper look into how many views they are getting, and whether or not the ads are being targeted to the correct audience at opportune times.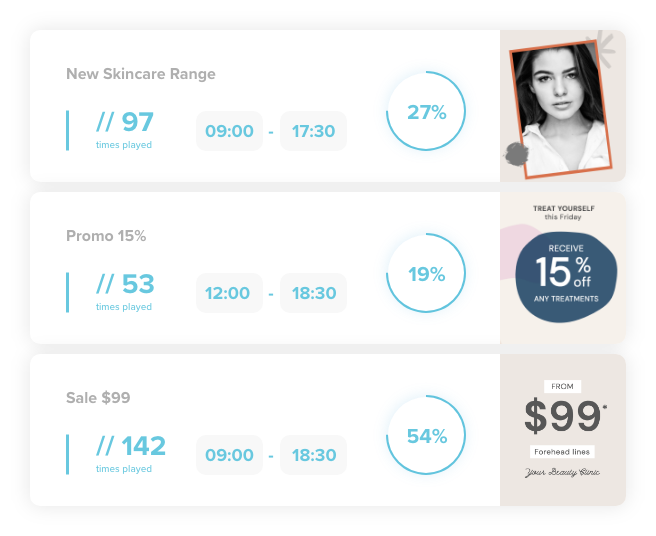 Digital Signage Software Automated Content Scheduling
Managing the content for multiple devices can be overwhelming if you don't have an automated system to support you. The process of manually setting the parameters for each device, content type, or client ad can take hours on end while leaving room for errors. This is exactly why your digital signage software should include an automated content scheduling and delivery system that enables you to put specific settings and parameters in place to control how and when the content is displayed. Automated scheduling also allows you to easily accommodate the requests of any companies you may be displaying ads for.
Digital Signage Software Multi-Screen Synchronization Abilities
If you want the option of taking your digital content to the next level, opt for a platform that offers the ability to sync content across multiple screens. To clarify, this does not simply mean single content programs on separate screens, but rather a coordinated, multi-screen approach that works together to display one content playlist across all the screens simultaneously. For example, if you have multiple screens installed side-by-side, you can coordinate the screens to display a rolling text or video that runs across each screen as if it were one big screen. Another example would be to create content with each screen working together to display a certain program, with each screen showing different content. Even if you aren't yet equipped to run this type of programming, it's a good idea to have the capability for it when you need it down the road. Mandoe is an intuitive end-to-end digital signage solution that empowers you to create and manage eye-catching digital signage for your business or organisation. With access to millions of videos, graphics, images, and templates, Mandoe simplifies the creation process through a drag-and-drop interface that lets you create content and deploy it to any of the devices within your network in just minutes.
Click here
to request a free demo with our team and see for yourself what Mandoe can do for your business.
Written by Lachlan Ross
Marketing Manager at Mandoe
I'm a SAAS-focused marketer with 10+ years of experience who likes to think I've got a way with words - thanks for stopping by and checking out this blog.