One of the most important parts of running a hair salon business is knowing how to market your services effectively. Enter
digital signage
! With digital signs, you can show clients what you offer with simple, eye-catching visual signage. Here are the top 5 uses of
hair salon
digital signage to help drive more foot traffic into your salon and increase sales.
Promote in-store services with hair salon digital signage
Promoting your in-store services is essential when it comes to building brand awareness and letting clients know how your business can help them. Using digital signage, you can up your hair salon marketing game, offering soon-to-be clients a brief overview of the services you provide. With rich video content, you can share your portfolio, giving clients all the more reason to trust you and your offer. Does your hair salon specialise in cuts, colours, extensions, or something else? If the answer is yes then
digital signage
is an opportunity to show off your strengths and increase sales!
Display customer testimonialswith hair salon digital signage
Central to any marketing strategy is trust. In order to grow your hair salon business, you need to provide social proof of your value.
Digital signage
enables you to share testimonials in a short, sharp visual format. You can highlight your best reviews, giving newcomers to your business all the more reason to trust your work. When it comes to building a great reputation, nothing is as valuable as the words of the people you already serve.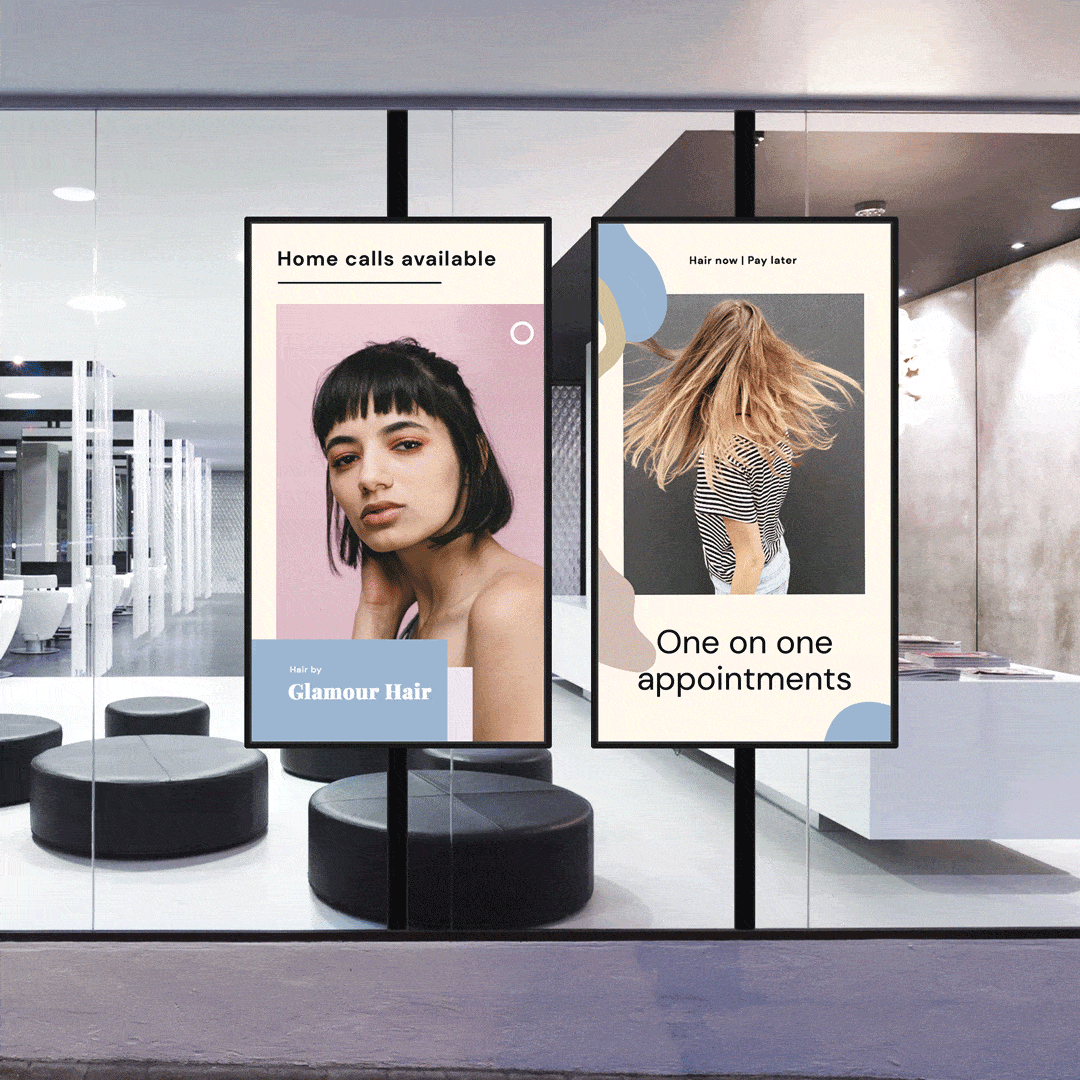 Showcase industry expertise
Clients searching for a new hair salon are looking for skilled and qualified hair stylists. But how do they know who to choose? To establish your salon as a professional business with a wealth of industry experience, it's important to include this information in your marketing strategy. Using digital signage, you promote your staff's portfolios and any industry awards they or your salon have won.
Show social media profiles
In the age of digital marketing , social media is a key driver in building a
community
with your customers. Mandoe's
digital signage software
allows for social widgets to be displayed on your screen. Simply connect your accounts and have a running visual of such things as your Instagram feed or Facebook recommendations. Harness the power of your followers to be advocates for your salon with interactive social displays via your digital signage
Share important information about your store
Every hair salon has information to share with clients. You might be running a sale or promotion, or maybe you'd like to advertise your opening hours. In a fast-paced world, important details should be visually engaging, catching the attention of clients. A digital sign can help you provide information in a fast, entertaining format. If your hair salon details change or you run a new campaign, you can update your digital signage to reach more customers with your message. Are you considering
digital signage
for your hair salon business? At Mandoe Media, we love helping businesses grow with professional digital signage solutions.
Contact us
to find out how we can help you!